Program Description
With a chemistry or biochemistry degree from our American Chemical Society-accredited department, you could end up working on a cure for cancer; monitoring the ozone layer that protects us from the sun; researching superior energy solutions (i.e., battery technology or solar panels); developing new textiles, cosmetics or pharmaceutical products; or solving water-pollution problems.
Our program combines rigorous academics with extensive opportunities for research and work in the lab. You'll gain a solid foundation in the math and the physical sciences while developing your critical-thinking, problem-solving, teamwork and leadership skills. These skills are in demand in today's workforce.
Large institutions just can't provide the individualized attention you'll find here. Even as a freshman, you'll have the opportunity to be in the lab working with real professors – not graduate assistants or lab instructors. Throughout your four years, you'll have the chance to design and conduct your own experiments, work on independent projects, assist professors with grant-funded research, present your research at regional and/or national conferences, and possibly even co-author an article for an international chemistry journal. The opportunities open to you are truly incredible!
Here, you won't get lost in the crowd. You'll be an elite chemistry/biochemistry student – part of our family. You'll enjoy small class sizes and amazing friendships. Our dedicated professors will get to know you. They will support you in your coursework, research, internships, co-ops, and post-graduate or career preparations. They will become personally invested in your success – in college and beyond.
Upon graduation, you'll be ready to make important scientific contributions. You'll be armed with the knowledge, hands-on experience and critical-thinking skills needed for success – no matter where your path leads you.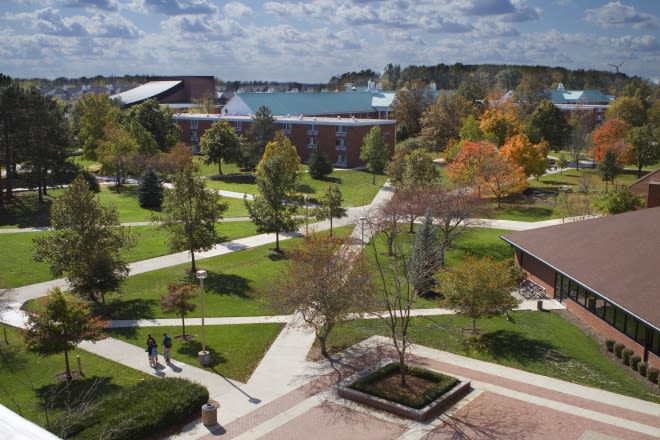 Discover your passion
Science is about discovery. Here you'll have ample opportunity to tackle research projects, attend conferences and get published working alongside world-class professors.
Mentored Research
Participate in a mentored research project with a faculty member during your junior and/or senior year. You can receive one to two credit hours for your research work each semester, which often consists of between 3-6 hours a week working in the lab doing experiments, analyzing and compiling data, or reading recent technical literature on your research topic.
Summer Research Experiences
Apply for a summer undergraduate research experience. Our students have an excellent track record of getting accepted for these highly-competitive, paid positions that only consider top science students. These experiences take place at large academic, industrial or government research institutions across the country.
Student Organizations
Join a student organization for professional development, networking, and social activities. ONU Student Members of the American Chemical Society (SMACS) sponsors campus outreach activities like a pumpkin carving of the periodic table, root beer float social (because we're chemists, we make our own root beer with dry ice and our own ice cream with liquid) and education on topics such as recycling and opioid addiction. Our chapter sends several ONU to the ACS national conference every year. Gamma Sigma Epsilon is a national honor society for chemistry.
Chemistry Lecture Series
The Kritzler Lectureship in Chemistry gives you access to major new developments in chemistry presented by scientists who are recognized as a masterful communicator of ideas. The Kritzler Lectureship in Chemistry was established in 1996 as a means of highlighting fundamental new developments in the science of chemistry and biochemistry. Speakers are selected annually on the basis of distinguished contributions to chemical sciences and outstanding communication skills in the interpretation of their work for the public.
World-Class Labs and Equipment
We may be small, but our facilities are modern and our equipment is cutting edge. Plus, you'll have hands-on access to equipment that most students don't get to use until graduate school.
Our department is housed on the second floor of the Meyer Hall of Science and the Mathile Center for the Natural Sciences, student-centered research, and learning facility which includes:
Nine classrooms
Nine teaching labs
Three conference rooms
Two computing lounges
17 offices
13 research labs
Stockroom and preparation areas
Nuclear magnetic resonance spectrometer
We're particularly proud of our nuclear magnetic resonance spectrometer (NMR) – the Bruker Avance III 400 MHz with a broadband smart probe. This major instrument expands the scope and quality of the research we conduct at ONU. As a chemistry or biochemistry major, you'll receive extensive hands-on training on the NMR in your sophomore year so that you can operate it independently. It's one more incredible experience to add to your résumé.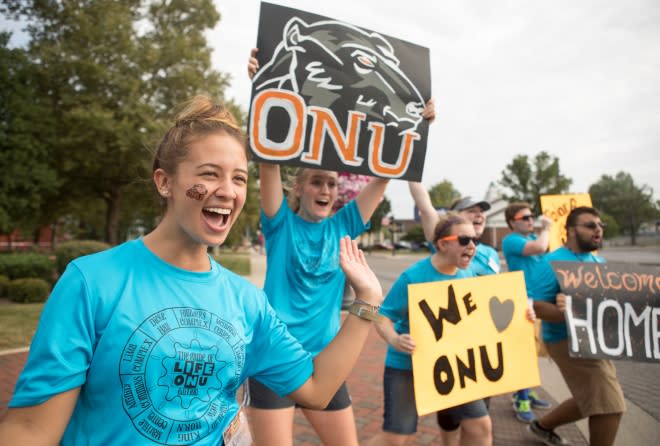 Learning Outcomes
By completing a Bachelor of Science degree in Biochemistry, students will be able to:
Demonstrate the ability to communicate chemical and biochemical concepts in written and spoken formats.
Think independently and critically about new and/or more intricate information in an area in which the fundamentals have been previously presented.
Select, apply, and safely execute laboratory procedures appropriate to the physical measurements and system.
Appraise and describe biological phenomena in chemical terms.
Quantitatively analyze energetics and catalytic processes.
Solid Outcomes
95% of our undergraduate students participate in research projects.
95% placement rate in full-time employment or graduate/medical school within 6 months of graduation.
TOP 10 ONU ranked top 10 small colleges of the midwest by the Wall Street Journal.
13:1 ONU student-faculty ratio.
Our graduates go on to do amazing things. Most pursue one of three different paths immediately after graduation: a career in industry, graduate school or medical school. Check out where our graduates have ended up.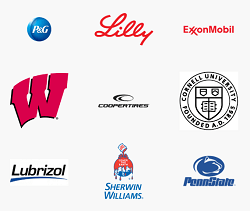 Curriculum
Year 1
| | | | |
| --- | --- | --- | --- |
| Fall Semester | Credit Hours | Spring Semester | Credit Hours |
| CHEM 1811 General Chemistry 1 | 5 | CHEM 1821 General Chemistry 2 | 5 |
| MATH 1631 Calculus 1 | 4 | MATH 1641 Calculus 2 | 4 |
| BIOL 1301 Biology 1 | 4 | BIOL 1401 Biology 2 | 4 |
| TREX 1001 Transitions Experience | 3 | ENGL 1221 Writing Seminar | 3 |
| Total | 16 | Total | 16 |
Year 2
| | | | |
| --- | --- | --- | --- |
| Fall Semester | Credit Hours | Spring Semester | Credit Hours |
| CHEM 2611 Organic Chemistry 1 | 3 | CHEM 2621 Organic Chemistry 2 | 3 |
| CHEM 2651 Organic Chemistry Lab 1 | 1 | CHEM 2661 Organic Chemistry Lab 2 | 2 |
| CHEM 2311 Analytical Chemistry 1 | 4 | CHEM 2481 Chemical Applications of Mathematics | 3 |
| PHYS 2311 Physics 1 | 3 | PHYS 2321 Physics 2 | 3 |
| PHYS 2341 Physics Lab 1 | 1 | PHYS 2351 Physics Lab 2 | 1 |
| CHEM 2001 Capstone 1 | 1 | Distribution Requirement | 3 |
| Distribution Requirement | 3 | Total | 15 |
| Total | 16 | | |
Year 3
| | | | |
| --- | --- | --- | --- |
| Fall Semester | Credit Hours | Spring Semester | Credit Hours |
| CHEM 3411 Physical Chemistry 1 | 4 | CHEM 4111 Advanced Biochemistry 1 | 3 |
| CHEM 3111 Biochemistry | 3 | CHEM 3001 Capstone 2 | 1 |
| CHEM 3151 Biochemistry Lab | 1 | ACS Biochemistry Elective* or Elective | 3 |
| Diverse Cultures Seminar | 3 | Distribution Requirement | 3 |
| Distribution Requirement | 3 | Elective | 3 |
| Total | 14 | Total | 13 |
Year 4
| | | | |
| --- | --- | --- | --- |
| Fall Semester | Credit Hours | Spring Semester | Credit Hours |
| CHEM 3711 Inorganic Chemistry 1* or Elective | 3 | CHEM 4001 Capstone 3 | 2 |
| Distribution Requirement | 3 | CHEM 4121 Advanced Biochemistry 2 | 3 |
| Distribution Requirement | 3 | CHEM 4161 Advanced Biochemistry Lab | 2 |
| Elective | 3 | Elective | 3 |
| Elective | 3 | Elective | 3 |
| Total | 15 | Elective (at least 2 hours) | 2 |
| | | Total | 15 |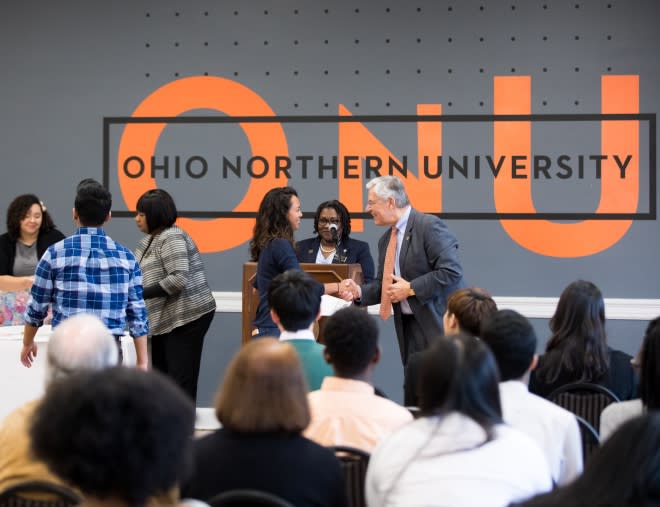 Think Success
Allison Williamson BS with a major in Chemistry '13
"One of the simplest measures of success is to be able to say that you love your job and look forward to going into work in the morning. Some people aren't able to say that, but I can with complete sincerity. I can't thank my O.N.U. professors enough for how well they prepared me to be successful in the workforce. They passed on knowledge, advice and also practical skills, like how to work efficiently and safely in the lab."
In high school, Allison Williamson excelled in chemistry. Her uncle, a biochemist in cancer research, showed her that science has the potential to improve quality of life. Allison decided to make chemistry her career path. At ONU, she became a founding member of the chemistry honorary Gamma Sigma Epsilon. She was also active in ONU's chapter of the Student Members of the American Chemical Society (SMACS). This group afforded her fun opportunities, like carving the entire periodic table of pumpkins and making ice cream using liquid nitrogen. SMACS also funded her participation in the national conference for the American Chemical Society where she presented research. Today, Allison is a research chemist for Lubrizol Corporation in Wickliffe, Ohio, a specialty company that manufactures additives for use in engine oils, transmission fluids, hydraulic fluids, gear oils and more. She travels nationally and internationally to the company's plants where she troubleshoots problems and provides support.
Last updated Nov 2019
About the School

Ohio Northern University is an independent, comprehensive University located in the scenic village of Ada, Ohio. The University comprises five colleges: Arts & Sciences, Business Administration, E ... Read More
Ohio Northern University is an independent, comprehensive University located in the scenic village of Ada, Ohio. The University comprises five colleges: Arts & Sciences, Business Administration, Engineering, Pharmacy and Law. Since our inception in 1871, we've been devoted to developing students who are ready to immerse themselves and progress to the next level? in everything they do.
Read less