Program Description
The BTS and the second and third year of Bachelor in Graphic Design are performed in parallel and enable obtaining a double degree, the BTS state diploma awarded by the Ministry of Education and the Bachelor International in Graphic Design.
This training meets the conceptual and semantic learning related to communication (message quality, relevance means), plastic (composition, typography, graphics, color) and technological (infographic control means, knowledge of printing systems).
It requires two compulsory work placements, a printing weekdays for one and 4 to 6 weeks in an advertising agency or graphic design studio designing print products, for the other.
Formation's goal :
Become a designer, master the communication strategy, design and produce products in various formats and media in the fields of graphic design, publishing, advertising ...
entry requirement:
Having already made an Upgrade Applied Arts (Manaa) or a year of training in applied arts.
Prerequisite:
Creativity, multidisciplinary technological sensitivity, communication skills, knowledge of the IT environment and software (Illustrator, Photoshop, Indesign), art and contemporary culture.
professions:
independent designer, employee or consultant as an assistant to the artistic director of an advertising agency, a design studio or a studio built within a company, an administration, institution , an association, a local authority.
Continuing Studies :Alongside the course of the upgrade class and the BTS, Autograf offers validated by equivalence a BA in Graphic Design allows to move towards the Master of Art Director in Graphic Design title level RNCP I (OG 09 / 12/2012).
It is also possible to continue his education in the public schools of applied arts, which lead to higher diploma of applied arts (LSS) or joined by an equivalent university courses.
Testimony of a student in BTS and Bachelor in Graphic Design:
Nicolas
"I started the first two years of medical and bio year in college before it was understood can not be for me. Meanwhile I spent a lot of time in Photoshop and was interested in the pub. I stumbled upon the Autograf school and during my interview to get in MANAA, I was pleasantly surprised with the human side of the school, the head teacher seemed to know all students well, and listen to them. There was a good atmosphere. In MANAA, I felt more in my element in medicine. The atmosphere was very pleasant and I was not the only one with more than twenty years. I discovered drawing and graphics process that I wanted. For the year-end training, the trainers help us a lot. It is thanks to my teacher DTP, Michel Lefebvre, I got an internship in a company that subsequently kept me professional contract for BTS graphic design alternately. It is a small company in which I am attached to the communication service. I'm the only graphic designer, which allows me to handle both the creation and execution.
BTS are like a small family, class of twenty students are more conducive to work the huge lecture halls of the university. There is a constructive and friendly atmosphere. Trainers as the administrative team know us individually, we are not just a name on a list. I also greatly admire the career of some trainers. Eventually, I would taste as Artistic Director, but my ideal would be to become a photographer in advertising agency. For now, I plan to get my Bachelor BTS and to continue my Master of Arts in Graphic Design Director Autograf. "
Workshop Edition Autograf
Workshop a week for Bachelor 2nd and 3rd year Graphic Design, on the theme of animal illustrations for children's book covers.
Last updated Apr 2017
About the School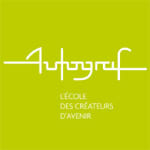 Fondée en 1982 et située au cœur du 20ème arrondissement de Paris, Autograf, école historique dans les domaines du Graphisme, du Digital, du Design d'Espace et du jeu vidéo, propose des formations val ... Read More
Fondée en 1982 et située au cœur du 20ème arrondissement de Paris, Autograf, école historique dans les domaines du Graphisme, du Digital, du Design d'Espace et du jeu vidéo, propose des formations validées par des diplômes d'état ou reconnus par l'état. Ecole à taille humaine, chaque étudiant bénéficie d'un accompagnement individualisé par les professeurs et l'équipe pédagogique.
Read less