Program Description
At the Dicke College of Business Administration, you'll receive a solid foundation in the key facets of accounting. When you graduate, you'll have the basics to help you prepare for professional certification exams such as the Certified Management Accountant (CMA) or Certified Internal Auditor (CIA) exams. Enroll in our nationally ranked Master of Science in Accounting (MSA) program, and you will meet the educational requirements to take the Certified Public Accountant (CPA) exam, too.
Small class sizes mean that you'll get to know your professors personally. Your faculty advisor will be a CPA with real-world accounting experience who will mentor you through your academic program. You'll also interact with and learn from business executives and entrepreneurs, many of whom are ONU alumni, who've forged amazing careers as financial and business leaders and who can open doors for you.
Upon graduation, you'll be primed for your destiny – whether it's working for a Big Four accounting firm, a large corporation or small business, or a governmental or nonprofit entity. You could even start your own company.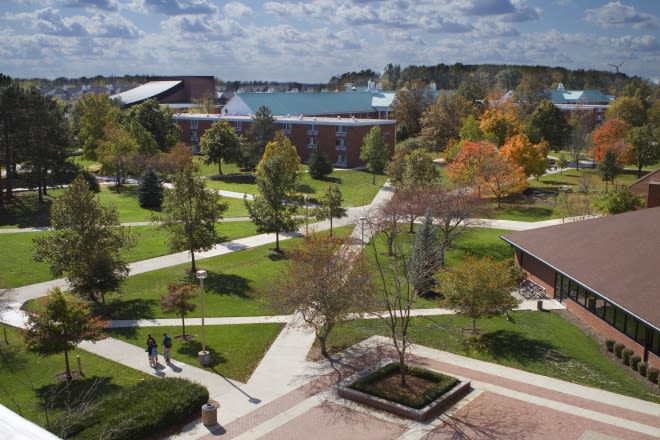 Count on opportunity
Your accounting program will blend rigorous coursework with real-world learning as you solve business problems for actual companies. Your mandatory internship will provide on-the-job training, and you'll become proficient in using information technology such as QuickBooks, data analytics tools and SAP enterprise resource planning software. You'll also hone your leadership, teamwork, creativity and entrepreneurial skills.
Beta Alpha Psi
BAP is an international accounting honorary organization for upper-class students with a GPA of 3.0 or higher that hosts guest speakers, tutors underclassmen, and participates in community outreach such as the IRS's Volunteer Income Tax Assistance (VITA) program for elderly and needs-based individuals. BAP also hosts "Meet the Accountants Night" to give you networking opportunities with the Big Four accounting firms, Fortune 100 companies, nonprofit entities, and regional/local companies and accounting firms. Students participate in a regional conference and competition each year, oftentimes garnering awards.
Internships
Get a high-impact head start.
Work in accounting, build your résumé and explore your interests and career aspirations in your domestic or international internship. Most internships are paid, and many of them result in offers of full-time employment upon graduation.
Our graduates are making a difference all over the world. Check out where our graduates have ended up.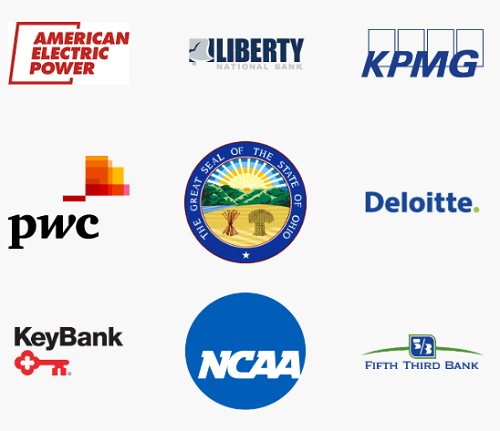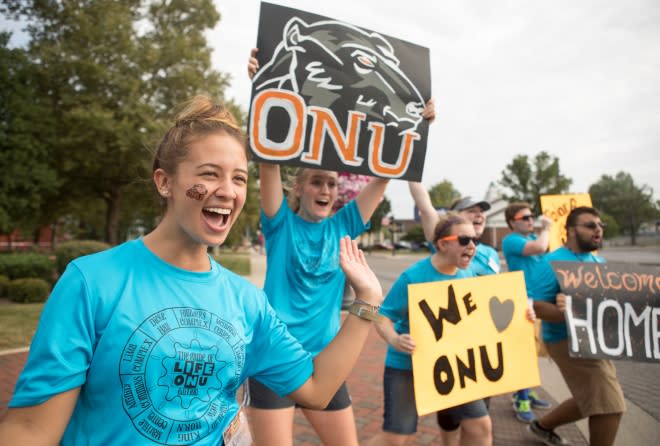 Student Organizations
In the College of Business, we have a variety of active and award-winning student organizations. Through participation in one or more of these groups, you'll have the opportunity to network, be a leader, make lifelong friends, gain knowledge about your chosen profession, volunteer, travel to regional and national conferences, and more. Click on the headlines below to learn more.
Beta Alpha Psi
Beta Alpha Psi is an honorary organization for financial information students and professionals. The primary objective of Beta Alpha Psi is to encourage and give recognition to scholastic and professional excellence in the business information field. This includes promoting the study and practice of accounting, finance and information systems; providing opportunities for self-development, service, and association among members and practicing professionals, and encouraging a sense of ethical, social and public responsibility.
Beta Gamma Sigma
The mission of the International Honor Society Beta Gamma Sigma is to encourage and honor academic achievement in the study of business, to foster personal and professional excellence, to advance the values of the Society and to serve its lifelong members.
Northern Entrepreneurship Organization
This association is a collegiate chapter of NEO. Over the last decade, NEO has helped thousands of student entrepreneurs gain the opportunities and resources to inform, support and inspire them in their entrepreneurial endeavors.
DCBA Dean's Advisory Council
The Dean's Advisory Council is a group of student representatives who strive to improve the Dicke College of Business Administration through proactive leadership, organized teamwork, and dynamic communication with students and faculty in a manner that reflects the integrity of the college and Ohio Northern University. The council consists of four DCBA students from each undergraduate class.
Dean of the DCBA: Dr. John C. Navin
Selection of new members. All freshmen are encouraged to apply for four open spots through an application and interview process. Candidates are elected by the Dicke College of Business Administration majors. Once selected, members remain on the board for their four years at ONU.
Institute of Management Accountants
We provide a dynamic forum for management accounting and finance professionals to develop and advance their careers through certification, research and practice development, education, networking and the advocacy of the highest ethical and professional practices.
ONU Healthcare Business Professionals
The Healthcare Business Professionals serves to help members explore all aspects of business in the healthcare sector with an emphasis on the pharmaceutical industry. Students of any major are welcome to be a member of the organization. We seek to provide members with knowledge of various aspects and career opportunities in healthcare as well as to maintain working relationships with professionals in the industry.
Polar Merchandise
Polar Merchandise is Ohio Northern's first and only entirely student-run business. Polar has resided in the Dicke College providing promotional products and custom merchandise to both Ohio Northern Organizations and businesses in the Midwest since 2010.
Recently Polar has totally renovated its business model significantly reducing price and improving customer service. As of April 2014, Polar Merchandise became an authorized dealer of Kaeser and Blair which has allowed us to reduce pricing to at or below the industry standard.
Society for Advancement of Management
The mission of SAM is to provide an opportunity for the members to increase management skills and expertise through participation in programs and services designed to improve the professional quality of their knowledge, performance and leadership ability. SAM is open to all ONU students.
Society for Human Resource Management
The Society for Human Resources Management is the largest organization in the world completely dedicated to Human Resources Management. SHRM was founded in 1948 and has over 275,000 members in 160 countries. SHRM is responsible for providing resources to HR professionals and developing their skills throughout their careers.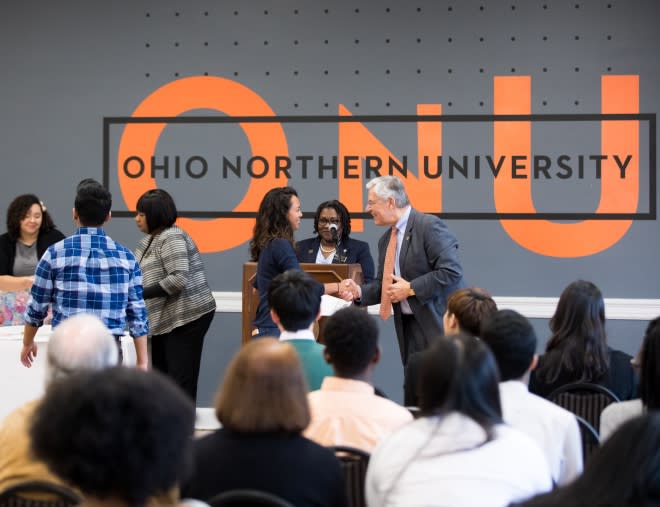 Curriculum
You'll need 120 credit hours to earn a BSBA with a major in accounting. We encourage you to use your elective hours to pursue courses or a minor that will make you more attractive to a potential employer.
Here are some courses you'll take as an accounting major: Intermediate Managerial Accounting, Intermediate Financial Accounting, Auditing, Current Topics in Accounting and Taxation (Individual & Corporation).
Year 1
| | | | |
| --- | --- | --- | --- |
| Fall Semester | Credit Hours | Spring Semester | Credit Hours |
| BIZ 1001 TREX for Business Students | 3 | BIZ 1201 Ethical Leadership | 3 |
| ABUS 2011 PC Applications | 3 | BIZ 2001 Principles of Business Analytics | 3 |
| STAT 1561 Statistics for Professionals 1 | 3 | BIZ 2101 Principles of Accounting | 3 |
| ENGL 1221 Writing Seminar | 3 | CAMS 1301 Presentational Speaking | 3 |
| General Education Requirement | 3 | General Education Requirement | 3 |
| Total | 15 | Total | 15 |
Year 2
| | | | |
| --- | --- | --- | --- |
| Fall Semester | Credit Hours | Spring Semester | Credit Hours |
| BIZ 2021 Principles of Microeconomics | 3 | BIZ 2031 Principles of Macroeconomics | 3 |
| BIZ 2331 Principles of Management | 3 | BIZ 2131 Legal Environment | 3 |
| BIZ 2401 Information Systems | 3 | BIZ 2511 Principles of Marketing | 3 |
| BIZ 2801 Career Planning | 3 | ACCT 3011 Intermediate Financial Acct 1 | 3 |
| ACCT 2201 AIS and the Accounting Cycle | 3 | ENGL 2021 Business Writing | 3 |
| Total | 15 | Total | 15 |
Year 3
| | | | |
| --- | --- | --- | --- |
| Fall Semester | Credit Hours | Spring Semester | Credit Hours |
| BIZ 3631 Advanced Business Analytics | 3 | BIZ 3621 Principles of Finance | 3 |
| BIZ 3641 Operations Management | 3 | BIZ 3XXX Strategic Management | 3 |
| ACCT 3021 Intermediate Financial Acct 2 | 3 | ACCT 3151 Intermediate Managerial Acct 2 | 3 |
| ACCT 3141 Intermediate Managerial Acct 1 | 3 | ACCT 3871 Taxation 1 | 3 |
| General Education Requirement | 3 | General Education Requirement | 3 |
| Total | 15 | Total | 15 |
Year 4
| | | | |
| --- | --- | --- | --- |
| Fall Semester | Credit Hours | Spring Semester | Credit Hours |
| BIZ 4XXX Capstone Project | 3 | Accounting Major Elective | 3 |
| ACCT 4011 Auditing 1 | 3 | Elective | 3 |
| Elective | 3 | Elective | 3 |
| Elective | 3 | Elective | 3 |
| Elective | 3 | Elective | 3 |
| Total | 15 | Total | 15 |
BIZ 4911 Accounting Internship 1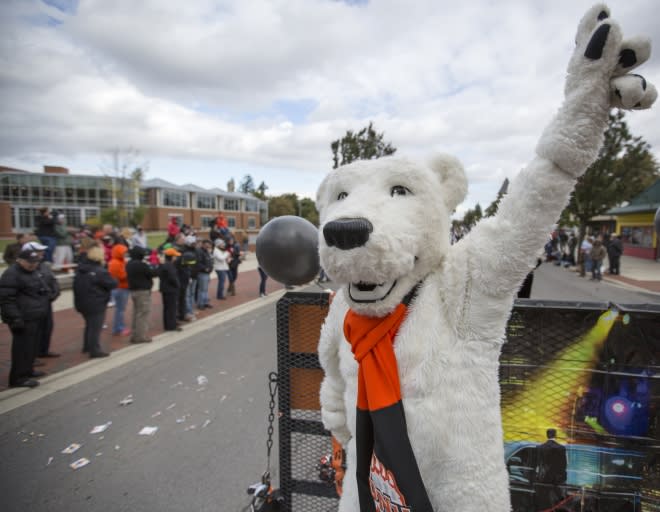 Our graduates make a difference all over the world
Whether you enter the workforce right after graduation or continue your education in graduate school, the Smull College of Engineering prepares you for success.
Think Success
"Coming to a school as small as Ohio Northern, I was initially nervous about the opportunities, or lack thereof, that would be available to me. Now, I can look back and see that I have had more opportunities and have been exposed to more networking in the business world than I ever could have at a large state school."
Jill Kowalski, Accounting Major
Last updated Nov 2019
About the School

Ohio Northern University is an independent, comprehensive University located in the scenic village of Ada, Ohio. The University comprises five colleges: Arts & Sciences, Business Administration, E ... Read More
Ohio Northern University is an independent, comprehensive University located in the scenic village of Ada, Ohio. The University comprises five colleges: Arts & Sciences, Business Administration, Engineering, Pharmacy and Law. Since our inception in 1871, we've been devoted to developing students who are ready to immerse themselves and progress to the next level? in everything they do.
Read less