Bachelor (Top up) in Web Development
Program Description
Bachelor top-up programme - 1½ years - 90 ECTS
The Web Development programme is a top-up programme based on the Computer Science or the Multimedia Design and Communication programmes.
The programme focuses on the development of web technologies within a number of different application fields and a number of different distribution platforms. We consider it particularly important that you work with technologies that will enable you to undertake many different kinds of jobs. This may be anything from advanced web development projects, where the products are aimed at many different platforms, to the use of multimedia in integrated communication solutions.
Admission Requirements
Web Development
In order to be admitted to this degree programme, you must have completed one of the following programmes:
Multimedia Design and Communication
Computer Science
You can also apply for an AP degree in IT Network and Electronics Technology. With this AP degree, you have to pass both front-end development (10 ECTS) and back-end development (10 ECTS) after the first semester.
English test
If you do not have a Danish AP degree (International line), you must also meet our requirements for an officially approved English test.
We accept these tests with the following minimum scores:
IELTS: 6.5
TOEFL Internet-based: 83
TOEFL Paper-based: 560
Cambridge test: CAE A, B or C
Oxford Placement: 160 (min. 80 in each part)
Oxford Online Placement test: C1(offered at Business Academy Aarhus)
For non-EU applicants, we only accept IELTS and TOEFL.
Native English speakers and applicants with Nordic entrance exams (including applicants with a qualifying examination from the USA, Canada, Australia, New Zealand, Great Britain, Scotland, or Ireland) are exempt from an English test. Please note that applicants with a qualifying examination from all other countries (including African and Asian countries, where the language of instruction is English) must submit a test.
If you have a Danish-language entrance exam (or another Nordic entrance exam), you must have at least English B or equivalent.
Career Options
Web Development
The programme is geared towards employment in R&D departments in companies of all sizes or in large consultancy or software companies working in the web field. Following a couple of years' work experience, you will be able to handle advanced functions in connection with the planning and architecture of complicated web systems.
Below are some examples of job titles:
Web Developer
Web Designer
Front-end Developer
Interface Developer
UX Developer
Programmer
Webmaster
Last updated Feb 2018
About the School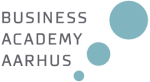 Business Academy Aarhus is a School of Applied Sciences
Business Academy Aarhus is a School of Applied Sciences
Read less