Bachelor's Programme 'International Business and Management Studies'
Home ›
Bachelor ›
Bachelor's Programme 'International Business and Management Studies'
Program Description
Programme Overview
This programme aims to train experts with in-depth interdisciplinary knowledge and practical skills who are able to make reasonable and confident decisions in various spheres of international business.
The unique design of the program enables a combination of the two most relevant foci: International Business and Business Analytics. Apart of these foci, the program provides a very strong fundamental core in business studies, flexible tracks in regional studies and international business and academic internships.
Applicability, aims, and challenges
The main principle of the program - to anticipate trends, to respond to the strategic challenges of a dynamic environment of global business, as well as to prepare the future leaders of these changes. Graduates of the Bachelor in International Business are supposed to become very demanded business analysts, visionaries, tentmakers.
Knowledge, skills, and competencies
The intensive programme in International Business has been developed on the basis of international standards. The content of the programme focuses on knowledge and skills in international business.
Graduates receive a European Diploma Supplement. The curriculum also includes special subjects that aim to develop students' ability to study in English, as well as a second foreign language course.
Aim and Objectives of the Programme
The BA in International Business at HSE-St. Petersburg is designed for those who intend to develop an international career, dream to set its own business or work for a large multinational company in Russia or outside. Graduates get a fundamental understanding of main areas of international business and vital skills in business analytics.
In 2016 QS World University Rankings by Subject "Business & Management Studies" has placed HSE among the 200 best universities worldwide.
HSE is ranked 83 spot in the Times Higher Education (THE) ranking in 2016 for 'Business and Economics'.
Foreign Language Opportunities
BA Management is 100 % taught in English.
A one-year course of Russian language is provided for international students by HSE-St. Petersburg and is included in the student's individual study plan.
HSE-St. Petersburg provides additional outside the curriculum opportunities for learning foreign languages (German, French, Spanish, Swedish, etc) at any level, from beginner to advanced.
Curriculum
The programme is structured in five modules. The combination and progression of modules in each year provides relevant learning outcomes:
Core Business Management Module
International Business Module
Business Analytics Module
Minors (Priority in Regional Studies)
Internship/Projects/Research
Each module contains a number of compulsory and optional units:
Core business disciplines: general and strategic management, innovation management and investing, economic theory, econometrics, game theory, and mechanism design
International Business: international marketing, global economy, and trade, international finance, new global business models
Business analytics: big data and decision-making, information technology in business, corporate finance, accounted and integrated reporting, analytical communication, data visualization, risk analytics
Minors are offered so that students can develop specific expertise in a certain region: China or Northern Europe.
Last updated Feb 2020
About the School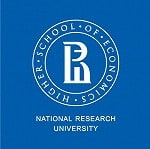 Consistently ranked as one of Russia's top three universities, the National Research University Higher School of Economics (HSE University) sets itself apart by its internationally-minded, research-dr ... Read More
Consistently ranked as one of Russia's top three universities, the National Research University Higher School of Economics (HSE University) sets itself apart by its internationally-minded, research-driven approach to higher education. Based in the vibrant centre of Moscow, with campuses in St. Petersburg, Nizhny Novgorod and Perm, HSE offers outstanding academics at all levels and includes more than 40 English-taught Master's programmes and 8 English-taught Bachelor's degree programmes.
Read less