Ba tourism & event management
Program Description
The tourism industry is the world in growth and also events have established themselves as experience-oriented event concept in culture, sports, tourism and business. The instruments are an indispensable part of a modern marketing communications. The Bachelor Degree Program "Tourism & Event Management" engages the impulses and opportunities that arise from the interaction of these two growth markets, and provides students with EBC Hochschule a balanced and mature curriculum of both disciplines. The course content is aligned with the current requirements and job profiles of tourism & event industry, such as those by the Federation of Direct Business Communications (FAMAB / FME) and the German Society for Tourism Studies (DGT) has been compiled for the training.
Program Contents »Tourism & Event Management"
In addition to the undergraduate business education that offers the degree program "Tourism & Event Management", the tourism and event management program is extended by broad subjects from the tourism and event industry. Lectures as, inter alia, "International Tourism Geography", "mega events in the tourism and event marketing," or "Case Study: Experience-oriented theme worlds" as well as tourism and event consulting projects, an integral part of the third and fourth Semester are, prepare students of EBC Hochschule from the start in front on leading management positions in the tourism and event industry.
This international Tourismusmanagement- and Event Management course is accompanied by two foreign language courses as early as the first week - which is the one English and the other your chosen second language (French, Spanish or Chinese). To build our students in a very good foreign language skills they need for the internship and study abroad.
Practice-oriented and international management studies
are integrated into the event and tourism management studies after. 2 and fourth Semester a national and international internships, in which students of EBC Hochschule can apply their professional interests in various companies and departments before they choose their major subject in the study. This facilitates decision-making for a specialization and brings valuable experience with them, preparing them for the upcoming career. In the study course "Tourism & Event Management" to hotel chains, event agencies, companies offer (Communications Department), airlines, cruise companies as well as political and cultural institutions and associations as internship partner.
In the subsequent study abroad not only the foreign language skills of the intensive language training EBC be strengthened, but our students acquire intercultural skills, learn the country and the culture to know and make valuable contacts. The most popular partner universities of tourism and event-study are the James Cook University in Townsville / Cairns, European Business School in Dublin, Prince of Songkla University in Thailand and the ESC La Rochelle in France. Overall, however, our EBC students can choose from more than 50 partner universities.
Specializations in tourism and event management
Back from abroad, the 6th semester shares besides common events in the two specializations in Tourism Management and Event Management:
Advanced Tourism Management
(Carrier Management, E-Commerce in Tourism, Spatial Planning in Tourism)
Advanced Event Management
(Cultural at social events, Trade Fair, Exhibition and Congress Management, Branded Environments)
Curriculum

Graduation
On successful completion of the three-year study EBC graduation for a Bachelor of Arts (BA) takes place.
perspectives
With the BA in studying Tourism & Event Management jobs in different companies, agencies, organizations and institutions can be found. The areas include:
tour Operators
Airlines, Airports
Cruise companies
Hotels, Holiday Clubs
Tourism Organizations in destinations
Associations in tourism
Exhibition and convention centers, exhibition organizations
event agencies
Marketing, communications, events departments in
company
PR agencies
Sponsoring agencies
Incoming agencies
cultural institutions
Political institutions
Social facilities
Last updated Mar 2020
About the School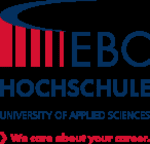 Become a management professional with an international perspective – a truly global citizen. EBC University of Applied Sciences is a German globally connected multi-campus business school with a stron ... Read More
Become a management professional with an international perspective – a truly global citizen. EBC University of Applied Sciences is a German globally connected multi-campus business school with a strong focus on practical application and implementation. The core of our institutional philosophy is to put the student in the centre of all our actions. We are highly invested in our students and alumni.
Read less