Program Description
The International Sport represents fascination, power and entertainment. Nevertheless, a rather a multibillion dollar industry with an interesting and dynamic labor market. The siebensemestrige Bachelorstudiengang Sports Management* Gives you the opportunity to build on a sound operational scientific basis to build as a specialist in this market your career. Specialize in the areas of business start-up, personnel management, event management or Sports Media.
We care about your career - Practice-oriented, personalized care, internationally
"We carry out real projects with real partners, so that students can show robust industry-specific projects directly to job entry in which they were involved during their studies. (...) A perfect strike in the application! "
Course contents Sports Management BA *
In Bachelorstudiengang Sports Management * place in the first three semesters the foundation on which to base your future professional development - you learn the most important content of business administration, economics and law. At the same time you'll acquire the technical foundations of sport management.
They learn the different markets, organizations and structures of the sports industry know, get an overview of the events industry and learn the differences between performance, recreational activities, health and mass sports. In addition to lecture-accompanying case studies in small project groups are in soft skill seminars as Business English, project management and scientific work professionally qualifying skills on.
In the fourth and sixth semester you develop your professional expertise in the fields of business administration and management of sport and put your individual focus - either in event management or Sports Media. In studying abroad in the fifth semester you gain valuable intercultural experience and apply your theoretical knowledge in practice in a first placement period at home or abroad.
Another internship you complete either abroad or at home during the transfer semester. Successful completion of a bachelor's thesis you complete your studies from after the seventh semester of the Bachelor of Arts.
Optional Football Focus
Whether World Cup or Africa Cup of Nations, Bundesliga or Premier League, DFB or RFEF - the international football is one of the largest labor markets in Sports Management *. Therefore, the EBC University offers you an additional specialization in Football Management. The Optional Football Focus offers students the opportunity to acquire special knowledge in the football market outside the regular curriculum. To collect practical knowledge to study and position themselves so far ahead in the competition for entry into this attractive labor market.
In a further optional offer they have the opportunity to acquire practical skills relevant as SAP and Data Analysis with SPSS or develop with the Studium Generale valuable knowledge and understanding of the overall context.
Curriculum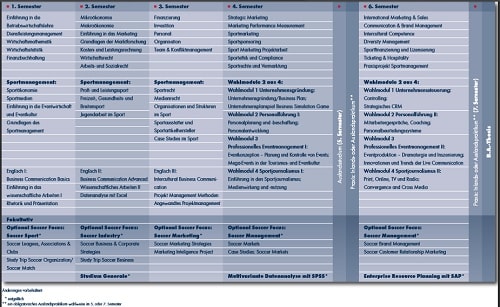 Graduation
The program ends after accreditation from the internationally recognized Bachelor of Arts and 210 credit points and enables you to receive a master's program.
Prospects for Sport Management graduates
In addition to Europe probably the most representative region for Sport Manager - the football, there are just as sporting goods manufacturers and sports clothing brands and large venues, the same house next to music also sporting events, which offer extensive career opportunities. Mega events like world championships or Olympic generate the need for internationally educated sports managers. At the same time the leisure market in terms of mass sports and sports events developed dynamically. Gaze into your own country reveals the many companies that sponsor sporting events or athletes, organizations that look after the interests of entire sports or also-present everywhere in the cityscape gym chains, often with the ability to own independence. A safe basis for a long-term career prospects in companies, associations or for the leap into self-employment.
Start your career there as in:
Business Development
Marketing
marketing research
organizational development
event management
Human Resources
Product Management
Last updated Mar 2020
About the School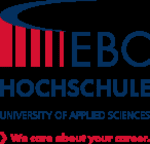 Become a management professional with an international perspective – a truly global citizen. EBC University of Applied Sciences is a German globally connected multi-campus business school with a stron ... Read More
Become a management professional with an international perspective – a truly global citizen. EBC University of Applied Sciences is a German globally connected multi-campus business school with a strong focus on practical application and implementation. The core of our institutional philosophy is to put the student in the centre of all our actions. We are highly invested in our students and alumni.
Read less