Ba it security and mobile systems
Home ›
BA ›
Ba it security and mobile systems
Program Description
Being online, mobile and connected offers enormous opportunities. Honestly: Can you still without? On the other hand, however, this state also carries risks that must be considered professionally and systematically. Design our digital world - mobile and secure. Study IT Security and Mobile Systems at the University of Stralsund! And so much is promised: With a campus by the sea, the fun is not too short.
See you on the modern campus right on the Baltic Sea!
overview
Degree Program - IT Security and Mobile Systems - Bachelor (SMSB)
Faculty - Faculty of Electrical Engineering and Computer Science
Start of studies - winter semester
Approval - approval-free
Duration of study - 7 semesters
Creditpoints - 210 ECTS
Degree - Bachelor of Science (B.Sc.)
Lecture Language - German
Pre-requisites
general university entrance qualification (Abitur) or
Fachhochschulreife or
Master's degree or equivalent vocational training or technical school examination (more information at the General Counseling Office) or
access check
Summary
Most of us today have a smartphone, are permanently online and of course use various online services as well as social media channels. We surround ourselves with devices that communicate with each other around the clock and increasingly autonomously make decisions for us.
The technical developments of recent years, in addition to all the possibilities, also harbor security risks. How safe or vulnerable are we and our data? The use of highly networked systems requires an awareness of the dangers of these systems and interlocking security measures.
As a graduate of the degree program "IT Security and Mobile Systems", you have an eye on the security of the systems you are developing. They are able to design, develop and implement systems including appropriate security concepts.
Goals and job prospects
The Bachelor's degree program prepares you directly for a job or serves as the basis for a Master's degree. General knowledge of computer science qualify you in all areas of software development. The specialization of the degree program also opens up additional exclusive fields of employment in the area of ​​IT security, mobile systems and the intersection of these areas.
professions
The program prepares you for responsible and demanding activities, such as in the following areas:
IT security consulting, analysis and testing
Design, construction, administration and operation of computer networks and information systems with special consideration of security aspects
Software development, in particular for distributed and mobile applications, taking into account security aspects
Development of intelligent and safe assistance systems as well
Management and leadership tasks
Study design
The standard period of study is seven semesters, including the internships. The focus of the IT security sub-area is on qualifications that are very important today in the areas of network and system security as well as cryptography. The focus of the Mobile Systems sub-area is software development.
In the first few semesters, the basic education takes place so that you understand the complex systems in computer science. In addition to the compulsory modules, in the fourth semester you also choose an elective course and choose between Big Data, Cryptographic Protocols, Maintenance, Artificial Intelligence and Computer Graphics. You will gain further specialization in the higher semesters and, among other things, also work on joint projects in a team.
Professional air sniff in the 5. Semester: This practical semester consists of a total of 20 weeks and is completed outside the university in a company, an authority or an institution.
Mathematics I
Hardware Basics I
Programming I
operating systems
Introduction to the study
Communication and self-management
English I
Mathematics II
Hardware Basics II
Programming II
LP operating systems
computer networks
English II
Laboratory internship software
Algorithms and data structures
databases
Network Security
cryptography
Mobile systems
Development of Secure and Mobile Systems
Usability engineering for mobile systems
Elective according to catalog
Praxissemester
Theoretical computer science
Embedded Systems
Autonomous Mobile Systems
certification
Basics Business Administration
Communication & Presentation
IT - Law and Privacy
IT project
Bachelor thesis
Last updated Mar 2020
About the School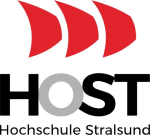 Welcome to HOST! Are you thinking about studying here? Or are you interested in a period of study or internship abroad? Are you a university lecturer or staff member who would like to find out more ab ... Read More
Welcome to HOST! Are you thinking about studying here? Or are you interested in a period of study or internship abroad? Are you a university lecturer or staff member who would like to find out more about staff mobility as part of research, teaching or professional development, or about starting an international university partnership? Then HOST International's service ist just what you have been looking for! On the following pages we provide you information about our University's international relations.
Read less