Ba industrial engineering, international
Home ›
BA ›
Ba industrial engineering, international
Program Description
Today the Baltic Sea, tomorrow the whole world! No problem with the International Industrial Engineering in Stralsund. The degree program also brings together the best of both worlds - business and technology - and ideally prepares you for leadership positions in Germany and abroad through additional intercultural experience. And at the University of Stralsund you not only learn everything you need for your career. Located directly on the sea, the fun is not too short!
overview
Degree Program - International Business Engineering Bachelor (WIIB)
Faculty - Faculty of Mechanical Engineering
Start of studies - winter semester
Approval - approval-free
Duration of study - 8 semesters
Creditpoints - 240 ECTS
Degree - Bachelor of Engineering (B.Eng.) Or on application Diplom-Wirtschaftsingenieur (FH)
Lecture Language - German (partly English)
Pre-requisites
general university entrance qualification (Abitur) or
Fachhochschulreife or
Master's degree or equivalent vocational training or technical school examination (more information at the General Counseling Office) or
access check
Summary
International Industrial Engineering is a modification of the Industrial Engineering program, with a focus on internationalization. In the first semesters you will be taught basic knowledge of technology, economics and computer science. As of the fourth semester, you will learn the foreign languages ​​(usually English) and you will train important soft skills. From the fifth and sixth semester, more than half of the courses offered are organized in elective modules. So here you can set your own individual focus of your training.
Then it goes into the distance! You will spend another two semesters in foreign-language countries. Of these, the seventh semester is reserved for additional courses of your choice at a foreign partner university. After that, you will complete an internship in the same foreign country in the eighth semester.
The study is completed with the Bachelor thesis. With the extension of the foreign language course, the inclusion of international and cultural comparative aspects in the study you get a very good preparation for a leadership position in the international job market.
Goals and job prospects
The training objective of the practice-based study, which is based on scientific principles, is your ability to enter the international professional environment directly after your studies. Industrial engineering has always combined technical and economic education with hybrid knowledge, giving industry and the service sector direct access to well-founded interdisciplinary qualifications. In addition, the engineers of this degree program are characterized by their acquired language and intercultural competence abroad.
Study design
Mathematics I
Physics and chemistry
computer science I
Engineering Mechanics
Machine elements I
Economics
Accountancy
CAD
Mathematics II
computer science II
Materials Technology
Engineering Mechanics II
Machine elements II
Economics
Accountancy
Business Administration I
Financial Mathematics / Statistics
Materials Technology
Thermodynamics and fluid mechanics
Fundamentals of Electrical Engineering
production technology
Business Administration II
Corporate / HR Management
Business law
measurement
production technology
Business law
Marketing
Controlling
Materials Management and Logistics
Methodological and social competence with internal reference
Foreign Language for Business and Technology I
Control systems
Controlling
Business Taxation
Foreign language for economy and technology II
Elective subject 1
Wahlfichtfach 2
Elective subject 3
Optional Compartment 4
Foreign language for economy and technology II
Project Management
Project work with international reference
Intercultural Management / Marketing
Production Planning and Control
Optional Compartment 5
Optional Compartment 6
Elective subject 7
Semester abroad at the partner university
practical phase
Bachelor thesis and Bachelor colloquium
Last updated Mar 2020
About the School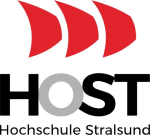 Welcome to HOST! Are you thinking about studying here? Or are you interested in a period of study or internship abroad? Are you a university lecturer or staff member who would like to find out more ab ... Read More
Welcome to HOST! Are you thinking about studying here? Or are you interested in a period of study or internship abroad? Are you a university lecturer or staff member who would like to find out more about staff mobility as part of research, teaching or professional development, or about starting an international university partnership? Then HOST International's service ist just what you have been looking for! On the following pages we provide you information about our University's international relations.
Read less