Ba fashion, luxury & retail management
Home ›
BA ›
Ba fashion, luxury & retail management
Program Description
Looking for a springboard to go into the international fashion, luxury or retail industry? They have passion for the subject and want the developments and trends of tomorrow to shape?
Now lay the foundation for an international career with the Bachelor course "Fashion, Luxury & Retail Management" and make the first step to your future management position in areas such as business development (strategy), marketing, purchasing, sales, and product and collection management.
What to expect?
Fashion and luxury goods are largely determined by dynamics and internationality. Brands are not just the product name, but "Brands", convey the sense of life and spirit. Technical developments, such as in logistics, new distribution channels by e- or m-commerce, demographic change or new strategies of profiling ensure fast changing market structures and consumer behavior.
Through the progressive integration of markets, the profiling in international competition is even more challenging. Innovative approaches arise distribution channels merge, differentiation and demand orientation are becoming increasingly important.
For these reasons, it is to dispose of particular relevance interdisciplinary action and problem solving skills, industry knowledge and personal skills to start a professional career successfully. The course "Fashion, Luxury & Retail Management" takes these movements in the market and paves through the fold-and industry-specific subjects portfolio, the provision of Soft & Communication Skills and the strong language focus optimally on these challenges.
"WE CARE ABOUT YOUR CAREER"
Fashion, Luxury & Retail Management
BWL-founded, internationally with industry focus
Your benefits at a glance:
Individual support by professors with years of industry experience: We encourage you!
Permanent practical experience using integrated study internships, practical projects, workshops, lectures on campus and excursions
Study abroad, internship and two foreign prepare ideal preparation for the international industry environment
Partner universities in the fashion capitals of the world
Final internship offers the best conditions for a practical thesis in the company and a profession directly
210 credit points provide optimal conditions for receiving a subsequent master's program
NEW NOW !: recess priorities Sales & Retail or Purchasing & Sourcing
Course contents »Fashion, Luxury & Retail Management"
The Fashion Management Studies »Fashion, Luxury & Retail Management" is divided into three subject areas. They are trained in the fields of economics, industry-specific business management and skills, foreign languages, methodology, team and conflict management, leadership and project management.
The undergraduate business education provides with events such as Introduction to Business, micro and macroeconomics, marketing, Managerial Accounting, International Management, Responsible Leadership and Entrepreneurship sound economics skills.
In addition, there is the industry-specific training of fashion management studies in the events fashion history & sociology, Fashion Buying & Merchandising, material science and processing, fundamentals of the luxury goods market, brand management in the fashion and luxury goods industry, trade marketing, Cross Channel Management and International Marketing and International Retailing again and supplemented as from the first semester your business knowledge to wider knowledge of the industry.
In. 5 Semester you can choose between two electives Sales & Retail or Purchasing & Sourcing to raise your profile. Like the rest of the events. 5 Semester the main subjects are taught in English.
From the first lecture the EBC Fashion Management Studies is accompanied by two foreign language courses - English and another foreign language (Italian, Spanish or French). To build EBC students to very good knowledge of foreign languages, they need to study abroad, the internship abroad and to meet the international working environment.
Practice-oriented and international management studies
While studying abroad, you not only consolidate the knowledge of foreign languages ​​from the intensive language training of EBC studies, but at the same time acquire intercultural skills, learn the country and the culture to know and make valuable contacts. The most popular partner universities FLRM students are presently the Mod'Art Paris, the Berkeley College NY or UCSC Milan. Other universities for study abroad are the EAC Paris, the European Business School Madrid (ebs Madrid), the Griffith College, Dublin, the Haute Ecole Libre Mosane, sun, the LIM College, New York, the Regent's University, London, the Royal Melbourne Institute of Technology (RMIT), Melbourne, the Universidad Peruana de Ciencias Aplicadas (UPC) and the University of East London.
In two internships please contact your theoretical and technical knowledge in the company.
The first internship after studies abroad also takes place abroad. The second placement is in Tranfersemester and offers good opportunities to write the subsequent Bachelor thesis in cooperation with a company. The transfer semester prepares intensively for the transition to work.
Specializations in study
After the stay abroad EBC students specialize in the 5th and 6th semester on a subject. We offer the following specializations:
Sales & Retail (Trend Analysis, Wholesale Sales Management, Retail Sales Management, Category Management & Visual Merchandising)
Purchasing & Sourcing (Product Development & Trends, Purchasing Processes & Methods, Sourcing & Supplier Management, International Negotiation)
Curriculum
Graduation
On successful completion of the seven-semester EBC studies graduation for a Bachelor of Arts (BA) takes place.
perspectives
Graduates of EBC Hochschule who wish to continue studying for her bachelor's degree, have the opportunity to acquire within a few semesters at other universities more financial statements and thus better to qualify for a successful career in the free economy. This includes, but a master's degree (MA). During the Bachelor Degree practical primarily, the master's program provides additional scientific knowledge. With the bachelor's degree at the EBC University you can reach 210 credit points.
The "Fashion, Luxury & Retail Studies" prepares you not only for entry into self-employment or consulting, but also for entry into different areas of the fashion industry, the luxury goods industry or for entering the trade front, as in:
Marketing
distribution
purchase
Product and Collection Management
Business Development
Last updated Mar 2020
About the School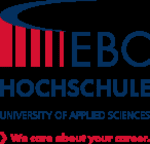 Become a management professional with an international perspective – a truly global citizen. EBC University of Applied Sciences is a German globally connected multi-campus business school with a stron ... Read More
Become a management professional with an international perspective – a truly global citizen. EBC University of Applied Sciences is a German globally connected multi-campus business school with a strong focus on practical application and implementation. The core of our institutional philosophy is to put the student in the centre of all our actions. We are highly invested in our students and alumni.
Read less