BSc in International Politics
Home ›
BSc ›
BSc in International Politics
Program Description
Who is it for?
The International Politics BSc (Hons) degree is for students who want to explore contemporary global issues and deepen their understanding of the rapid social and political changes affecting the world. This up-to-date, thought-provoking curriculum, will enable you to learn how governments, intergovernmental organisations, transnational movements, non-governmental organisations (NGOs) and multinationals influence global politics. You will also study international organisations as policy-making structures and will examine what kind of ideas, ethical concerns, and regional considerations shape global governance and key decisions around, for instance, conflict, peace, or economic gains. Crucially, you will develop your analytical skills to examine and critically assess complex issues, contested concepts, and debates.
As a result, this degree will prepare you for a diverse range of postgraduate study options and career possibilities – from the Civil Service, NGOs, diplomacy, journalism and teaching, to international law and the private and corporate sector.
Objectives
What roles do governments, transnational actors, intergovernmental organisations, international NGOs and multinationals play in global politics? How do they compete for power and respond to emerging challenges affecting societies, nations and institutions around the world, from security to migration, to social justice? How do they mobilise support for their positions on global issues? How do global, social and political relationships, as well as ideas, affect local, regional, economic, cultural, religious, historical and political differences and vice versa?
The BSc (Hons) in International Politics enables you to obtain the skills and knowledge to answer the many questions about our fast-changing world and will help you to:
Understand the important theoretical debates in the study of international politics.
Explore global political systems and how they are engaged in policy-making on contemporary issues and related to country-level politics.
Understand the diplomatic relations between governments, as well as the economic, social and political relations between societies that are undertaken by companies and private groups.
Recognise political globalisation through the development of transnational and trans-governmental relations and how these relations are structured through international organisations.
As well as developing strong research skills, you will have the option to further your data skills through a Quantitative Methods (QM) pathway for your final two years of study.
Plus, to prepare you for a wide range of future career and postgraduate study possibilities, you will benefit from our location at the heart of a vibrant cosmopolitan city and within a department with a strong international focus, enthusiastic approachable staff with close connections with practitioners in the policy world, and exciting opportunities for work placement and studying abroad.
The logic connecting the three years of study is to lay the conceptual and historical foundations for the study of international politics in year one. Then, gradually, you will build up your specialist knowledge, in the following two years, by understanding how specific actors and institutions operate, how ideas shaping global politics emerge and are contested, and exploring the multifaceted political dynamics affecting specific issues and regions of the world.
Entry requirements
'A' Level: Grades BBB or 120 UCAS tariff points
IB: 30 points
GCSE: Minimum Grade 4 (C) in GCSE English and Mathematics.
International Baccalaureate (IB)
30 points including 5,5,5 from three Higher Level subjects (no specific subjects required).
Access to Higher Education
We welcome Access course applications from 'mature' students. These applicants will be considered on the basis of their own merits. Please be aware that Access students are often asked for further information to supplement their application, this is normally in the form of a questionnaire.

A typical offer for an Access applicant would be: Pass 60 credits, 45 of which at Level 3. These Level 3 credits must include at least 27 at distinction and 18 at merit. It is essential the Access course qualification is supplemented by at least a grade B in Mathematics and English Language at GCSE.
Other suitable qualifications
Other UK qualifications:
BTEC National Diploma (DDM required)
Cambridge Pre-U Principal Subjects
Advanced Diploma (plus appropriate A Levels)
Scottish Advanced Highers
Welsh Diploma (plus appropriate A Levels)
International
We accept a wide range of international qualifications for direct entry to our programmes.
English requirements
IELTS: 6.5 overall with a minimum of 6.0 in each component.
PTE Academic: 58 overall with a minimum of 51 in each component.
English language programmes
Don't meet the English language requirements? INTO City, University of London offers English language programmes to help prepare you for study at university. These intensive and flexible courses are designed to improve your English ability for entry to degree courses.
Visa requirements
If you are not from the European Economic Area / Switzerland and you are coming to study in the UK, you may need to apply for a visa or entry clearance to come to the UK to study.
The way that you apply may vary depending on the length of your course. There are different rules for:
Students on courses of more than six months
Students on courses of less than six months
Students on a pre-sessional English language course.
Last updated Sep 2020
About the School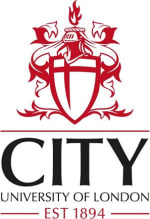 City, University of London is a special place. With skill and dedication, we have been using education, research and enterprise to transform the lives of our students, our community and the world for ... Read More
City, University of London is a special place. With skill and dedication, we have been using education, research and enterprise to transform the lives of our students, our community and the world for over a hundred years.
Read less