BSc in Industrial Engineering & Management
Home ›
BSc ›
BSc in Industrial Engineering & Management
Program Description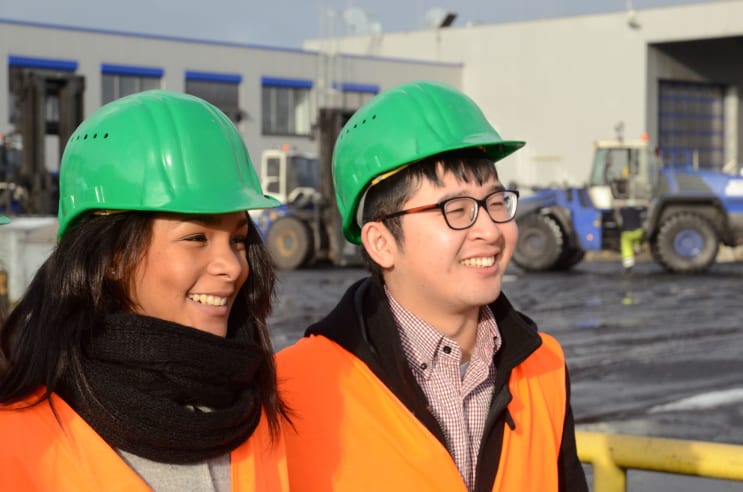 Industrial Engineering is one of the most versatile and flexible branches of engineering. It has been said that engineers make things, whereas industrial engineers make things better. The B.Sc. Industrial Engineering & Management (I.E.M.) program deals with both the creation and the management of systems that integrate people, materials, and energy in productive ways. It covers topics such as process engineering, operations research, supply chain management, engineering design, logistics, project management, and others. During their studies at Jacobs University, students are equipped with the essentials of both the management and the engineering business functions and thus they are prepared for successful careers in the industry. The Bachelor program Industrial Engineering & Management has received excellent results in the most recent university ranking conducted by the Center for Higher Education (C.H.E.).
Career Perspectives
Best career perspectives due to a high focus on interdisciplinarity and employability:
Because of the incorporation of management and engineering modules, graduates of the I.E.M. program get a wide spectrum of opportunities in both the professional and academic sectors. The profile of the B.Sc. Industrial Engineering & Management graduate is of great interest to national and international, medium and large-sized, trade, and service industry companies. Graduates especially qualify for tasks in the fields of Logistics, Supply Chain Management (SCM), Procurement, Manufacturing and Automation, Process Optimization, Information Technology (IT), but also for tasks from other engineering and management disciplines. The career paths that are open for graduates are as versatile as the major's theme. They range from specializations as experts in the production logistics areas, through project management careers in different fields, to consulting/auditing.
Best career path options in top companies or universities for postgraduate education:
After graduation, students will excel at fulfilling various project responsibilities by applying the gained knowledge in the areas of manufacturing, distribution systems, supply chain management, project management, leadership, entrepreneurship, and team management. Close contacts are established with numerous companies both through field trips, networking events such as the Career Fair and guest lectures. These can help students get possible internships or gain jobs as graduates at enterprises such as Airbus, Amazon, Daimler, Barry Callebaut, Zalando, Röhlig, Porsche, Lufthansa Cargo, Hello Fresh, KPMG, and more. Postgraduates have also chosen to continue their education by undertaking a graduate degree at universities such as the University of Cambridge, Rotterdam School of Management, Vienna University of Economics and Business, Bocconi University, Dartmouth College, TU Munich, TU Berlin, KU Leuven, and others.
Alumnus Usman Ramay about a Network that Helps
Usman Ramay works as a manager for European supply chain capacity planning with Amazon. In Bremen, he studied International Logistics Engineering. Jacobs supplied him with confidence, a network of friends, and the belief that nothing can stop you if you really want it.
Key Facts
Program Start Date 2021: last week of August (orientation week), the first week of September (classes)
Tuition: € 20,000 per academic year + € 8,000 living expenses
Scholarships: All applicants are considered for merit-based scholarships of up to € 15,000 per year.
Application Deadlines 2021: June 1 (global) and July 25 (for applicants who do not need a visa)
Duration: 3 years full-time
Financing Options: Each admitted candidate will receive an individual financial package.
5 Reasons
5 reasons why you should study Industrial Engineering & Management (I.E.M.) at Jacobs University:
Acquire a most versatile skill set of combined management and engineering skills;
Benefit from individual career services to plan and start your personal career at a leading company or organization;
Benefit from our employability focus approach with access to top internships and study abroad options;
Enjoy high academic standards in small classes, favorable student-to-teacher ratios, and approachable faculty;
Live and learn on an international campus with talents from more than 120 nations.
Rankings
T.H.E. Young University Ranking 2019 Jacobs University has been top-ranked # 26 of 351 universities worldwide younger than 50 years, #11 in "Teaching" among the young universities worldwide as well as #1 in "International Outlook" and "Teaching" in Germany.
C.H.E. Ranking 2020 The program achieved top results in the C.H.E. ranking 2020, especially in the category " support at the beginning of studies". The most detailed university ranking in the German-speaking region not only takes into account facts on the range of courses but also questions students themselves.
Last updated Sep 2020
About the School

A private, English-speaking campus university in Germany with the highest standards in research and teaching following an interdisciplinary concept. With the aim to strengthen people and markets with ... Read More
A private, English-speaking campus university in Germany with the highest standards in research and teaching following an interdisciplinary concept. With the aim to strengthen people and markets with innovative solutions and advanced training programs.
Read less