Read more about this program on the school's website
Program Description
About the course
The course is delivered at University Centre Myerscough and awarded by the University of Central Lancashire. Our Bachelor of Science (BSc Honours) ensures that you develop skills and knowledge of the fundamental areas of equine science, whilst offering optional and elective modules to personalise your chosen route of study. You will be prepared to enter careers in areas such as research and development, welfare, breeding, nutrition and therapy. This degree allows you to understand and apply new and existing scientific principles to the management and development of the horse.
The defining element of the honours degree is the research project, where you conduct independent research on a chosen subject. Our equine undergraduate research students produce outstandingly high-quality research, with many able to present their research on a national or international platform.
Based at our Preston campus with its renowned International Equine Arena, you will be putting theory into practice working with the college horses within the centre's excellent facilities. You will benefit from our industry links for trips and guest speakers, and may also have opportunities to benefit from external research collaborations. You may progress to one of our MSc programmes to further enhance your research and specialism.
As a Myerscough equine degree student, you will benefit from individualised support within a welcoming culture, ensuring that you follow in the footsteps of our previous students with their outstanding high achievements and excellent student satisfaction.
Applicants are invited to top-up from a relevant Foundation Degree or HND into the final year of the BSc (Honours) course and will need to demonstrate skills in research methods at Level 5 to enable you to progress smoothly onto the programme. Those applicants whose previous programme of study has not covered research skills at the appropriate level will be asked to complete a bridging module "Research Methods", which may be taken during the summer prior to entry onto the course.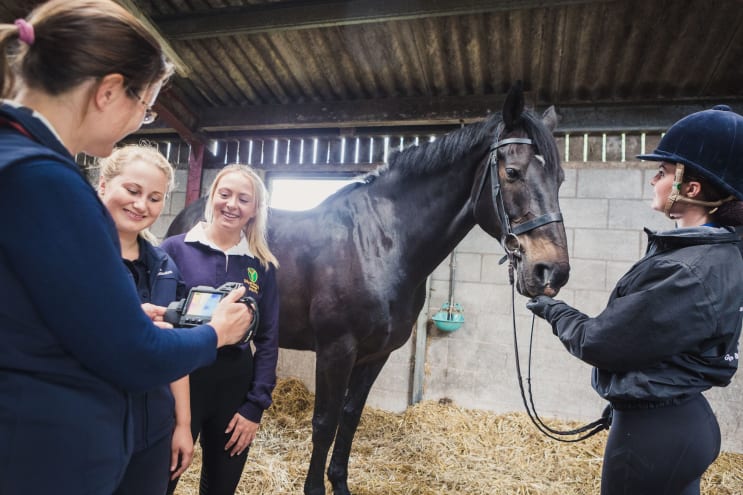 © University Centre Myerscough
Course modules
Year 1
Academic and Professional Skills
Elective
Equine Behaviour (Option)
Equine Biology
Equine Management (Double module)
Equine Therapy (Option)
Year 2
Elective
Equine Biomechanics
Equine Exercise Physiology (Option)
Equine Nutrition
Ethics of the Horse Industry (Option)
Professional Practice and Consultancy for the Equine Sector
Research Methods
Year 3
Advances in Animal Science and Technology
Developments in Equine Nutrition (1.5 module Option)
Developments in Equine Reproduction (1.5 module Option)
Manipulation of the Equine for Performance (1.5 module)
Research Project (Double module)
Entry requirements
5 GCSE passes at Grade C (4) or above (including Maths and English or equivalent)
Plus 104 UCAS Tariff points from one or more of the following:
3 A-levels (A2) at C or above
BTEC/C&G Level 3
4 Scottish Highers at C or above
4 Irish Highers at C or above
International Baccalaureate at 24 points
AS levels, BTEC Subsidiary Diploma and Scottish Intermediate 2s may be used to contribute to entry requirements but they are not sufficient for entry on their own. Alternative equivalent qualifications will also be considered positively.
Applicants who believe they may be eligible for Accreditation of Prior Certificated and/or Experiential Learning (APCL/APEL) for certain modules will be considered on an individual basis.
Applicants for whom English is a second language must be able to demonstrate proof of International English Language Testing System (IELTS) at level 6.0 (with no component score lower than 5.5) or equivalent.
All offers may be subject to a successful interview.
Learning and assessment
Learning Environment:
This course makes the most of the extensive equestrian facilities on-site including a wide range of horses, large indoor and outdoor arenas and up-to-date specialist therapy and research equipment. Students will also have access to specialist IT hardware and software. Learning activities on the course are diverse, including lectures, seminars, tutorials and workshops. Students will be expected to undertake extensive independent study and research to support lectures, seminars and assessments. Group work and group presentations will form an important part of the course.
Assessment:
Students will face a variety of assessments including examinations, essays, technical reports, group and individual work, presentations, practical assessments, individual study projects and case studies.
Additional Information:
Study trips are organised to supplement the learning in specific modules. Examples include, Twemlowes AI and Embryo Transfer Centre, Newmarket, Northern Equine Therapy Centre, Sync Equine, British Society of Animal Science annual conference, Thoroughbred Rehabilitation Centre, many elite athletes have opened their yards to Myerscough student visits. Enrichment trips have included Horse of the Year Show, ladies day at Aintree and Badminton Horse Trails. Guest speakers often visit and include industry experts in areas such as equine reproduction, nutrition, training and behaviour, coaching and elite equestrian athletes. Students are encouraged and supported to showcase their research projects at national and international conferences, including the International Society for Equitation Science and the European Federation of Animal Practitioners.
What work experience can I get?
Through core modules and electives, students will gain hands-on experience in a variety of scenarios to build skills that can be used in a working environment.
There is no formal work placement on this course. The Academic and Vocational Skills and Industry Project modules will utilise both on and off-site working environments to provide the opportunity for students to develop real practical and technical skills and help prepare them for employment in their chosen subject area.
Progression
On successful completion of the course, students may apply for MSc degrees.
Careers
Graduates will be in a position to apply for posts available in the equine industry (and other related industries) including:
Equine or animal research
Nutritionists
Consultants
Bloodstock agents
Equine insurance
Lecturers
Equine journalism
Veterinary Drugs Representative
Progression Accreditation
During their course of study, students are encouraged to study for the appropriate British Horse Society Stage qualification. Training for Stages I, II and III as well as Preliminary Teaching Test is offered on-site as an additional part-time course subject to additional fees and application.
Special requirements
1 Morning, Evening and Weekend Duties: will be required on the College Yard during the first year of the course. Morning and evening yard duties are timetabled between 9 am and 5 pm. Weekend yard duties are carried out on a rota basis, usually comprising of 4 – 6 weekends spread throughout the year.
2 Equipment and/or Clothing: Riding hat to current standards (PAS105, ASTMF1163; SNELL E2001), riding boots, gloves, jodhpurs plus schooling and jumping whip and body protector subject to current standards for jumping lessons (if riding).
Additional costs for items that are essential for the course include:
£100 - If riding: Jodhpur boots, long leather or riding boots
£90 - Jodhpurs (plain navy or black), riding hat, hair net, gloves
£10 - Laboratory coat
£80 - College polo shirt, sweatshirt and Jacket (or plain navy or black)
£30 - Strong boots or wellingtons for yard work
Additional costs for opportunities and items that are optional for the course include:
£33 - College padded Gillet
£25 - College rugby shirt
£400 - Field trips and visits (including possible overseas trips)
£70 - If jumping; Body protector
£75 - If riding: Long & short whip, non-suede gaiters, white shirt and tie
£22 - Waterproof trousers
Last updated Aug 2020
About the School

Myerscough is one of the UK's largest land-based and sports colleges, offering degrees in more than 20 exciting subjects. We work in partnership with the University of Central Lancashire and are among ... Read More
Myerscough is one of the UK's largest land-based and sports colleges, offering degrees in more than 20 exciting subjects. We work in partnership with the University of Central Lancashire and are amongst the top UK institutions in the sector for student satisfaction - helped by exceptional resources and a unique countryside location. Our QAA Higher Education Review puts us amongst the top institutions in the country for quality learning opportunities and good practice teaching. We are very proud that 97% of Myerscough degree students progress to further study or employment.
Read less