Program Description
Overview
The mission of the Benedictine College School of Engineering is to provide a multidisciplinary engineering undergraduate education built on an authentically Catholic liberal arts foundation. Graduates of the program will be professionals who are excellent problem solvers, committed to the highest ethical standards and proficient communicators. They will understand the role of engineering as a profession and their duty, as engineers, to promote the common good of society.
Degree Objectives
Balanced & Responsible: Graduates will maintain a balanced lifestyle pursuing what is good, true, and beautiful. As they live out their vocation, they will contribute significantly to personal, family, workplace, community, and church endeavors.
Competent & Creative: Graduates will demonstrate technical knowledge and expertise in their profession and will innovate beyond the state of the art.
Communicate & Lead: Graduates will demonstrate interpersonal and professional skills so as to effectively lead teams and projects of substantial size.
Career Opportunities
Overall employment of electrical and electronics engineers is projected to grow 7 percent from 2016 to 2026, about as fast as the average for all occupations. The change in employment is expected to be tempered by slow growth or decline in most manufacturing industries in which electrical and electronics engineers are employed.
The median annual wage for electrical engineers was $95,060 in May 2017.
Suggested Sequence of Courses
Freshman Year
ENGR-1200
Introduction to Engineering
2
CHEM-1200
General Chemistry I
3
CHEM-1201
General Chemistry Lab
1
MATH-1300
Calculus I
4
PHYS-2100
Classical Physics I
4
PHYS-2101
Classical Physics I Lab
0
ENGL-1010
English Composition
3
GNST-1000
BC Experience
1
Total
18
ENGR-1100
Technical Drawing
2
CHEM-1210
General Chemistry II
3
CHEM-1211
General Chemistry II Lab
1
MATH-1350
Calculus II
4
PHYS-2110
Classical Physics II
4
PHYS-2111
Classical Physics II Lab
0
THEO-1100
Introduction to Theology
3
Total
17
Sophomore Year
EENG-2060
Circuit Analysis
3
EENG-3060
Circuits Laboratory I
1
ENGR-2300
Statics
3
MATH-2300
Calculus III
4
THEO-2000
Christian Moral Life
3
PHIL-1750
Principles of Nature
3
EXSC
Fitness Course
1
Total
18
EENG-2010
Intro to Digital Electronics
2
EENG-2020
Digital Electronics Laboratory
1
EENG-3130
Linear Electric Circuits
3
EENG-3070
Circuits Laboratory II
1
MATH-3100
Differential Equations
3
CSCI-2300
Programming for Engrs & Scientists
3
MATH-2500
Linear Algebra
3
EXSC-1115
Wellness for Life
1
Total
17
Summer (Online Class)
Junior Year
EE 314
Signals and Systems
3
EE 316
Electric & Magnetic Fields
3
EENG-3210
Electronics I
3
EENG-3080
Electronics Laboratory I
2
ENGR-3150
Statistical Data Analysis
4
PHIL-3250
Ethics
3
Total
18
EE 409
Distributed Networks
3
EE 452
Embedded Systems
3
EENG-4210
Electronics II
3
EENG-3090
Electronics Laboratory II
2
ENGR-3250
Thermodynamics
3
–
Foreign Language
4
Total
18
Senior Year
EE 480
Senior Design I
3
EE
Elective
3
ENGR-3170
Engineering Economy & Society
3
ENGR-3300
Fluid Mechanics
4
–
Foreign Language
4
Total
17
EE 481
Senior Design II
3
EE
Elective
3
EE 401
Electric Drives
3
EE 405
Control Systems I
3
ENGR-2320
Mechanics of Materials
3
–
Faith Foundation
3
Total
18
Final Semester
ENGR-3400
Engineering Lab I
2
EENG
Elective
3
ENGR-COMP
Senior Comp Examination
0
–
Historical Inquiry Foundation
3
–
Historical Inquiry Foundation
3
–
Philosophical Inquiry Foundation
3
–
Aesthetic Experience Foundation
3
Total
17
Last updated Jun 2019
About the School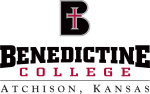 Heir to the 1500 years of Benedictine dedication to learning, Benedictine College's mission as a Catholic, Benedictine, liberal arts, residential college is the education of men and women within a com ... Read More
Heir to the 1500 years of Benedictine dedication to learning, Benedictine College's mission as a Catholic, Benedictine, liberal arts, residential college is the education of men and women within a community of faith and scholarship.
Read less