Program Description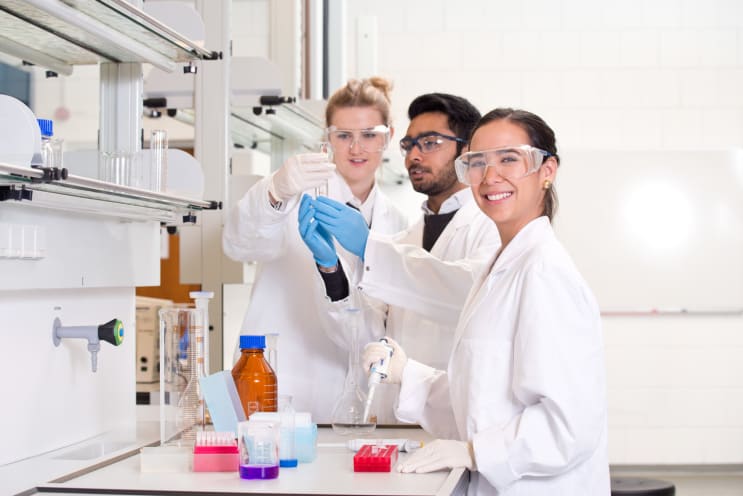 Chemistry is the scientific discipline involved with elements and compounds composed of atoms, molecules, and ions: their composition, structure, behavior, and the changes they undergo during a reaction with other substances. Biotechnology is the application of biology to the solution of real-life challenges, where an element of profit is a prerequisite. The two disciplines are connected by their molecular approach and by their vast commercial importance.
The transdisciplinary C.B.T. study program offers chemistry modules that include organic, inorganic, analytical, and physical chemistry; students are also taught the relevant aspects of mathematics, engineering, and industrial practice. The focus of biotechnology in this study program is to learn how the industry can take advantage of biocatalysts and biomolecules in order to contribute to a more sustainable future. Biorefining, for example, the uses of renewable rather than fossil resources, is another major aspect of C.B.T.; this will introduce students to the concept and practice of the "circular economy".
The degree program Chemistry and Biotechnology equip students with the knowledge, research techniques, and the problem-solving skills necessary for a career in chemistry and/or biotechnology, and for further studies at the Master or Ph.D. level.
Career Perspectives
Study with best employability and career perspectives in industry, research or to proceed further master and Ph.D. studies:
Career opportunities for C.B.T. students are diverse and abundant. In general, the combination of chemistry and biotechnology increases employability, since biotechnological applications in the chemical industry are increasingly important. Sustainability and environmental protection are topics of ever-increasing importance in society and industry. In research and development, career opportunities cover the areas of chemicals, pharmaceuticals, fuels, nanotechnology, materials, and energy to environmental monitoring and forensic science.
The educational concept of Jacobs University aims at fostering employability which refers to skills, capacities, and competencies that transcend disciplinary knowledge and allow graduates to quickly adapt to professional contexts. Jacobs University defines employability as encompassing; i.e. it focuses not only on technical skills and understanding but also on personal attributes, competencies, and qualities that enable students to become responsible members of their professional and academic fields as well as of the societies they live in.
Research from Very Early On
He changed to Chemistry while studying at Jacobs. Hands-on research in the lab prepared Roy D'Souza for what was to come. Today he is researching with cocoa, as a postdoctoral fellow for Barry Callebaut.
Key Facts
Program Start Date 2020: last week of August (orientation week), the first week of September (classes)
Tuition: € 20,000 per academic year + € 8,000 living expenses
Scholarships: All applicants are considered for merit-based scholarships of up to € 15,000 per year.
Application Deadlines 2020: June 1 (global) and July 25 (for applicants who do not need a visa)
Duration: 3 years full-time
Financing Options: Each admitted candidate will receive an individual financial package.
5 Reasons
5 reasons why you should study Chemistry and Biotechnology (C.B.T.) at Jacobs University:
Study a truly transdisciplinary program to learn all relevant aspects of your field;
Benefit from a focus on biotechnology for a solid industry career perspective and employability;
Benefit from academic excellence for further studies at Master or Ph.D. levels or a career in research;
Benefit from small classes, a favorable student-to-teacher ratio, approachable professors and excellent labs and facilities;
Live and learn within an international community with talents from more than 100 nations.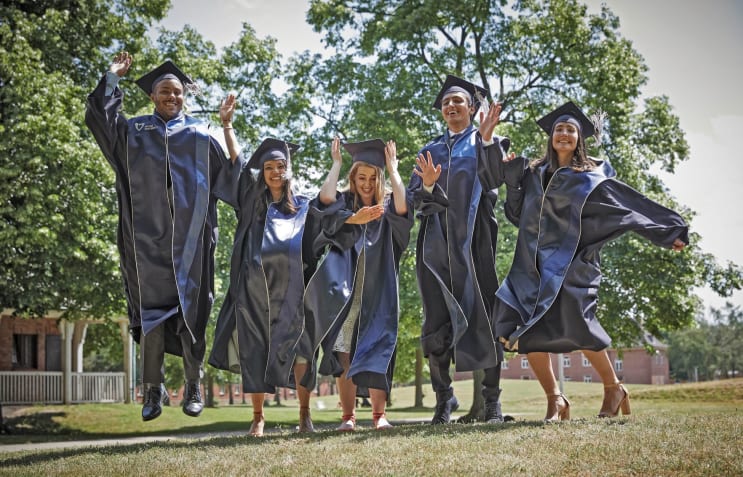 Rankings
T.H.E. Young University Ranking 2019 Jacobs University has been top-ranked # 26 of 351 universities worldwide younger than 50 years, #11 in "Teaching" among the young universities worldwide as well as #1 in "International Outlook" and "Teaching" in Germany
C.H.E. Ranking 2019 Jacobs University achieved top results in numerous other areas of the CHE ranking 2019. The most detailed university ranking in the German-speaking region not only takes into account facts on the range of courses but also questions students themselves.
Last updated Sep 2020
About the School

A private, English-speaking campus university in Germany with the highest standards in research and teaching following an interdisciplinary concept. With the aim to strengthen people and markets with ... Read More
A private, English-speaking campus university in Germany with the highest standards in research and teaching following an interdisciplinary concept. With the aim to strengthen people and markets with innovative solutions and advanced training programs.
Read less