BSc in Business Administration
Home ›
BSc ›
BSc in Business Administration
Program Description
Business Administration
Want to compete strategically and successfully in the fast-paced, global business environment? Our Business Administration program will prepare you to become a responsible, productive, and innovative business leader. You will have opportunities to explore your areas of interest within the business and define your personal competitive advantages while building a strong, broad-based knowledge of what it takes to be successful in the business world.
With concentrations in Accounting, Finance, and Marketing, you will have the opportunity to dig deep into your personal areas of interest. Our graduates have gone on to become accountants with major accounting firms, analysts and loan officers at both large and community banks, insurance sales representatives, managers, regional sales representatives for various exciting industries and small business owners.
FAST FACTS
95% employment or graduate school rate for graduates within six months
Internships with Soccer.com, NYSE, Unilever, Bookwalter Binge and more
What You'll Study
To ensure that our students have a broad-based business background to understand business as a whole, we offer courses at various levels in Accounting, Economics, Finance, International Business, Law, Management, Marketing, Operations, Organizational Behavior, and Strategy (just to name a few).
As our students define their personal competitive advantages, we offer three concentrations to allow students to specialize in a field of interest.
Accounting Concentration
Financial Accounting at the intermediate levels
Managerial Accounting – methods of allocating and assigning costs for making business decisions
Taxation from both the personal and corporate perspective
Auditing Accounting Software including how small business use QuickBooks
Finance Concentration
Corporate Finance – how businesses maximize returns for shareholders
Banking – how banks of all sizes generate value for stockholders
Financial Decision Making – how to use Excel programming to aid in making financial decisions
Investments – exploring numerous investment options and strategies
International Finance – investigating how currency exchange rates impact financial decisions
Marketing Concentration
Marketing Research – how to gather data and turn it into decision-making information
Social Media Marketing – how to best use the new world of social media as a marketing platform
Sales – the art of closing the deal and managing your sales force
Small Business Marketing – learn the tools and methods that best fit the marketing needs and budgets of small businesses
Consumer Behavior – understand the tendencies of your customers
Integrated Marketing Communications – how to put it all together and present a consistent message for your company, products, and services
Beyond the Classroom
Business Leadership Developers (BLD): As the Business Leadership Developers, our vision is to connect the students, faculty, and alumni within the Lees-McRae College School of Business with the outside community, make recognition for the school of Business, and help each other strive for success by providing leadership to our peers and new opportunities around Lees-McRae College.
Sigma Beta Delta International Honor Society: This national honor society for students of business, management, or administration who are pursuing baccalaureate or master's degrees was founded in 1994 under the auspices of Beta Gamma Sigma. The Lees-McRae chapter was established in 1997. Membership is an honor and is limited to outstanding students who give promise of success in the field of business and rank in the upper 20 percent of their class.
After Graduation
Common Career Areas
Account Manager
Cost Accountant
Marketing Manager
Customer Service Manager
Lawyer
Business Owner
Event Manager
Financial Planner
Alumni Success
Employment
InMar
Grant Thorton
Atlanta Braves
Angel's Share Wine
American College of Cardiology
La-Z-Boy
Security Central
Cisco
Volunteer Sports Information Coordinator at 2016 Rio Olympics
Graduate School
UT Austin
Appalachian State University
University of North Carolina
Ithaca
Gardner-Webb
UC San Diego
Seton Hall
Last updated Feb 2018
About the School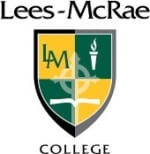 We have one mission. Lees-McRae educates and inspires students to approach life and work from a creative, collaborative, and critical perspective in preparation for diverse careers and environments.
We have one mission. Lees-McRae educates and inspires students to approach life and work from a creative, collaborative, and critical perspective in preparation for diverse careers and environments.
Read less