Program Description
"I have had an amazing experience at the university so far. On the first day of school I actually met my best friend who is Chinese by the way. The first week I made friends from all over the world and I loved every single moment of it. I am proud to say that I have had the full collage experience from parties to long night study sessions, from hiking through the hills of the town to participating in study groups and stressing for exams."

Darko Denkovski (Macedonia, Faculty of Business and Economics)
As it is widely known, in the past decades, tourism became one of the largest and fastest-growing economic sectors in the world. As the UNWTO (World Tourism Organization) highlights in the latest reports, this branch of industry turned into a key driver of socio-economic progress through the creation of jobs and enterprises, export revenues, and infrastructure development in both developed and developing countries. Newer and newer areas and markets appear both concerning inbound and outbound tourism and competition and diversification also became key issues in the global tourism processes.
Since tourism is one of the greatest players of international commerce, represents 7% of the world's exports in goods and services or contributes 10% to the global GDP or to global employment, it is definitely worth study and later on being occupied in this dynamically growing branch wherever you come from or wherever you would like to work later. If you see the business opportunities this industry offers you are the one we need.
When you finish your studies you will be an Economist in Tourism and Catering.
With the acquired economic, business, social sciences, applied methodology and tourism and catering specialised knowledge you will be able to manage the tasks and challenges and the related workflows in a wide range of activities related to tourism and catering. You will be able to reveal and analyse the factors influencing tourism demand, create an attractive and experience based supply and organise and fulfil the related services activities.
At the end of our programme, you will have the knowledge and skills of:
You will understand the basic processes of the system of tourism and you will be able to be part of its professional operation;
You will have knowledge of the peculiar characteristics of tourism and catering businesses and their management;
You will have practical and theoretical knowledge on the development of the different tourism products and the development and management of destinations
Career opportunities
A key aim of our programmes is to combine academic knowledge with transferable skills in order to enhance employability. Tourism and Catering graduates are highly valued by employers across the world. You will have a choice of careers open to you, including
tourism (destination, product) manager (both in private and public spheres – companies, local governments, state governing bodies)
tourism planner, researcher, regional development expert
hotel or restaurant manager
hotel receptionist
travel agent, travel organiser
conference and event organiser
tourism sales manager
tourism marketing manager
Application Procedure
Examples of Subjects During the Studies
1st semester

4th semester

Quantitative methods
Microeconomics
Introduction to Social Sciences
Information Systems

System of Tourism
Foundation Marketing
Foundations of Digital Marketing
Health Tourism
Place marketing

2nd semester

5th semester

Probability and Statistics
Macroeconomics
Introduction to Accounting

Fast and Slow Tourism Products
Tourism Enterprises
Marketing Calculations

3rd semester

6th semester

Business Statistics
Organisational Behaviour
Banking and Finance
Tourism Geography
Environmental Economics

Case Studies in Tourism Marketing
Tour Operation and Event
Hospitality and Cultural Behavior
Lodging and Hotel Management

Last updated May 2020
About the School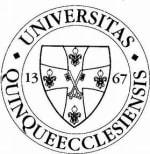 The creation of the University of Pécs was first initiated by King Louis the Great in 1367. Today, the University of Pécs is one of the most prestigious institutions in the country, where there are te ... Read More
The creation of the University of Pécs was first initiated by King Louis the Great in 1367. Today, the University of Pécs is one of the most prestigious institutions in the country, where there are ten faculties, which cover the full spectrum of higher education to provide high quality, comprehensive training. In addition to the education and research activities, medical treatment is a crucial activity of ours; the Clinical Centre takes care of not only of the region's outpatients and in-patients, but in many areas has national-level duties, too.
Read less