Program Description
Our philosophy of sport promotes social justice and values participation over consumerism and is reflected in everything we do as we put the performer before the performance. Your learning will focus on keeping athletes healthy and developing excellence, not elitism.
Course overview
This Sport & Exercise Science programme reflects the expertise and research interests of our passionate, professional and highly-qualified staff. The Team who teach our Sports Psychology modules conduct world-class research in the area of perfectionism and burnout. They have produced approximately 60 peer-review papers, 10 book chapters and numerous conference presentations since 2008. This research has typically been based on the idea that perfectionism may produce better performance but undermines the wellbeing of athletes, dancers and exercisers and therefore should be avoided.
Our research-informed curriculum employs innovative approaches to teaching, learning and assessment which help ensure the programmes provide an excellent student experience.
You will be able to use your knowledge and skills in both practical and vocational settings, enabling reflection and development through engagement with authentic activities. The programme reflects the technology-rich environment of modern sport; making extensive use of the virtual learning environment which includes online lectures, webinars, electronic feedback and audio/video feedback alongside regular use of high-specification specialist equipment used in the monitoring and evaluation of athletes.
A distinctive feature of all the Sports Degrees at York St John University is that they are underpinned by our philosophy (our 'school of thought') which is value-led and stresses the importance of social justice. Therefore, on our Sport & Exercise Degree, you will learn how to put the performer before the performance, how to keep athletes healthy and how to develop excellence, not elitism.
In the Sports Science element of this degree, you will learn about talent identification, talent development, training programmes, fitness testing and motivation. In the Exercise Science section of this degree, you will how to develop the health of individuals and communities through physical activity. Topics include looking at the role exercise can play in preventing coronary heart disease, obesity, dementia and depression.
100% of 2017 graduates from the School of Sport are now in employment or further study, with 74% of these in professional or managerial roles.
(Destination of Leavers from Higher Education survey 2017)
Nestlé Rowntree Park Sports Campus
The multimillion-pound Nestlé Rowntree Park Sports Campus is one of the largest of its type in the country and is the home of the School of Sport, with a large sports barn, a strength and conditioning suite, social space, changing facilities and teaching spaces. The site includes two 3G football and rugby pitches, three outdoor tennis courts and three outdoor netball courts. There are also grass pitches which can be used for football, rugby and Gaelic football.
Course structure
Following a generic Level 1 aimed at providing all students with the fundamental knowledge, understanding and skills to be successful within the programme.
In Levels 2 and 3 you will also have the opportunity to engage in specialist modules aligned with your Degree award title. For Sport & Exercise Science this includes modules in Sport & Exercise Psychology, Sports Biomechanics and Exercise Physiology.
This course is based on the study of biomechanics, physiology and psychology and is taught using a mix of lectures, seminars, practical field-based work, laboratory experience and research.
Programme specification
Further information on this course is available in the programme specification. Please note that the programme specification relates to course content that is currently being studied by students at the University. For new programmes, the programme specification will be made available online prior to the start of the course.
Disability Advice
York St John University works hard to create an inclusive environment for all our students. We offer a range of disability advice services to assist students throughout their studies.
Teaching & Assessment
Delivery
The School of Sport boasts fully-accredited members of the Higher Education Academy (HEA) demonstrating sustained excellence in teaching, learning and assessment, resulting in research-informed contemporary practice. This puts us at the forefront of numerous teaching, learning and assessment initiatives, which have embedded technology-enhanced learning into the curriculum. As a result, you will benefit from our use of video feedback in coach development, flipped classrooms, e-polling, engaging students through tablet technology, blended delivery approaches and audio feedback on written work and examinations.
Teaching & Learning
To reflect developing knowledge, ability and competence within the field of Sports & Exercise Science the assessment portfolio changes in nature, becoming more diverse and challenging over the course of the programme. Level 1 for example, utilises continuous assessment allowing in semester review and evaluation of performance as well as presenting the opportunity to employ interventions aimed at improving success within the semester.
Levels 2 and 3 present additional opportunities to demonstrate skills of analysis, synthesis and critical review through a variety of assessment approaches that seek to embed research design, engagement and interpretation into the curriculum.
Typically a standard student week will consist of:
Three lectures
Smaller ancillary classes to support the theory delivered in lectures (for example seminars and workshops)
Time-tabled supported open learning (for example journal club and supervised laboratory and practical activities)
Sports Scholarship sessions designed to facilitate your success as a University student and enhance your career development
Frequent time-tabled personal and academic tutorial sessions
All of this is underpinned by completing your own independent self-directed study, which often involves laboratory of field-based practical work, data collection and presentations.
Assessment & feedback
The teaching and assessment strategies employed across sport are engaging, student-centred and learning orientated. Examples include, 'real world' applied practical work which develops career-orientated skills and competencies.
To improve the quality of the student learning experiences the programme will use formative assessment, i.e. regular opportunities to receive feedback on your practical and academic development that does not count toward final degree marks. To facilitate the development of assessment literacy and reduce student confusion and anxiety, assessment modality has been streamlined alongside reducing the range of learning outcomes and assessment criteria employed.
Research
The School of Sport offers a vibrant research culture for students. Students will read the research, learn about the latest research techniques, and eventually conduct their own research as part of their programme. Students will also be taught by staff members who conduct research at the forefront of the study of sport and exercise. This means that students are able to learn about the most up-to-date issues in their areas of interest in our programmes. The Motivation, Performance and Well-Being (MPaW) research group, for example, is among the largest and most productive in the world with regards to examining the consequences of being perfectionistic in sport and exercise. Other work within the school focuses on the physiological and biomechanical aspects of athlete development. This work is conducted in collaboration with professional sports clubs and our other community partners. There is also exciting research taking place examining socio-cultural aspects of sports participation including gambling in football and the experience of bullying in Physical Education (PE). We are proud to say that much of the research in the School of Sport was identified as "internationally excellent" and "world-leading" in the last assessment of the quality of research in UK higher education institutions (REF 2014).
Entry requirements
Qualifications
The minimum entry requirements for this course are:
96-112 UCAS Tariff points
3 GCSEs at grade C/4 or above (or equivalent) including English Language and Maths
Professional sports experience and industry recognised qualifications may be considered in lieu of some of the academic admissions requirements.
Fees and funding
To study for an undergraduate degree with us, you will need to pay tuition fees for your course. How much you pay will depend on whether you're a UK & EU student or an international (non-EU) student. Tuition fees are charged for each year of your course.
Find out more about funding for Foundation Year and/or Placement Year by visiting the Funding Advice pages of our website.
York St John offers special reductions to students graduating from York St John University Undergraduate degrees in 2019 and continuing directly onto Postgraduate study. Find out more about discounts and scholarships.
There may also be some additional costs to take into account throughout your studies, including the cost of accommodation.
Tuition fees
UK & EU 2019 - 20
The York St John University tuition fee for the 2019 entry to Foundation Degree, BA and BSc, PGCE Primary and Secondary and UG Health Programme degrees is £9,250 per year for UK/EU, Jersey, Guernsey and Isle of Man students.
Tuition fees may be subject to inflation in future years.
International (non-EU) 2019 - 20
The York St John University tuition fee for the 2019 entry to Foundation Degree, BA and BSc, PGCE degrees is £12,750 per year for international students.
Tuition fees may be subject to inflation in future years.
Last updated May 2019
About the School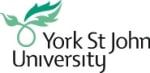 York St John University is an outstanding university, known for its academic excellence and responsive nature, always putting the student at the heart of everything it does.
York St John University is an outstanding university, known for its academic excellence and responsive nature, always putting the student at the heart of everything it does.
Read less