BSc Construction Management
Home ›
BSc ›
BSc Construction Management
Program Description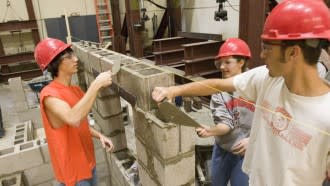 Construction managers are the people who get things done. They make sure that projects—from skyscrapers to stadiums to subdivisions—are built well, on time and on budget.
M.S.O.E.'s B.S. in construction management program educates students to manage projects from conception to completion. M.S.O.E. stresses the technical process and resource management skills essential to safely construct high-quality commercial, institutional and industrial buildings on time, within budget.
You'll study modern construction materials and methods; accurate estimation, scheduling and controlling; and efficient, legal and ethical project administration and management. Business, basic engineering, and communication will also be a part of your education. You'll find the laboratory-based, learn-by-doing, small class educational philosophy of M.S.O.E. is proven highly effective.
The construction management degree seeks to develop four primary qualities in graduates:
Technical ability
Managerial knowledge
Leadership skills
Professional ethics
The results
The placement rate for M.S.O.E. construction management graduates was 100% in 2014-15, and graduates enjoyed an average starting salary of $54,760.
CM graduates started great careers with companies including:
Kiewit Construction Co.
Boldt Construction Co
Turner Construction
Power Construction Co.
Mortenson Construction
GE Johnson Construction
Hansel Phelps Construction
McCarthy Construction
Michels Corp
Gilbane Construction
C.G. Schmidt Construction
JF Ahern Co.
Kinetics
Butters Fetting
Pieper Electric
Faith Technologies
The field
Construction managers plan, coordinate, budget, and supervise construction projects from early development to completion. Although many construction managers work from a main office, most work out of a field office at the construction site where they monitor the project and make daily decisions about construction activities.
You may want to consider CM if you
Understand organizational leadership imperatives
Work effectively with other people, but are independently resourceful
Are able to prioritize and complete multiple, time-constrained requirements effectively
Apply mathematics and science to enhance analysis and decision making
Are able to do mathematics and detailed work with accuracy
Possess strong written and oral communication skills
Department Events
Civil and Architectural Engineering and Construction Management Career Night
Each year, the Civil and Architectural Engineering and Construction Management Department (C.A.E.C.M.) hosts their annual Career Night which is planned specifically for the benefit of the students belonging to the department. Companies who come can expect students eagerly looking for opportunities in the civil and architectural engineering and construction management fields. This event provides companies and students a more intimate setting than the large M.S.O.E. Career Fair at the beginning of the school year.
Program Educational Objectives
Program educational objectives are broad statements that describe the career and professional accomplishments that the academic program is preparing the graduates to achieve.
Graduates of the BSCM program who choose to pursue certification as a Certified Professional Constructor (C.P.C.), after attaining the required years of work experience stipulated by the American Institute of Constructors (A.I.C.), achieve that distinction.
Graduates of the BSCM program who choose to pursue a graduate degree can achieve that distinction.
Graduates of the BSCM program will pursue opportunities to advance their professional skills through lifelong learning (e.g. graduate studies, conferences, seminars, etc.).
Graduates of the BSCM program will demonstrate a commitment to their profession by participating in one of more professional societies.
Graduates of the BSCM program will demonstrate, in their professional practices, an appreciation for sustainable construction.
Student Outcomes
Student outcomes are narrower statements that describe what students are expected to know and be able to do by the time of graduation. BSCM graduates will be:
able to communicate effectively, both orally and in writing.
able to work effectively in a team environment.
knowledgeable of the responsibilities, both professional and ethical, that are required of a construction manager.
knowledgeable of the need for lifelong learning and have the motivation to pursue it.
knowledgeable in the humanities and social sciences and of contemporary issues necessary to understand the global, societal and environmental impact of the construction manager.
proficient in the business management areas listed below:

Economics
Principles of Management
Accounting
Business Law

Proficient in the mathematics and science areas listed below:

Mathematics: calculus I and II, probability and statistics
Analytical physical science: general physics and general chemistry

Proficient in the construction sciences areas listed below:

Design theory
Analysis of design of construction systems
Construction graphics
Construction surveying
Construction methods and materials

Proficient in the construction areas listed below:

Estimating
Planning and scheduling
Construction accounting and finance
Construction law
Safety
Project management
The objectives and outcomes are achieved by quality control processes that:
ensure adherence to the program accreditation criteria prescribed by the American Council for Construction Education (A.C.C.E.).
ensure continuous program improvement, especially

by routinely exchanging ideas and observations with the BSCM Industry Advisory Council.
by carefully analyzing program assignment and examination results, as well as other students' instructional feedback.

are complementary with the BSAE program.
Contact Kayla Maule at maule@msoe.edu or on Whatsapp at +1 414 573 9883 for more information.
Last updated Jan 2019
About the School
Milwaukee School of Engineering is a private, non-profit university offering bachelor's and master's degrees in engineering, business, mathematics and nursing and an intensive English for Academic Pur ... Read More
Milwaukee School of Engineering is a private, non-profit university offering bachelor's and master's degrees in engineering, business, mathematics and nursing and an intensive English for Academic Purposes program for those looking to improve their English proficiency. At MSOE, you will find a caring community of students and faculty. Together, we are committed to fostering a higher standard of academic programming and research, and personalized service, instruction and guidance.
Read less