Read more about this program on the institution's website
Program Description
The BSc Business is an exciting new global focused degree developed by the UCD Quinn School of Business which has a long tradition at the forefront of business and management education in Ireland and internationally. The BSc Business degree is a dynamic new degree from the UCD Quinn School of business commencing in September 2020. The BSc Business offers a programme of modules focused on real-world business skills and intercultural competencies ideal for students considering a career in international management. Our BSc Business will help you develop the intellectual, analytical, critical and employability skills you will need to succeed as a manager and leader in careers across different sectors on a global stage.
Why Quinn?
Triple Accredited
Internationally Ranked
Leading Graduate Employment
Exclusive Exchange Programme
Why the BSc in Business?
These are some of the reasons to study the new BSc in Business in the Quinn School:
Ireland's top-ranked, internationally accredited business school
Largest business faculty in Ireland
A Globally Focused Degree Programme
Elite Exchange Programme
Strong Graduate Employment Rate
Horizons Electives
Advanced business network
Curriculum built with employer input
Strong technical and practical education
The Future of Business Education
The start of the 2019/2020 academic year saw the launch of the UCD Moore Centre for Business—a new world-class facility energising the Belfield campus with the latest teaching technologies and innovative working spaces for business learning.
Integrating fully with the UCD Quinn School across all three levels, this exciting new wing delivers agile spaces to meet evolving business needs in a flexible learning environment that will expand the student experience. UCD Moore Centre for Business is a fresh canvas of active learning classrooms, digital collaboration spaces, a showcase auditorium, and extensive co-working zones.
Curriculum
The BSc Business is an excellent degree programme for students looking to develop the knowledge, skills and competencies essential in the global world of business and management.
In your first and second year, you will study a wide range of business subjects which will give you a solid understanding of the foundations of business. at the same time, you will develop your intercultural competencies through a series of skills-based modules.
In your final year, you will follow a structured pathway of internationally focused business modules. to strengthen your global outlook, you will also have the flexibility to choose from a range of modules across the business disciplines.
Vision/ Values Statement
The purpose of the BSc Business programme at UCD is to develop commercially astute graduates with a global mindset that will make a significant contribution to business and broader society. We aim to develop graduates who will demonstrate critical awareness of business trends, issues, and developments; a strong analytical orientation towards decision-making and problem-solving; a deep-rooted ethical and societal awareness; a propensity for entrepreneurship and innovation; a capacity to communicate persuasively and professionally; and a life-long commitment to personal and professional excellence and development (Purpose). We aspire to produce graduates that, over the long-term, will assume leadership positions and will have a significant impact on the development of business, economic, and social life, both nationally and internationally (education and subject/discipline/professional values). The BSc Business curriculum is designed to develop future leaders through a rich variety of educational experiences and pedagogical innovations that focus on conceptual understanding ('episteme'), technical mastery ('techne'), and practical wisdom ('phronesis'). Additionally, our students have the opportunity to participate in a range of transformative educational experiences, including international exchange programmes, summer exchange programs, and case study competitions (the nature of the learning environment for students). The BSc Business programme emphasises a rich variety of teaching and assessment methods, including lectures and tutorials, laboratories, case studies, essays, consulting reports, debates, presentations, group assignments, and simulations. Students are exposed to faculty with a range of different perspectives, experiences, and backgrounds (key approaches to teaching, learning and assessment).
Programme Goals and Learning Outcomes
Knowledgeable: Students will demonstrate a critical awareness of issues, trends and developments in business and management.
Analytical: Students will demonstrate a strong data-led orientation when engaging in analysis, decision-making and problem-solving.
Critically aware: Students will demonstrate a critical appreciation of ethical and social issues.
Interculturally Skilled: Engaging globally and building a global mindset.
Business-Skilled: Students will demonstrate a capacity to collaborate effectively and communicate persuasively and professionally.
Continually Learning: Students will demonstrate a commitment to personal and professional excellence and ongoing development.
Entry Requirements
EU Students
Please note this course is currently only available to non-EU students and is not offered through the CAO.
International Students
If you are a non-EU applicant you can apply directly to UCD. Information about the specific entry requirements for your country is available at the UCD Global website.
Student Exchange
In the second year, you will have the opportunity to study abroad at one of our partner business schools – this popular and competitive aspect to your studies is an optional activity that will add value to your degree. Studying abroad as part of your degree is highly valued by employers as well as the experience of a lifetime. We currently have partner universities in Australia, Singapore, New Zealand, China, Canada and across Europe.
Experience A New Learning Environment
Study abroad at some of the best Universities and Business Schools worldwide and gain a different perspective on education in another country.
Improve Employment Opportunities
Enhance your careers prospects by adding international experience to your Degree.
Friendships
Meet new people and make friends from around the world. This is an opportunity to network and make business contacts that may be useful in your future career.
Your Career
The BSc Business at UCD Quinn School of Business will provide you with the tools and techniques to succeed in a dynamic global business environment. Our diverse dynamic learning environment produces graduates with a high level of transferable business, interpersonal and intercultural skills and competencies. Through a range of assessment types, innovative group projects and individual course work, presentations, business simulations and contemporary case studies you will be ready to launch a successful career in any multinational enterprise.
Business Mentoring Programme
Stage 2 BSc Business students are provided access to a mentoring network of College of Business alumni through the Business Mentoring Programme. The programme aims to match experienced business alumni professionals with undergraduate business students. The commitment is a minimum of seven hours across trimester 1 and 2, including a mandatory training session and three meetings with your mentor. This provides students with an opportunity to gain insights into the business and personal skills required to succeed in today's competitive economy and to increase their employability through the development of professional and interpersonal skills.
UCD Careers Network
The UCD Careers Network can help you plan for your career and develop your skills by providing the following services to UCD Quinn School students:
Careers Workshops in Quinn such as CV and Interview Techniques.
CV Clinics and Career Advice Meetings
Recruitment Fairs and Employer Events on campus
Career Development Programmes and Skills Awards
Business-focused roles for UCD Quinn School students such as summer internships and graduate programmes are advertised through the jobs portal.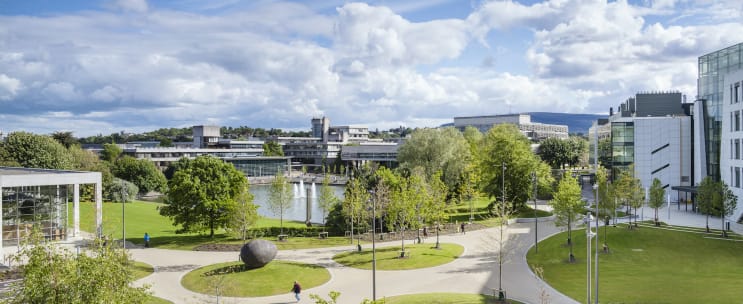 Last updated Nov 2020
About the School

UCD is one of Europe's leading research-intensive universities; an environment where undergraduate education, masters and PhD training, research, innovation and community engagement form a dynamic spe ... Read More
UCD is one of Europe's leading research-intensive universities; an environment where undergraduate education, masters and PhD training, research, innovation and community engagement form a dynamic spectrum of activity. As Ireland's largest university, with its great strength and diversity of disciplines, UCD embraces its role to contribute to the flourishing of Ireland through the study of people, society, business, economy, culture, languages and the creative arts, as well as through research and innovation.
Read less