Program Description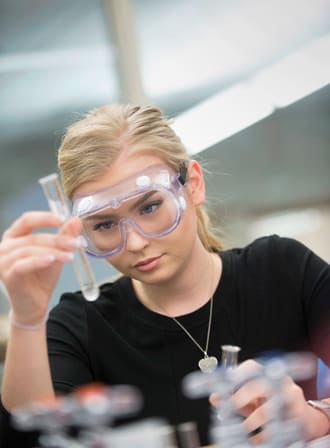 Looking to be at the forefront of cutting-edge technological innovations using new, state-of-the-art laboratories? Find it with a bachelor's degree in biomolecular engineering—the only one offered in the state.
Students in the biomolecular engineering (BioE) program work at the molecular level with simple and complex molecules. They take courses that cover concepts of thermodynamics, transport phenomena, cell engineering, biophysics, bioinformatics, nanotechnology, and genomics. M.S.O.E. is the only university in the state to offer a bachelor's degree in BioE.
You'll sharpen your skills in a suite of cutting-edge laboratories that rival those found in the professional sector, using high-tech instruments like temperature-controlled incubators, atomic force microscopes, macro and micro centrifuges and more.
As scientists make further genetic and molecular breakthroughs, biomolecular engineers continue to be in demand. Equipped with hybrid and versatile skills, these engineers will develop new products, processes, and techniques, and provide solutions for medical, food, environmental and technical problems‒—fulfilling their desire to improve human quality of life.
The results
The three-year average placement rate for M.S.O.E. biomolecular engineering graduates is 91% in 2014-2015, and graduates enjoyed an average starting salary of $43,924.
The field
Biomolecular engineering is a diverse, application-driven discipline in the areas of medical, agricultural, environmental, biotechnical, food and other life-science fields. Biomolecular engineers work at the interface of engineering and molecular biology to solve engineering problems, improve current products and processes and develop new products and processes at the molecular level. They work in advanced laboratories with state-of-the-art equipment and must be meticulous and detail oriented to prevent contamination and/or false results.
You may want to consider BioE if you
Enjoy chemistry, physics, biolog, and mathematics
Prefer to work at the molecular level of cells and cellular systems
Are detail oriented, able to measure precisely and use complex instruments
Are able to communicate well and work in teams
Have a desire to help others
Program Educational Objectives
The BioE program prepares graduates to exhibit and achieve the following attributes within a few years of graduation:
Professional Skills
BioE alumni will:
Possess and demonstrate skills to function beyond entry-level engineers.
Demonstrate sustained professional development.
Sense of Excellence and Achievement
BioE alumni will:
Exhibit professional and ethical responsibilities.
Compete for positions at the local, state, national or international levels.
Engage in continuous education and/or career-appropriate options.
Social Skills
BioE alumni will:
Display management and leadership skills.
Function within diverse cultural and professional environments.
BioE Program Student Outcomes
Graduates of the biomolecular engineering program, at the time of graduation, will have:
An ability to apply knowledge of mathematics, science and engineering
An ability to design and conduct experiments, as well as to analyze and interpret data
An ability to design a system, component or process to meet desired needs within realistic constraints such as economic, environmental, social, political, ethical, health and safety, manufacturability and sustainability
An ability to function on multidisciplinary terms
An ability to identify, formulate, and solve engineering problems
An understanding of professional and ethical responsibility
An ability to communicate effectively
The broad education necessary to understand the impact of engineering solutions in a global, economic, environmental and societal context
A recognition of the need for, and an ability to engage in, lifelong learning
A knowledge of contemporary issues
An ability to use the techniques, skills and modern engineering tools necessary for engineering practice
A foundation in the basic sciences sufficient to design, analyze, and control physical, chemical and biological products and processes
A foundation in the safety and hazards associated with the physical, chemical and biological products and processes
Contact Kayla Maule at maule@msoe.edu or on Whatsapp at +1 414 573 9883 for more information.
Last updated Jan 2019
About the School
Milwaukee School of Engineering is a private, non-profit university offering bachelor's and master's degrees in engineering, business, mathematics and nursing and an intensive English for Academic Pur ... Read More
Milwaukee School of Engineering is a private, non-profit university offering bachelor's and master's degrees in engineering, business, mathematics and nursing and an intensive English for Academic Purposes program for those looking to improve their English proficiency. At MSOE, you will find a caring community of students and faculty. Together, we are committed to fostering a higher standard of academic programming and research, and personalized service, instruction and guidance.
Read less