BSc (Hons) in Human Resource Management
Home ›
BSc ›
BSc (Hons) in Human Resource Management
Read more about this program on the school's website
Program Description
Our 4-year BSc (Hons) programme in Human Resource Management gives you the skills you need to operate effectively in the contemporary global business environment.
As a graduate, you'll be equipped to:
provide ethical leadership.
generate sustainable value through people for both business and society.
thrive in a range of business environments and sectors.
You'll get a broad overview of core business disciplines in year one, giving you a firm foundation for your degree. You will then specialise in Human Resource Management through core specialist modules. You'll also have the flexibility to choose additional optional modules related to your interests and career aspirations.
Employability and enterprise skills fundamental for your employability and career development are integrated strongly throughout the programme, improving your critical awareness and career prospects.
Our academic team are research active and industry experienced. This means that the teaching you receive reflects the latest thinking and professional practices.
Professional accreditation
We are proud to be in an elite group of business schools to hold the triple accreditations of Equis, AMBA and AACSB, often referred to as the "Triple Crown".
A number of professional accountancy bodies give exemptions for examinations taken at different stages of their professional qualification, including ICAEW, ACCA, AIA and CIMA, and CPA Australia. Depending on specific accounting modules taken, this programme may entitle students to be eligible for exemptions.
The Association of Chartered Certified Accountants (ACCA) accredit this programme. This means that, by successfully completing your degree, you are eligible for exemptions from some ACCA fundamental level examinations.
The Chartered Institute of Personnel and Development (CIPD), the leading UK professional body for HR specialists, accredits our programme in recognition of the fact that it meets rigorous academic and professional standards. The programme provides the underpinning knowledge required to achieve professional levels of CIPD membership. On successfully completing your degree course you will be eligible to receive the CIPD Intermediate Level Diploma in Human Resource Management which leads to associate membership of the Institute.

Rankings
The University of Bradford is ranked 301-400 in the world for Business and Economics in the 2019 Times Higher Education World University Rankings.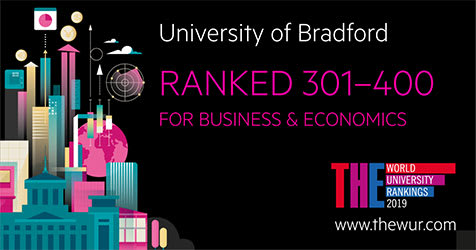 Entry requirements
112 UCAS tariff points.
A-Levels: There are no specific subject requirements.
BTEC Extended Diploma: DMM - there are no specific subject requirements.
Applicants on Access Programmes: There are no specific subject requirements.
International Baccalaureate requirements: 112 points to include at least 2 HL subjects plus HL 3 or SL 4 in Maths.
Plus a minimum of GCSE English and Mathematics at grade C or 4 (equivalents accepted).
English language requirements
Minimum IELTS at 6.0 or the equivalent
If you do not meet the IELTS requirement, you can take a University of Bradford pre-sessional English course.
What you will study
Please note that for 2020 entry, the module information is subject to change.
First year
Core
Foundations of Marketing (MAR4002-B)
Introduction to Accounting (AFE4005-B)
People, Work and Organisations/Work in Context (HRM4009-B)
Principles of Management (OIM4006-B)
Operations and Information Systems Management (OIM4002-B)
Option
Business Economics (AFE4001-B)
Sustainability and Social Responsibility (OIM4008-B)
Introduction to Finance
Principles and Practices of International Business (SIB4001-B)
Second year
Core
Employability and Enterprise Skills (HRM5004-B)
Human Resource Management (HRM5008-B)
International Business Strategy (SIB5001-B)
Business Law and Ethics (LAW4004-B)
Organisational Design and Analysis (HRM5014-B)
Option
Management Accounting (AFE5004-B)
Strategic Management (SIB5003-B)
Multinational Finance and Investment (AFE5013-B)
Integrated Marketing Communications (MAR5007-B)
Management of Information Systems (OIM5009-B)
European Business and Management (SIB5006-B)
Logistics and Supply Chain Management (OIM5014-B)
Elective (Semester 2 only)
Final year
Core
Project/Dissertation (HRM6012-D)
Leading and Managing People (HRM6014-B)
Reward, Development and Talent Management (HRM6009-B)
Contemporary Developments in Employee Relations (HRM6011-B)
Option
Business Ethics and Social Responsibility (HRM6010-B)
Service Operations Management (OIM6009-B)
Multinationals in Emerging Economies (SIB6011-B)
Cross-Cultural Management (SIB6009-B)
Innovation in Logistics and Supply Chain Management
Sandwich year
The Faculty of Management and Law has an excellent network of organisations that offer placements including:
IBM
Vauxhall
NHS
GE Money
Pace
Enterprise Rent A Car
Cummins
Peugeot
The placement year is a great way to develop your professional experience, build industry contacts, and gain insight into the day-to-day work of an HR professional. Your experience will be monitored as part of your degree.
Learning and assessment
Teaching involves a combination of:
Lectures
Tutorials
Group work
Case studies
Practical insight from HRM practitioners
Your learning is supported by our Virtual Learning Environment – Blackboard.
Assessment comprises of coursework (individual and group), presentations and examinations.
Facilities
As an undergraduate student at the School of Management, you can enjoy the benefits of being part of a vibrant city university and studying at our self-contained parkland campus with excellent links to everything West Yorkshire has to offer – including the Yorkshire Dales and Leeds city centre.
At our Bradford campus and across our global campus, we create a collaborative, supportive learning environment in which students, staff, alumni and businesses and organisations can share knowledge and ideas.
Fees, finance and scholarships
Tuition fee
Home: £9,250 (sandwich year: £925)
International: £16,090 (sandwich year: £1,609)
Scholarships
Every year we award numerous non-repayable scholarships to UK, EU and international students on the basis of academic excellence, personal circumstances or economic hardship.
Career support
During your time studying at the Faculty of Management and Law you will have the opportunity to take part in ou,r distinctive career booster programme throughout the duration of your course. The programme is designed to equip you with the necessary skills and graduate attributes to be job-ready when seeking employment with leading innovative organisations. The Career Booster Programme (PDF, 2.8 MB) offers you the opportunity to gain certificates in:
The European Computer Driving License (ECDL) - the benchmark for digital literacy.
Sage 50 Accounting and Sage 50 Payroll - training that will allow you to develop leading accounting and payroll software skills.
Project Manager Professional certificates - giving you the edge when seeking to become a Certified Project Manager.
Big Data analysis and reporting skills - using Software and Services (SAS) that will lead to certification.
In addition, the programme will also include activities to promote teamwork, confidence, communication and many other skills sought by employers.
Developing a portfolio of Continuing Professional Development (CPD) Certificates will demonstrate to employers that you are not only ambitious but also take responsibility for your own professional development.
Career prospects
Our HRM graduates – aware of the complex nature of people management and regulation – will be able to demonstrate the value of being able to handle employees well in the modern working environment. Career opportunities exist in human resources, recruitment and general management.
Among the organisations recently to have employed our graduates are Asda, Horton Housing and even the University of Bradford.
Employment statistics
100% of our 2017 graduates in Human Resource Management found employment or went on to further study within six months of graduating.*
Salary expectations
The average starting salary for our 2017 Human Resource Management graduates was £18,667.*
*These DLHE statistics are derived from annually published data by the Higher Education Statistics Agency (HESA), based on those UK domiciled graduates who are available for employment or further study and whose destinations are known.
Study abroad
As a student at the University of Bradford School of Management, you'll have the opportunity to study abroad at one of our partner institutions around the world. This gives you exposure to different cultures and opportunities to network with students from other leading business schools.
Study tours
Students have an opportunity to broaden their international experience by taking part in study tours embedded alongside our programmes throughout the year. These tours are provided by the Faculty where all expenses are covered. Previous tours have included trips to Bahrain (Ahlia University) and Qatar (Qatar University).
These tours help our students to gain knowledge about international business and entrepreneurship, as well as providing opportunities to practice and develop communication and interpersonal skills. Students are given a hands-on opportunity to apply the knowledge they have gained in class, all whilst becoming more aware of diverse cultures and strengthening international relationships.
Students take part in a dynamic mix of both theory and practice-related activities including interactive problem-solving workshops, company visits, talks by guest speakers (from the public and private sector), cultural visits, and social activities.
Last updated Mar 2020
About the School
At the University of Bradford, you'll benefit from - and be a part of – teaching and research that harnesses technology for the good of society. You'll learn from academic and industry experts who are ... Read More
At the University of Bradford, you'll benefit from - and be a part of – teaching and research that harnesses technology for the good of society. You'll learn from academic and industry experts who are shaping the future of their sectors in world-class facilities. We've invested millions of pounds in high-tech learning environments, such as our motion capture studio and new School of Management facilities. During your time with us, you can become the very best version of yourself. The University is a place where you can expand your mind and make lifelong friends; where you can grow, learn, experience. Where you can belong, and where we support you every step of the way.
Read less