Program Description
BSc (Hons) in Environmental Studies
Deree– The American College of Greece is the first independent educational institution in Greece to introduce an Environmental Studies program. Launched in fall 2010, the program aims to develop students' understanding of the root causes and multiple dimensions of environmental problems (ecological, social, economic and political) as well as options for effectively addressing these problems in an increasingly complex world.
The program provides students with the theoretical knowledge and skills to:
enter the professional world and pursue careers related to environmental issues
become environmentally informed and socially responsible citizens, and
undertake graduate studies in environmental fields.
What You Will Study: An Interdisciplinary Program
The program combines knowledge from different disciplines to provide students with a better understanding of the complex nature of environmental problems, examining not only their ecological, but also their social, economic and political dimensions. Courses in environmental science, general biology, ecology, chemistry and geology provide students with an understanding of the structure and functioning of natural systems and of their role in supporting life and human activities. Students also examine the relationship between the environment, society, human health, the economy and use of energy, and acquire knowledge of environmental policy issues and principles of environmental management that are essential components of problem solving. Students develop the cognitive and practical skills needed to perform research in different environmental studies fields and to provide solutions to specific environmental problems. In their senior year, they have the opportunity to select five optional courses on more specialized topics in the areas of water resource management, atmospheric science and pollution, biodiversity and conservation, sustainable food production, waste management, E.U. policy and legislation, environmental management systems, sustainable cities, and sustainable tourism management.
Career/Graduate Study Opportunities
Environmental Studies graduates may embark on careers as environmental consultants, scientists, educators, and management specialists. More specifically, they may work in: private consulting firms and companies performing environmental studies; private companies such as corporations, banks, market research companies, colleges and universities in the areas of environmental planning (e.g. on air quality, land-use, recreation, transportation, water resources), internal audits, policy and quality assessments; media; nongovernmental organizations in the areas of environmental education and communication (journalism, advertising), and environmental management (water quality management, air quality management, solid and hazardous waste management, land and water conservation, ecosystem and wildlife management); protected areas as environmental experts, environmental educators or eco-tour guides; and in international posts (e.g. in EU environmental programs) in all of the above areas.
Promoting Sustainability at ACG
Environmental Studies students have the opportunity to engage in projects related to campus operations and services that are transforming ACG into a "green" campus. This objective is accomplished in collaboration with the Center of Excellence for Sustainability (CES), a center established in 2011 in order to make ACG a sustainable learning community and to coordinate sustainability initiatives on campus. Such projects involve environmental audits and environmental management, sustainable use of resources, policy for sustainable practices, campus ecosystem and biodiversity.
Last updated Oct 2017
About the School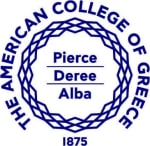 Founded in Smyrna, Asia Minor, in 1875, by missionaries from Boston, Massachusetts, The American College of Greece is the oldest and largest US accredited college or university in Europe. For over 140 ... Read More
Founded in Smyrna, Asia Minor, in 1875, by missionaries from Boston, Massachusetts, The American College of Greece is the oldest and largest US accredited college or university in Europe. For over 140 years, ACG has been offering transformative education and cultivating a fertile intellectual and cultural collaboration between Greece and the United States.
Read less