Program Description
Overview
This award will equip you with the skills to work in film, TV and new media. Specialising in industry-standard products, from digital film and video editing to the animation skills required to produce broadcast-standard titling and effects, you'll also gain the post-production skills that all postproduction professionals need.
This programme combines the study of digital video production and post-production in a number of different fields, including film, video, television, animation, design and digital imaging. You will learn how to use industry-standard software including Final Cut Pro Studio and the Adobe Creative Suite. All the post-production skills are backed up with the film production knowledge all editors and post-production professionals require.
Year 1 covers all the basic post-production skills including graphics and the basics of film production and editing, with options to include sound recording and CGI.
In Years 2 and 3 you will study editing, animation, and High Definition video production. These skills will be combined with color grading for Film and TV, compositing (green screen) and match moving objects in animated and video scenes.
This will be united with the opportunity to study other film-related subjects, cinematography, audio production, mixing and design and music video production. The combination of the skills acquired give graduates the edge in the film, television and media industry.
Entry Requirements
Route 1: Entry to Year 1
Successful completion of STPM with 2 full passes or equivalent with minimum CGPA of 2.0 and completion of SPM or equivalent; or,
Successful completion of A-Level with at least a pass in 2 subjects and successful completion of O-Level or equivalent; or
Recognised Matriculation or foundation with CGPA 2.0; or
A qualification that APIIT accepts as equivalent to the above.
All students must demonstrate that they have met the equivalent of IELTS 6.5 either through formal English language assessment or through success in the prior study at "A" level or equivalent in English.
Route 2: Direct entry to year 2
Successful completion of the relevant APIIT Diploma, or
Successful completion of study in another recognized institution with academic credits equivalent to Year 1 of an honours degree in relevant subjects
All applicants will be individually assessed via a portfolio, interview including drawing
Programme outline
Topics you will experience include:
Year 1
Digital Animation for VFX I
Digital Animation for VFX II
Digital Compositing 1 I
Digital Compositing 1 II
Character Concept Design I
Character Concept Design II
Introduction to CGI I
Introduction to CGI II
Year 2
3D Modelling for VFX I
3D Modelling for VFX II
Digital Compositing 2 I
Digital Compositing 2 II
Junior VFX Team Project (Digital Film) I
Junior VFX Team Project (Digital Film) II
Character Concept Design I
Character Concept Design II
Documentary Production Technology I
Documentary Production Technology II
Internship
Year 3
FX Portfolio Project I
FX Portfolio Project II
FX Research Project I
FX Research Project II
Rigging for Games and VFX
Scripting Concepts for VFX
Senior Team VFX Project I
Senior Team VFX Project II
In addition to the above, all students are also required to successfully complete four (4) General Studies modules as stipulated by the Malaysian Qualifications Agency, as well as fulfill credit requirements for Co-Curricular Activities.
Graduate Employment
The BSc (Hons) in Digital Film and 3D Animation Technology aims to produce graduates who are reflective and critical learners, with a global perspective, and who are prepared for the world of work.
Digital Film and 3D Animation Technology, along with the related industries, is a rapidly evolving sector, with the development of high definition, digital distribution, multi-platform streaming, 3D TV and solid-state recording. These emerging technologies continue to produce creative and commercial opportunities in an industry that requires technical skills and knowledge and individuals who are able to embrace, reflect and practice technologies. Career prospects include visualizers, technical directors, 3D animators, matte painters, and concept designers for the games, TV and film industries.
Last updated Jul 2018
About the School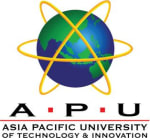 The Asia Pacific Institute of Information Technology offers a range of programmes which are designed to produce highly employable graduates, by providing our students with an internationally benchmark ... Read More
The Asia Pacific Institute of Information Technology offers a range of programmes which are designed to produce highly employable graduates, by providing our students with an internationally benchmarked academic experience closely aligned to industry requirements. As an integral member of the APIIT Education Group – comprising the Asia Pacific University of Technology & Innovation (APU), the Asia Pacific Smart School and the Asia Pacific International School - APIIT has achieved an enviable record of having produced more than 20,000 highly employable graduates through a sound approach of transforming and nurturing school leavers into qualified and highly competitive professionals.
Read less