BSc (Hons) in Business and Management
Home ›
BSc ›
BSc (Hons) in Business and Management
Read more about this program on the school's website
Program Description
Develop the skills you need for a managerial career in any sector, both in the UK and internationally.
You'll build a broad foundation of knowledge on all aspects of business and management, ensuring you graduate as a well-rounded professional with excellent commercial awareness.
The programme covers core business concepts in the first year of study, including:
Accounting
Marketing
Business economics
Operations and information systems management
You can then tailor your studies to emerging areas of interest or career aspirations through a wide range of specialist modules.
A sandwich placement year, taken in year three of the programme, enables you to develop your skills and professional confidence - and boosts your employability on graduation.
There is a strong emphasis on teaching that is informed by the latest research and commercial best practice, as well as a focus on employability, sustainable development and global corporate responsibility.
Professional accreditation
We are proud to be in an elite group of business schools to hold the triple accreditations of Equis, AMBA and AACSB, often referred to as the "Triple Crown".
A number of professional accountancy bodies give exemptions for examinations taken at different stages of their professional qualification, including ICAEW, ACCA, AIA and CIMA, and CPA Australia. Depending on specific accounting modules taken, this programme may entitle students to be eligible for exemptions.
The Association of Chartered Certified Accountants (ACCA) accredit this programme. This means that, by successfully completing your degree, you are eligible for exemptions from some ACCA fundamental level examinations.
Rankings
The University of Bradford is ranked 301-400 in the world for Business and Economics in the 2019 Times Higher Education World University Rankings.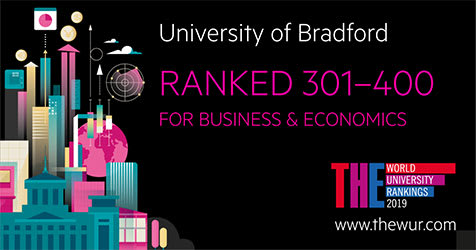 Entry requirements
112 UCAS tariff points.
A-Levels: There are no specific subject requirements.
BTEC Extended Diploma: DMM - there are no specific subject requirements.
Applicants on Access Programmes: There are no specific subject requirements.
International Baccalaureate requirements: 112 points to include at least 2 HL subjects plus HL 3 or SL 4 in Maths.
Plus a minimum of GCSE English and Mathematics at grade C or 4 (equivalents accepted).
English language requirements
Minimum IELTS at 6.0 or the equivalent
If you do not meet the IELTS requirement, you can take a University of Bradford pre-sessional English course.
What you will study
Please note that for 2020 entry, the module information is subject to change.
First year
Core
Business Economics (AFE4001-B)
Foundations of Marketing (MAR4002-B)
Introduction to Accounting (AFE4005-B)
People, Work and Organisations/Work in Context (HRM4009-B)
Principles of Management (OIM4006-B)
Option
Operations and Information Systems Management (OIM4002-B)
Sustainability and Social Responsibility (OIM4008-B)
Introduction to Finance (AFE4004-B)
Principles and Practices of International Business (SIB4001-B)
Second year
Core
Employability and Enterprise Skills (HRM5004-B)
Human Resource Management (HRM5008-B)
Business Law and Ethics (LAW4004-B)
Strategic Management (SIB5003-B)
Option
Financial Management (AFE5011-B)
Financial Accounting (AFE5008-B)
Marketing Management and Strategy (MAR5008-B)
International Business Strategy (SIB5001-B)
Understanding Consumers (MAR5010-B)
Organisational Design and Analysis (HRM5014-B)
Management Accounting (AFE5004-B)
Multinational Finance and Investment (AFE5013-B)
Auditing (AFE5009-B)
Integrated Marketing Communications (MAR5007-B)
Entrepreneurship, Creativity and Innovation (EAE5001-B)
Management of Information Systems (OIM5009-B)
World-Class Operations (OIM5013-B)
Logistics and Supply Chain Management (OIM5014-B)
Final year
Core
Dissertation (HRM6012-D)
Business Ethics and Social Responsibility (HRM6010-B)
Option
Empirical Methods in Accounting and Finance (AFE6014-B)
Current issues in International Business (SIB6007-B)
Risk Management and Derivatives (AFE6013-B)
Consumer Insight (MAR6008-B)
International Accounting and Reporting (AFE6012-B)
Leading and Managing People (HRM6014-B)
Product and Corporate Brand Management (MAR6013-B)
Interactive Services Marketing (MAR6011-B)
Contemporary Developments in Employee Relations (HRM6011-B)
Service Operations Management (OIM6009-B)
Multinationals in Emerging Economies (SIB6011-B)
Cross-Cultural Management (SIB6009-B)
Project Management (OIM6008-B)
Innovation in Logistics and Supply Chain Management (OIM6013-B)
European Business and Management (SIB5006-B)
Elective
Sandwich year
This 4-year programme offers you the opportunity to take up a placement year working in business in your third year.
Placements are real, paid jobs in a wide variety of organisations in the private, public and not-for-profit sectors and offer you a valuable opportunity to experience first-hand how business and management concepts are applied in practice, and to give you direct exposure to real issues in the workplace. It can also be done abroad.
The placement year is a vital part of your learning and will add significantly to your personal development, self-confidence, planning, communication and business acumen skills. Statistics show that students who have undertaken a placement year benefit from a better graduate job, higher graduate starting salary and a better degree outcome.
In a competitive graduate market, valuable experience and employability skills gained from a year's work placement will differentiate you from the thousands of other graduates seeking work.
We find that students return from their placement year with their confidence and personal skills enhanced and ready to implement their focused plan for the future.
The School of Management has an excellent network of organisations that offer placements including:
IBM
Vauxhall
NHS
GE Money
Arris (formerly PACE)
Enterprise Rent A Car
Cummins
Peugeot
Together we ensure your placement is appropriately challenging and that you can make a real and positive impact on the business. Your experience will be monitored and assessed through a credit-bearing work-based learning module that will count towards your final degree.
This module is portfolio based and will develop your ability to reflect on professional work-related experiences and recognise the impact on your career development planning. Placements are not guaranteed, and students will have to invest considerable time and effort in their 2nd year in securing one, with the support of the dedicated Careers team.
Learning and assessment
For all taught modules your learning will be directed, supported and reinforced through a combination of lectures, tutorials, small group seminars, virtual learning environment activities and guided private studies.
The School of Management is committed to demonstrating the relevance of taught material to real business problems, and you can expect to see guest industry lectures and the use of real industry-sponsored business problems for assessment purposes.
Generally, for each module, you will attend one lecture and one tutorial each week, during which you will be in direct contact with teaching staff.
Your learning will be supplemented by private and group study (as appropriate) following the direction of the module teaching staff. All teaching will be supported by information and activities provided through the University's virtual learning environment.
In addition, the School offers an Effective Learning Service, which helps with the development of study skills both in group sessions and through individual coaching. Methods of assessment vary according to the learning outcomes of particular modules and the stage of the study.
Accordingly, a mixture of closed and open book examinations, essays, portfolios, computer-assisted assessment, group work and presentations and other methods will form your assessments.
Throughout the programme, your learning will be supported using various methods of formative assessment and feedback. This is to help you progress your studies and support your continuing development.
Facilities
As an undergraduate student at the School of Management, you can enjoy the benefits of being part of a vibrant city university and studying at our self-contained parkland campus with excellent links to everything West Yorkshire has to offer – including the Yorkshire Dales and Leeds city centre.
At our Bradford campus and across our global campus, we create a collaborative, supportive learning environment in which students, staff, alumni and businesses and organisations can share knowledge and ideas.
Fees, finance and scholarships
Tuition fee
Home: £9,250 (sandwich year: £925)
International: £16,090 (Management/Social Sciences)
(sandwich year: £1,609)
Scholarships
Every year we award numerous non-repayable scholarships to UK, EU and international students on the basis of academic excellence, personal circumstances or economic hardship.
Career support
The University is committed to helping students develop and enhance employability and this is an integral part of many programmes. Specialist support is available throughout the course from Career and Employability Services including help to find part-time work while studying, placements, vacation work and graduate vacancies. Students are encouraged to access this support at an early stage and to use the extensive resources on the Careers website.
Discussing options with specialist advisers helps to clarify plans through exploring options and refining skills of job-hunting. In most of our programmes, there is direct input by Career Development Advisers into the curriculum or through specially arranged workshops.
Career booster
During your time studying at the Faculty of Management and Law, you will have the opportunity to take part in our distinctive career booster programme throughout the duration of your course. The programme is designed to equip you with the necessary skills and graduate attributes to be job-ready when seeking employment with leading innovative organisations. The Career Booster Programme (PDF, 2.8 MB) offers you the opportunity to gain certificates in:
The European Computer Driving License (ECDL) - the benchmark for digital literacy
Sage 50 Accounting and Sage 50 Payroll - training that will allow you to develop leading accounting and payroll software skills
Project Manager Professional certificates - giving you the edge when seeking to become a Certified Project Manager
Big Data analysis and reporting skills - using Software and Services (SAS) that will lead to certification.
In addition, the programme will also include activities to promote teamwork, confidence, communication and many other skills sought by employers.
Developing a portfolio of Continuing Professional Development (CPD) Certificates will demonstrate to employers that you are not only ambitious but also take responsibility for your own professional development.
Career prospects
People who can combine a clear understanding of core business and management functions, and good problem-solving and decision-making skills are in demand throughout the economy. Our expert academics will equip you with these important transferable skills to help set you apart in the competitive job marketplace. Graduates of the programme have successfully secured employment opportunities with major employers from across the range of private, public, not-for-profit and small to medium-sized enterprise sectors.
Employment statistics
87% of our 2017 Business and Management Studies graduates found employment or went on to further study within six months of graduating.
Salary expectations
The average starting salary for our 2016 Business and Management Studies graduates was £17,250.*
*These DLHE statistics are derived from annually published data by the Higher Education Statistics Agency (HESA), based on those UK domiciled graduates who are available for employment or further study and whose destinations are known.
Study abroad
As a student at the University of Bradford School of Management, you'll have the opportunity to study abroad at one of our partner institutions around the world.
This gives you international experience, exposure to a different culture and opportunities to network with students and academics at other leading business schools.
Study tours
Students have an opportunity to broaden their international experience by taking part in study tours embedded alongside our programmes throughout the year. These tours are provided by the Faculty where all expenses are covered. Previous tours have included trips to Bahrain (Ahlia University) and Qatar (Qatar University).
These tours help our students to gain knowledge about international business and entrepreneurship, as well as providing opportunities to practice and develop communication and interpersonal skills. Students are given a hands-on opportunity to apply the knowledge they have gained in class, all whilst becoming more aware of diverse cultures and strengthening international relationships.
Students take part in a dynamic mix of both theory and practice-related activities including interactive problem-solving workshops, company visits, talks by guest speakers (from the public and private sector), cultural visits, and social activities.
Study support
You'll be allocated a Personal Academic Tutor, who will provide you with personal guidance and support. Module leaders and tutors are accessible, providing office hours and appointments in order to support your learning beyond class contact.
The use of a virtual learning environment as part of the programme further enhances the accessibility of your teaching team, enabling you to interact when you are off-campus. The Effective Learning Service (ELS) is a dedicated facility within the Faculty of Management and Law, established to support our students to maximise their academic learning (e.g assignments and examinations), as well as help overseas students, adapt quickly to UK academic requirements.
The ELS provides a huge range of services, including various workshops run during term time, 1-1 consultations and vast printed and online resources to cater for every possible development area These are in addition to the wide range of students support that are offered by the University of Bradford at the City Campus.
Research
There is a strong emphasis on delivering teaching that is informed by current research.
Academics draw on their own research experiences and activities in informing teaching during lectures, focusing on the link between theory and practice.
Last updated Mar 2020
About the School
At the University of Bradford, you'll benefit from - and be a part of – teaching and research that harnesses technology for the good of society. You'll learn from academic and industry experts who are ... Read More
At the University of Bradford, you'll benefit from - and be a part of – teaching and research that harnesses technology for the good of society. You'll learn from academic and industry experts who are shaping the future of their sectors in world-class facilities. We've invested millions of pounds in high-tech learning environments, such as our motion capture studio and new School of Management facilities. During your time with us, you can become the very best version of yourself. The University is a place where you can expand your mind and make lifelong friends; where you can grow, learn, experience. Where you can belong, and where we support you every step of the way.
Read less