BSc (Hons) in Animal Behaviour and Welfare
Home ›
BSc ›
BSc (Hons) in Animal Behaviour and Welfare
Program Description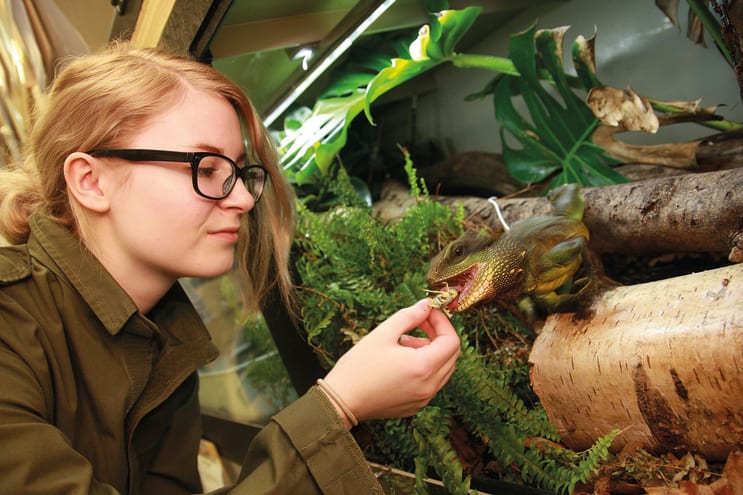 The Bachelor's Degree in Animal Behaviour and Welfare can be followed by undertaking studies in post-graduate education or alternatively being employed within the industry.
The course includes specialist modules and practical experience with a range of domestic and companion species, enabling students to understand the behavior and welfare of many different animals, both in captivity and in the wild. Students are taught at Reaseheath throughout Year 1 utilizing the zoo-licensed facilities on campus, with subsequent study in Years 2 and 3 being undertaken exclusively at the University of Chester.
Work in the field will expand your knowledge of animal behavior, and there is an opportunity for dissertation work which will allow you to work with lecturing staff on relevant unique research projects.
Please note: Students are based at Reaseheath during their first year. You will then be based at the University of Chester during your second and third years. For students wishing to live in, you will live in Halls of Residence at Reaseheath College during your first year.
The course features:
Member of British and Irish Association of Zoos and Aquariums (BIAZA)
The purpose-built animal management training center with £3 million upgrade
The student will have the opportunity to engage in overseas field courses to a range of localities including southern Africa, South America, and Europe
Centre houses over 1,000 animals and 125 species inc:
Mammals: serval cats, tapirs, ring-tailed lemurs, porcupines, tamarin monkeys, otters, capybara, meerkats, mara, and wallabies, among others
Birds: birds of prey, chickens, ducks, finches, cockatiels, cockatoos, and budgerigars
Reptiles: snakes, bearded dragons, tortoises, and chameleons
Fish: a range of freshwater and marine fish Invertebrates: tarantulas, scorpions, and insects Amphibians: frogs, toads, and newts.
What will I study?
This course is aimed at students who wish to develop a career in animal behavior and/or animal welfare. Students are provided with a unique combination of academic study with practical work to develop a range of academic and professional skills, with knowledge of animal behavior and animal welfare science in varying contexts, and related disciplines. Students will be provided with a dynamic learning experience that combines academic study with practical application of themes in animal behavior and welfare. As a student studying this programme, you will have regular access to the zoo-licensed animal center, kennel and farm facilities by which to reinforce taught elements of the programme and hone your practical skills. Additionally, students can expect an interactive and personable learning experience that draws upon the expertise of our team of dedicated staff, with whom students can engage in the study through the use of our first-class facilities across the University Centre Reaseheath and University of Chester campuses, but also via overseas study opportunities.
Students are expected to study and complete 120 credits per year, which comprises six modules of study per academic level/year. All modules in year 1 are mandatory study, to ensure students come away with the fundamental skills and knowledge required to progress onto further study. Conversely, students will have the opportunity to select for certain optional modules in years 2 & 3, to allow for more specific disciplines/subject pathways to be developed.
In Year 1 (Level 4), you will develop essential knowledge and skills in animal welfare science, animal biology, animal husbandry and behavior. A heavy emphasis on Level 4 study will also be placed on the development of academic skills via regular tutoring with an assigned course manager.
Year 2 (Level 5) sees a shift in emphasis to more academic and research-informed study, including themes in evolution, taxa-specific behavior & welfare, and applied research. A five-week (equivalent) UK-based work placement, or alternatively, an overseas study opportunity is also included as part of the programme.
In Year 3 (Level 6), you will continue your studies via more specific pathways that are designed to advance both your academic expertise and professional skills in animal behavior & welfare. Additionally, students undertaking their final year of study will typically conduct an independent piece of scientific research, to demonstrate competencies in the application of knowledge and research skills.
Entry requirements
A minimum of 112 UCAS points from GCE A Levels including a grade C in either Biology, Chemistry, Human Biology, Science or Applied Science. Typical offer BCC/BBC

BTEC Extended Diploma (Animal Care/Management or Applied Science): DMM

BTEC Diploma (Animal Care/Management or Applied Science): D*D*

OCR National Extended/Diploma: merit profile plus one of the GCE A-level subjects listed above

Irish/Scottish Highers Grade B in 4 subjects, including Biology, Chemistry or Human Biology

International Baccalaureate: 26 points, including 5 in HL Biology

Access to HE (Science) Diploma, to include 45 credits at level 3, 30 of which must be at Merit

OCR National Extended/Diploma: Accepted in addition to one of the GCE A-level subjects listed above

Please note that we accept a maximum of 8 UCAS points from GCE AS Levels and that the Welsh Baccalaureate (core) and A Level General Studies will be recognized in our offer. We will also consider a combination of A Levels and BTECs/OCRs.
Career Options
Animal Behaviourist
Animal welfare/conservation
Wildlife management
Teaching/education officers
Scientific research and technical support
Animal behavior counseling/training
Teaching and lecturing
Animal health product development
Rescue center animal care
Animal behavior research.
Tuition Fees
As a Higher Education student you will have two main costs to meet; your tuition fees and living costs.
Our full-time tuition fees for UK and EU students entering University in either 2017/18 or 2018/19 are £9,250. These fees are charged for each academic year of a course and are set by the college annually.
If you are an international student or for the latest information on tuition fees visit the student finance page on our website.
Last updated Apr 2018
About the School

Located in rural Cheshire, our campus has top class, industry standard, teaching facilities but still retains its friendly, supportive atmosphere – a combination which delivers both academic excellenc ... Read More
Located in rural Cheshire, our campus has top class, industry standard, teaching facilities but still retains its friendly, supportive atmosphere – a combination which delivers both academic excellence and student satisfaction.
Read less