Program Description
About the course
The course is delivered at University Centre Myerscough and awarded by the University of Central Lancashire.
Agriculture is an exciting and fast developing industry, harnessing new science and technology to increase productivity and efficiency on farms. Creative approaches, critical thinking, and innovation are needed to drive forward this longstanding yet resilient industry.
World population is expected to grow by over a third, or 2.3 billion people by 2050 and with this farming faces many challenges: it has to produce more food and fibre to feed a growing population with a smaller rural labour force, more crops for the bioenergy market, and adopt more efficient and sustainable production methods and adapt to climate change (FAO, 2009)
There is a shortage of skilled professionals in a wide variety of positions in the sector who can take on these challenges of new agriculture production, harnessing technology and forging policy. BSc Agriculture aims to help fill this skills shortage giving you a wide knowledge of the industry, along with analytical and problem-solving skills demanded of such roles.
Making use of our new Farming and Food Innovation & Technology Centre, this course will focus on livestock and crop production as well as essential business entrepreneurism. The final year options allow you to specialise in either livestock or crops or continue to study a mix of both with an emphasis on sustainable and novel technologies.
Agriculture
Myerscough College is one of the leading institutions for Agriculture in the UK. Our courses will help prepare you for a career in the industry, by combining relevant background skills with the knowledge of crop and livestock technology as well as business enterprise.
There is currently a significant demand for highly trained and well-educated professionals to enter the industry. This has been fuelled by the increasing awareness that food production, farming, tourism, the environment and rural affairs are all interconnected.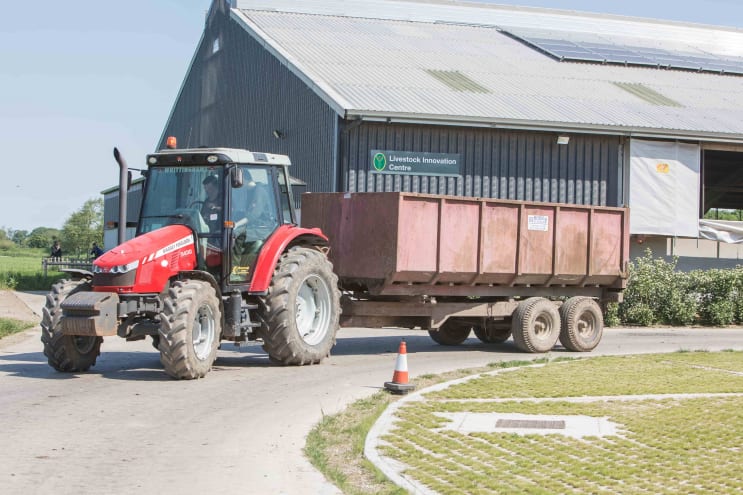 Key information
Location

Myerscough College (Preston)

Course length
Start date
Course modules
Year 1
Agricultural Machinery Management
Students will discuss the principles of agricultural machinery systems and investigate of the strength and suitability of materials in relation to different roles within machinery. Safety systems within machinery will also be considered. You will also develop skills in the acquisition and analysis of primary and secondary data.
Animal Anatomy and Physiology
Anatomy, physiology and environmental assessment are introduced through this core module. With a focus for the agricultural students on livestock, you will explore the fundamentals of animal biology, an understanding of which will help foster successful livestock farmers. The module includes some lab practicals.
Academic and Professional Skills
Here we will explore the professional requirements for a successful career in the sector along with equipping students with the time management, academic writing and critical thinking skills needed to succeed in education and your chosen profession. It is aimed that you have a strong start to the degree and you develop vital transferable skills useful in future project management, data analysis, reporting and presenting information to different audiences.
Essential Plant and Soil Science
Here students explore the underpinning knowledge and understanding of plant biology and soil science. For plants (crops) students discover how plant form and function relates to their basic needs in terms of light, water, nutrients and reproduction. Soils will enable you to recognise soil properties (in both soil samples and in the field) and their influence on plant growth and development.
Principles of Crop Production
Gives an introduction into the principles of growing a range of agricultural crops covering the establishment, nutrition, protection, harvesting and storage of crops. Constraints on crop production from pests, diseases and adverse environmental conditions are also introduced.
Principles of Livestock Production
Introduces the main production systems of a range of livestock produced in the UK. Health, disease and biosecurity, animal welfare standards, breeding, nutrition & costings will be included as students develop a full picture of the UK livestock industry.
Year 2
Business and Entrepreneurism
Here you will evaluate entrepreneurship and the entrepreneurial process to develop your business planning skills. This includes marketing and finance in order to aid the formulation of sustainable and enterprising business plans suited for a fast-changing growth industry.
Crop Physiology and Production (Option)
A module exploring the science underpinning crop growth and production in arable crops and fresh produce. A critical appreciation of management practices that exploit and apply this knowledge will be developed
Forage Crop and Grassland Management
Central to farm profitability is the scientific basis of grassland & forage crop production as we seek sustainability in livestock production systems. In this module, emphasis will be placed on the fundamental principles with the application of science to allow students to make effective forage crop management decisions
Livestock Nutrition and Breeding (Option)
Essential for those destined for a career in livestock here you will develop a broad understanding of the biological and biochemical principles which underpin animal nutrition and breeding. Dietary requirements and modern breeding techniques along with the use of cutting edge science will explore how to maximise yield from our livestock.
Managing the Agricultural Environment
Students will evaluate some of the impacts of recent changes in farming practice (in the UK) on plants and animals living in agricultural habitats such as moorland, upland rough grazing, lowland pastures, silage, crops and field margins. Strategies for the conservation of farmland biodiversity are investigated, as is the concept of ecosystem services which is a way of attributing economic value to the environment.
Production of Non-combinable Crops
An opportunity to examine the developments and use of current and emerging crop technologies and evaluates their ethical, environmental and economic issues. The design of effective experiments and data interpretation to validate new technologies and crop products will also be covered.
Research Methods
Experimental design and data analysis are core themes in this module. It will introduce concepts of statistical testing and further develop skills in presenting and interpreting the results of scientific investigations. The module will give students vital skills in formulating research questions and designing an effective experiment in preparation for the final year research project.
Year 3
Developments in Food and Farming Innovation
This module explores the productivity of UK agriculture. Students will examine case studies of innovation in the food and farming supply chain with the aim of creating and justifying innovative solutions to given food and farming situations in order to improve agriculture productivity.
Developments in Global Land Use (Option)
A module that critically evaluates the issues with current global land uses. In particular, it will focus on subjects such as climate change, energy use, water management and soil degradation and how current techniques could be altered to achieve lower impacts.
Policy Developments in the Rural Environment (Option)
Here students focus on the global political, economic and legislative developments and how these will affect the rural environment in the future. The module will establish the framework within which the rural policy operates and explore the direction in which legislation and policy are headed.
Research Project (Double module)
An opportunity for a student to pursue an in-depth study of the student's own choice which is related to their substantive areas of study. Students will work independently, under limited supervision, in order to develop and demonstrate their research and academic skills and abilities. The dissertation will normally be based on an academic topic using primary and/or secondary data collection techniques. In both cases, academic theory is to be critically evaluated and applied to the research topic.
Sustainable Crop Science
Students will explore advances in the application of emerging sustainable technologies and practices in crop production, including water use efficiency, plant nutrition and crop protection.
Sustainable Livestock Science
Students will explore the advances in the application of scientific research to emerging sustainable extensive and intensive livestock production systems, including water and feed use efficiency, animal nutrition and breeding.
Last updated Jan 2019
About the School

Myerscough is one of the UK's largest land-based and sports colleges, offering degrees in more than 20 exciting subjects. We work in partnership with the University of Central Lancashire and are among ... Read More
Myerscough is one of the UK's largest land-based and sports colleges, offering degrees in more than 20 exciting subjects. We work in partnership with the University of Central Lancashire and are amongst the top UK institutions in the sector for student satisfaction - helped by exceptional resources and a unique countryside location. Our QAA Higher Education Review puts us amongst the top institutions in the country for quality learning opportunities and good practice teaching. We are very proud that 97% of Myerscough degree students progress to further study or employment.
Read less