Read more about this program on the school's website
Program Description
About the course
The course is delivered at University Centre Myerscough and awarded by the University of Central Lancashire.
Agriculture is an exciting and fast-developing industry, harnessing new science and technology to increase productivity and efficiency on farms. Creative approaches, critical thinking, and innovation are needed to drive forward this longstanding yet resilient industry.
World population is expected to grow by over a third, or 2.3 billion people by 2050 and with this farming faces many challenges: it has to produce more food and fibre to feed a growing population with a smaller rural labour force, more crops for the bioenergy market, and adopt more efficient and sustainable production methods and adapt to climate change (FAO, 2009)
There is a shortage of skilled professionals in a wide variety of positions in the sector who can take on these challenges of new agriculture production, harnessing technology and forging policy. BSc Agriculture aims to help fill this skills shortage giving you a wide knowledge of the industry, along with analytical and problem-solving skills demanded of such roles.
Making use of our Farming and Food Innovation & Technology Centre, this course will focus on livestock and crop production as well as essential business entrepreneurism. The final year options allow you to specialise in either livestock or crops or continue to study a mix of both with an emphasis on sustainable and novel technologies.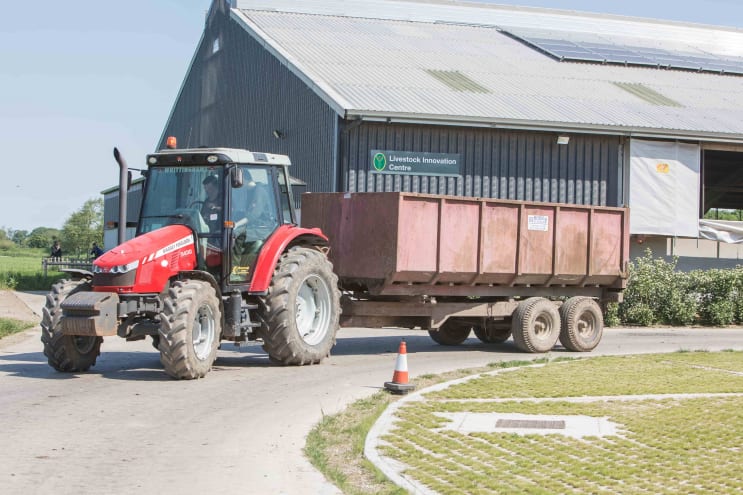 © University Centre Myerscough
Course modules
Year 1
Agricultural Machinery Management
Animal Anatomy and Physiology
Academic and Professional Skills
Essential Plant and Soil Science
Principles of Crop Production
Principles of Livestock Production
Year 2
Business and Entrepreneurism
Crop Physiology and Production (Option)
Forage Crop and Grassland Management
Livestock Nutrition and Breeding (Option)
Managing the Agricultural Environment
Production of Non-combinable Crops
Research Methods
Year 3
Developments in Food and Farming Innovation
Developments in Global Land Use (Option)
Policy Developments in the Rural Environment (Option)
Research Project (Double module)
Sustainable Crop Science
Sustainable Livestock Science
Entry Requirements
5 GCSE passes at Grade C (4) or above (including Maths and English or equivalent)
Plus 104 UCAS Tariff points from one or more of the following:
3 A-levels (A2) at C or above
BTEC/C&G Level 3
4 Scottish Highers at C or above
4 Irish Highers at C or above
International Baccalaureate at 24 points
AS levels, BTEC Subsidiary Diploma and Scottish Intermediate 2s may be used to contribute to entry requirements but they are not sufficient for entry on their own. Alternative equivalent qualifications will also be considered positively.
Applicants who believe they may be eligible for Accreditation of Prior Certificated and/or Experiential Learning (APCL/APEL) for certain modules will be considered on an individual basis.
Applicants for whom English is a second language must be able to demonstrate proof of International English Language Testing System (IELTS) at level 6.0 (with no component score lower than 5.5) or equivalent.
All offers may be subject to a successful interview.
Learning and Assessment
Students will face a variety of assessments including examinations, essays, debates, assignments, technical reports, group and individual presentations, individual study projects and industry-based case studies.
Learning activities on the course are diverse, including lectures, seminars, tutorials, practical sessions and workshops.
This course makes use of the extensive on-site research facilities and the College farms.
Students are expected to undertake extensive independent study and research to support lectures, seminars and assessments. Group work and group presentations form an important part of the course. Students will have access to specialist IT hardware and software, an online learning environment and reference facility.
Additional Information:
Study trips may include visits to a variety of successful agricultural livestock and arable enterprises in the Cumbria, Cheshire, Lancashire, Yorkshire and Wirral areas. These farm businesses have welcomed Myerscough student visits to supplement the learning in specific modules. Farm diversification and commercial energy generation projects may also be visited including wind farms, large scale anaerobic digestion units and biomass plants. Further to this, subject to interest, International Study Tours may also be offered to farms in Canada, USA and Ireland.
Guest speakers often visit and may include industry experts in areas such as crop protection and marketing, agricultural waste management, animal nutrition, livestock technology, AI and breeding. Attendance at national events and conferences including British Cattle Breeders annual conference.
There may also be opportunities for students to attend National Farming Seminars held by AHDB, NFU etc. for networking.
What work experience can I get?
There is no formal industry placement on this course, however, students are encouraged to undertake internships offered by local and international firms to help build an attractive C.V.
Progression
On successful completion of the BSc (Hons) programme, students may wish to apply for our MSc Integrated Crop Management course.
Careers
Graduates will be in a position to apply for posts available in the agricultural industry (and other related industries) including:
Agriculture Quality Assurance Officer
Agricultural or crop or Livestock Research
Agricultural Consultant
Agricultural Finance and Insurance
Agricultural Journalism
Arable Specialist
Agronomist
AI Technician
Farm Animal Nutritionists
Crop Chemical Specialist
Crop Marketing
Farm Business Advisor
Farm Management
Feed Sales Management
Field Trials Officer
Food Supply Chain Manager
Food Purchase Manager
Livestock Breeding Specialist
Plant Breeding Specialist
Veterinary Drugs Representative
Professional Accreditations
Students will be encouraged to form links with local and national agricultural organisations such as Tenant Farmers Association, NFU, Dairy Co, EBLEX, Breed Societies, RASE, agricultural discussion groups and Young Farmers Associations.
Special Requirements
Additional costs for items that are essential for the course:
Approx £100 - Waterproofs, safety boots, wellingtons and overalls
Additional costs for opportunities and items that are optional for the course include:
Approx £1200 – Study tour (previous visits: Ireland, USA and Canada)
Approx £150 – conferences (some are free).
Last updated Aug 2020
About the School

Myerscough is one of the UK's largest land-based and sports colleges, offering degrees in more than 20 exciting subjects. We work in partnership with the University of Central Lancashire and are among ... Read More
Myerscough is one of the UK's largest land-based and sports colleges, offering degrees in more than 20 exciting subjects. We work in partnership with the University of Central Lancashire and are amongst the top UK institutions in the sector for student satisfaction - helped by exceptional resources and a unique countryside location. Our QAA Higher Education Review puts us amongst the top institutions in the country for quality learning opportunities and good practice teaching. We are very proud that 97% of Myerscough degree students progress to further study or employment.
Read less