Read more about this program on the institution's website
Program Description
Do you have a strong interest in technology, gadgets and computers? Would you like to be at the forefront of technological developments in your future career? Do you like to take an analytical approach to problem-solving? If so, then this course is for you.
You will be given the opportunity to gain experience in the underpinning technical skills you need to start a challenging and dynamic career in computing.
Computer Systems Development
This degree has a broad scope and covers the main areas within the broad field of computing. You'll also learn key industrial skills that are transferrable within technology-based careers. During your time with us, you'll learn about all crucial aspects of computer system and software development including analysis, design, development, testing and maintenance.
This hands-on course will see you master the art of computer programming using core languages such as Java, C# and C++. You'll cover the full systems implementation cycle. This will be done using industry-standard tools and techniques including Computer-Aided Software Engineering (CASE) tools and through advanced development methods.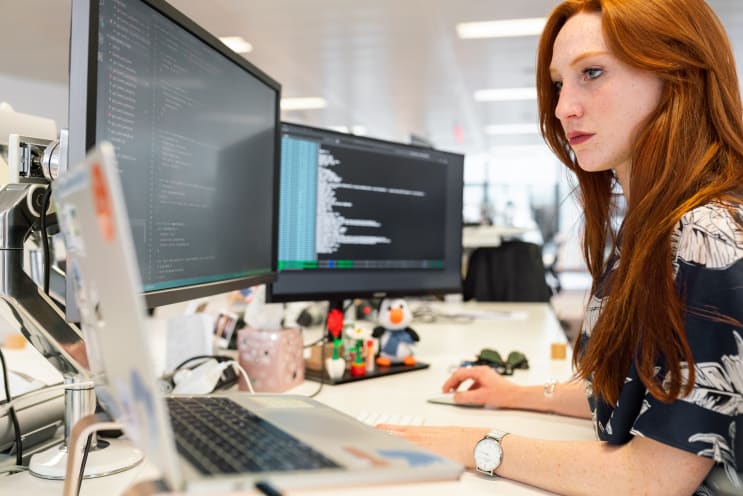 Developing skills for a career in IT
Our programme balances theory and practice in computing systems and software engineering. This course provides a strong foundation and offers the opportunity to specialise in various computing branches of the industry. Students focus on their areas of specialist interest by choice of options and through an individual project in the final year. Thus enabling you to move forward into a number of sector career paths such as Software Developer, System Development, Mobile Development, Networking & Security, Database Management, IT support and Research.
Course details
From analysis and design, through to database theory, networking, object-orientated programming, mobile computing and web-development, the BSc (Hons) Computing course at Bucks offers a strong understanding of current computing applications, design and development. Students will develop a full range of system development skills including maintenance and quality assurance as well as acquiring a variety of transferable skills for industry.
A wealth of experience
We have a strong computing department at the University, with an experienced team of dedicated academics and professionals delivering industry-relevant courses in a suite of well-equipped computer labs.
The computing curriculum is aligned with key elements of recognised professional certification* programmes. The course has been developed with input from major industry leaders such as Microsoft, Oracle, HP and Cisco. This is to maximise opportunities for graduates when entering the jobs market. (*Full accreditation is via self-funded examinations)
Flexibility
The first year contains common modules with other degrees offered by the Department of Computing. This adds a considerable amount of flexibility to the programme, providing students with the opportunity to change to an area that matches any specific interests you develop as the course progresses.
What are the course entry requirements?
A typical offer will require a UCAS Tariff score between 80 - 104. A minimum of two full A-levels (or equivalent) is required as well as GCSE Maths and English at grade C/4. Every application is considered on an individual basis.
For further details of our international English entry requirements, please visit our website.
Applicants who do not meet the minimum requirements for the three-year undergraduate programme, or those who do not feel fully prepared for a degree course, can apply for a four-year programme including a Foundation Year.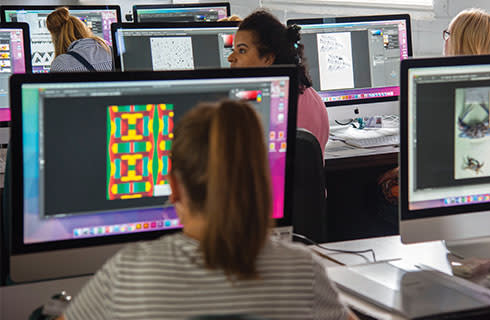 Careers and Employability
Being able to contribute to the analysis, design, creation and management of information systems and software, graduates will find a variety of exciting and dynamic career paths open to them. You will be qualified to work in software development, systems analysis, corporate or Government IT, database administration, web system development, system support, network engineering and research. You may also enjoy a career in the vibrant and growing area of Mobile and Cloud Computing.
Throughout your time with us, we'll support you on the route to your chosen career. We'll help you to develop crucial skills, encouraging you to become enterprising, employable and good leaders.
We encourage our students to gain sector experience whilst studying and actively look for clients for their project work. Which provide them with the opportunity to develop their skills in a work-based setting. Our modules and teaching expertise will help you become more independent as a learner and more confident of your discipline expertise, ready for your exciting future within the growing computing world.
The course addresses the professional and customer-facing skills that are essential for employment in computing industries. Modules also provide opportunities to prepare for the professional certification programmes of global industries such as Microsoft, HP and Cisco.
Last updated Dec 2020
About the School

Bucks New University is a new breed of university, focusing on degrees that are professional and practical, as well as academic. Young in outlook, but well established in the fields we specialise in, ... Read More
Bucks New University is a new breed of university, focusing on degrees that are professional and practical, as well as academic. Young in outlook, but well established in the fields we specialise in, we offer high quality, professionally-driven university courses, in everything from nursing, health and social care, to cyber fraud detection, textiles and aviation.
Read less