Read more about this program on the school's website
Program Description
Key information
Degree: Chemistry (2+2) BSc (Hons)
Types of study: Full-time
Duration: Three or four years depending on entry qualifications
Start date: September 2020
For the 2+2 programmes, you will spend the last two years on our UK campus. For the 4+0 programmes, you will spend your entire degree programmes in Ningbo China with 'study abroad' opportunities.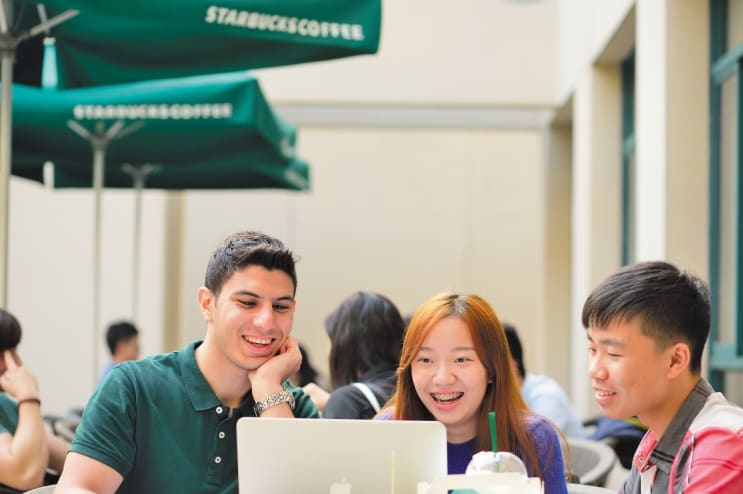 ©University of Nottingham Ningbo China
Course overview
The BSc (Hons) in Chemistry 2+2 programme is designed to exploit your curiosity for chemistry, to provide an advanced understanding of the core principles and topics of chemistry, to encourage you to express your ideas clearly and logically, to develop your approach towards independent learning, and to adapt to a wide variety of careers in the knowledge-based economy of the 21st century.
Our educational aim is that graduates from the BSc (Hons) in Chemistry course have excellent knowledge and understanding of theoretical and practical chemistry that, following appropriate training and experience, will enable them to pursue a wide range of chemistry careers in academia or industry.
This programme is taught entirely in English and the degree awards are identical to those in the Nottingham UK.
Special features
You will gain laboratory experience in hands-on practical classes that typically run for up to eight hours per week during the first year of your course, and which extend to 12 hours per week in the second and third years. These classes introduce you to the current synthetic and analytical approaches in chemistry and the operation in modern instrumentation. Practical sessions are held in modern laboratories housed within our university. In your third year, you will work on short-term, team-based projects to develop your independence and time management skills.
You will be assigned a personal tutor who will guide your studies and help you to select modules that match your interests and ambitions. Your personal tutor is your first port of call in the school if you have any problems or questions and they will take an interest in your personal and academic development, offering you help, encouragement and guidance.
Course structure
This chemistry course is based on that of the same name at the Nottingham UK campus and organised on a 2+2 basis (2 years in Ningbo and 2 years in Nottingham UK).
The first two years will be a Preliminary Year (predominantly English language skills) and a Qualifying Year followed by Part I and Part II years in the UK.
We have designed a series of modules that help to deepen and broaden your previous knowledge and introduce you to topics that you may not have encountered at secondary school or college. You will take modules attracting a total of 120 credits in each academic year.
Preliminary year
Year one modules (preliminary year)
Prior to beginning the degree programme, you will undergo a compulsory Preliminary Year in Ningbo. The overall aim of the Preliminary Year Programme is designed to help you to achieve the same level as UK A-Level students and succeed in your future study at Nottingham. The preliminary year programme equips you with the language skill and some basic chemistry knowledge that you will need to excel in your future academic course.
CELEN036 Foundation Algebra for Physical Sciences & Engineering (10 Credits)
CELEN038 The Scientific Method (10 Credits)
CELEN039 Foundation Science A: Physics (10 Credits)
CELEN048 Undergraduate Reading and Writing in Academic Contexts (20 Credits)
CELEN069 Oral Communication Skills A (10 Credits)
CELEN037 Foundation Calculus and Mathematical Techniques (15 Credits)
CELEN040 Foundation Science B: Chemistry (10 Credits)
CELEN052 UG English in Specific Academic Contexts B (Engineering; Comp Sci; Env'mental Sci & Architecture) (20 Credits)
CELEN082 Oral Communication Skills B (10 Credits)
Qualifying year
Building on your pre-university and preliminary year's studies, you will spend your Qualifying Year gaining core chemical knowledge and understanding.
Year two compulsory modules (qualifying year)
Fundamentals of Engineering Design
Foundation Laboratory Work
An Introduction to Organic Molecules and their Reactivity
An Introduction to Spectroscopy, Energy and Bonding in Chemistry
An Introduction to Structure, Periodicity and Coordination Chemistry
MATH1047 Mathematical Methods for Chemical and Environmental Engineering (20 Credits)
Year 3
In this year, theoretical and practical modules further develop the knowledge and understanding gained in the first year. The core material accounts for approximately 100 credits of your study with a further 20 credits taken as optional modules.
Year three compulsory modules (Part 1)
Core Laboratory Work A
Synthesis & Spectroscopy
Synoptic Review of Chemical Knowledge (Year 2)
General Inorganic Chemistry
Principles in Analytical Chemistry
Energy, Spectroscopy, and Solid State Chemistry
Optional module
Sustainable Chemistry
Advanced Calculus and Differential Equation Techniques
Medicinal Chemistry and Molecular Biology
Atmospheric Chemistry
Year 4
You will study the three major branches of chemistry in increasing depth in 60 credits of core modules. Practical work, which consists of a series of mini-projects, is covered by a 30-credit module. You will also have a choice of specialist optional modules to provide a further 30 credits.
Year four compulsory modules (Part 2)
BSc Chemistry Project
Organometallic and Asymmetric Synthesis
Pericyclic and Reactive Intermediates
Bioinorganic and Metal Coordination Chemistry
Solids, Interfaces and Surfaces
Synoptic Review of Chemical Knowledge (Year 3)
Catalysis
Chemical Bonding and Reactivity
Optional module
Chemical Biology and Enzymes
Topics in Inorganic Chemistry
Protein Folding & Biospectroscopy
Contemporary Drug Discovery
Drug Discovery: The Development of New Medicines
Lasers in Chemistry
©University of Nottingham Ningbo China
Careers and further study
As a Nottingham chemistry graduate, you will be well prepared for a wide range of employment and postgraduate study opportunities. The chemical industry requires trained chemists, and the emerging materials and biotechnology sectors require chemists who can generate new materials, products, and knowledge that are needed in these areas.
In addition to equipping you with the theoretical and practical skills in chemistry, a degree in chemistry from Nottingham also demonstrates that you can think logically and critically, solve complicated problems and manage your time effectively. Consequently, our graduates may also be employed in professions including those in finance, education and marketing.
Throughout your time with us, our Career Development Office can work with you to improve your employability skills even further; assisting with job or course applications, searching for appropriate work experience placements and hosting events to bring you closer to a wide range of prospective employers.
Recent destinations of graduates in chemistry from The University of Nottingham UK include Boots, Cancer Research, GlaxoSmithKline(GSK), HSBC, Intellectual Property Office, NHS and Unilever. In addition, many graduates continue their studies in chemistry or a related discipline, working towards postgraduate degrees at the Masters level.
Scholarships, sponsorships and bursaries
To encourage academic excellence, we offer a comprehensive and expanding range of full and partial scholarships.
Historically nearly 30% of our undergraduate students were awarded scholarships for their entry. Once enrolled, current students are eligible for additional merit and/or performance-based scholarships and awards, which covers approximately 32.5% of our whole student body.
Entry requirements
Depending on your academic and English language qualifications, you may be eligible for a traditional three-year degree programme, or a four-year programme with a preliminary year enabling you to gain the subject-specific knowledge and skills required to embark on degree-level studies.
Please find the entry requirement relevant to your country of origin on our website. If your country is not listed, please email global@nottingham.edu.cn.
If you are a mainland Chinese student, your Gaokao score should be in the first division as a minimum requirement, and your English test score should be no less than 115/150. For more details, please check the Chinese version prospectus.
English language requirements
If your first language is not English or your entry qualification was not obtained in the English medium (from an approved institution) you are required to provide evidence of your proficiency in English. Minimum requirements:
IELTS 6.5 (no less than 6.0 in writing) – eligible for a three-year programme;
IELTS 5.5 (no less than 5.0 in writing) – eligible for the four-year programme;
PTE Academic 62 (minimum 55) – eligible for the three-year programme;
PTE Academic 55 (minimum 51) – eligible for the four-year programme.
Minimum age requirements
You should be at least 18 years of age on admission to the University. The date of "admission" is defined as the first day of September in the relevant academic year. This requirement may be waived on an individual basis if your parents or guardians give their written agreement in advance to additional safeguards and requirements.
Last updated Sep 2020
About the School
The University of Nottingham Ningbo China (UNNC) was the first Sino-foreign university to open its doors in China. Established in 2004, with the full approval of the Chinese Ministry of Education, we ... Read More
The University of Nottingham Ningbo China (UNNC) was the first Sino-foreign university to open its doors in China. Established in 2004, with the full approval of the Chinese Ministry of Education, we are run by the University of Nottingham in partnership with Zhejiang Wanli Education Group, a key player in the education sector in China.
Read less