BSc (Hons) Accounting & Finance
Home ›
BSc ›
BSc (Hons) Accounting & Finance
Program Description
Course details
This course will equip you with a deep understanding of accounting and finance and their importance within an organisational and business context. In year three, you will be able to tailor your course by choosing your modules to suit your interests or future career direction. You can specialise in accountancy or gain a wider perspective on business.
Course Benefits
You can take a paid work placement in your third year to develop and enhance your employability skills. Previous students on this course have enjoyed successful placements with Disney, Morrisons and the NHS. We have a dedicated employability and placements office to support you and provide you with access to a wide range of vacancies from local, national and international employers. Pre-placement guidance and seminars are available on topics such as CV and letter writing, how to succeed at interview and psychometric tests which match you to your ideal job.
You can also take advantage of our study abroad option, allowing you to study for a semester or a year at universities in Australia, Canada and Europe.
At Leeds Business School we're dedicated to supporting your professional development - that's why we offer a guest lecture programme. Past speakers include the CEO of the London Stock Exchange, Shadow Chief Secretary to the Treasury, past Chair and President of the Academy of Marketing, Chief Executive of the British Bankers Association, the Chief Economist of Yorkshire Bank and the Editor of Cosmopolitan.
Entry requirements
UCAS Tariff Points: 112 points required. (Minimum 72 from two A Levels or equivalent, excluding General Studies).
If you're applying via UCAS, find out more about how your qualifications fit into the UCAS tariff.
LEVEL 5 ENTRY:
Direct entry to Level 5 on successful achievement of the AAT (The Association of Accounting Technicians) Level 4 qualification.
GCSES:
GCSE English Language Grade C or above and GCSE Maths Grade B or above (Grade 4 and Grade 5 for those sitting their GCSE from 2017 onwards) or equivalent. Key Skills/Functional Skills Level 2 and the Certificate in Adult Literacy are accepted in place of GCSE Grade C English Language. Key Skills/Functional Skills Level 3 are accepted in place of GCSE Grade B Maths.
ACCESS TO HE DIPLOMA:
Pass overall with a minimum of 112 UCAS tariff points.
SCOTTISH AWARDS:
Minimum of 5 subjects at Grade B at Higher Level.
IRISH LEAVING CERTIFICATE:
Minimum of 5 subjects at Grade C1 or above at Higher Level of which at least 3 must be at B2.
SELECTION CRITERIA:
We may use selection criteria based on your personal attributes; experience and/or commitment to the area of study. This information will be derived from your personal statement and reference and will only be used if you have met the general entry requirements.
INTERNATIONAL BACCALAUREATE
25 Points
IELTS:
IELTS 6.0 with no skills below 5.5, or an equivalent qualification. The University provides excellent support for any applicant who may be required to undertake additional English language courses.
OUR COMMITMENT TO HELP EVERY STUDENT SUCCEED:
Leeds Beckett University is committed to ensuring that every student with the potential to succeed at our University is able to do so regardless of their background. For this reason we operate a contextual admissions policy, which means we take into account a range of additional factors when we assess a student's application. Applicants who meet at least one of our contextual admissions criteria will be offered a place on this course with lower (predicted or achieved) UCAS Tariff Points than our published tariff (above).
Our contextual admissions criteria are:
Home postcode is in an area where few people go to University (POLAR4 quintile 1 or 2 area. This can be checked on the Office for Students website)
Declared disability on the UCAS application form (or direct application for part time applicants)
Over the age of 21 on the 1st of September before the course starts
Declared as a care leaver on the UCAS application form (or direct application for part time applicants)
Mature Applicants
Our University welcomes applications from mature applicants who demonstrate academic potential. All students will be considered through the contextual admissions policy described above. If you do not meet the requirements through the contextual admissions policy, we may still be able to make you an offer if you have recent relevant work experience through our 'Recognition of Prior Learning' policy. Please ensure that you list both your qualifications and any relevant work experience in your application so that we can consider you under both schemes where applicable.
All applicants to our University are required to meet our standard English language requirement of GCSE grade C or equivalent, for example we accept some Functional Skills Tests.
Job Prospects
This course puts you on the fast track to qualifying as a professional accountant. After graduating, you will have substantial exemptions from the examinations required to become a member of the major professional accountancy bodies such as the Association of Chartered Certified Accountants, the Chartered Institute of Management Accountants and the Institute of Chartered Accountants in England & Wales. As well as accountancy, you could enter a wide variety of stimulating and financially rewarding occupations, including accounting, stockbroking, roles in the financial services and business management.
Trainee Chartered Accountant
Accountant
Finance Assistant
Finance Clerk
Careers Advice
Our dedicated Jobs and Careers team offers expert advice and a host of resources to help you choose and gain employment. Whether you're in your first or final year, you can speak to members of staff from our Careers Office who can offer you advice from writing a CV to searching for jobs.
Fees & funding
UK & EU
The tuition fee for the year for students is £9250. The amount you will pay may increase each year to take into account the effects of inflation.
International
The tuition fee for the year for students is £12000. The amount you will pay is fixed at this level for each year of your course.
Facilities
The Rose Bowl
The Rose Bowl has impressive teaching spaces, auditoriums, conference facilities and an outstanding local reputation as a business hub. The Rose Bowl puts our students at the centre of a dynamic business community.
Library
Our Library is open 24 hours a day, seven days a week, every day of the year, providing you with access to specialist books and journals, learning spaces, computers, multimedia facilities and media equipment hire. Tens of thousands of our Library's digital resources, including ebooks, ejournals and databases, can be accessed online at a time and place to suit you.
Gym and Sports Facilities
Keeping fit is easy at Leeds Beckett - our fitness suites are easy to get to, kitted out with all the latest technology and available to all sports members.
Last updated Dec 2020
About the School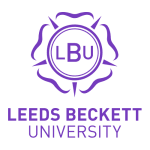 Studying at Leeds Beckett University you will be in the centre of an exhilarating community and be part of a social and economic environment that is shaping the city of Leeds for the future.
Studying at Leeds Beckett University you will be in the centre of an exhilarating community and be part of a social and economic environment that is shaping the city of Leeds for the future.
Read less