Program Description
This degree opens doors to an integral part of every modern business. It covers design and management of Information Technology/Systems (IT/S) for a business which seeks to meet its business challenges and further its strategic objectives. The purpose is to craft and implement IT strategy that matches business strategy and solve business problems. In addition to mainstream hardware & software programming concepts, the degree plan includes how to budget, procure and manage IT/S e.g. computer databases, networks, information security. The focus is on IT-enabled business processes and is ideally suited for those who like working with technology in business.
This program is accredited by the Association to Advance Collegiate Schools of Business (AACSB).
What Can I Do with a Bachelor of Science in Business Administration in Information Systems?
Information Systems and Information Technology have no value unless they serve a purpose and are used efficiently to fulfill that need. Businesses and managers use technology to improve their bottom line and to improve their employees' lives. They need employees to have state-of-the-art technical knowledge in combination with a solid foundation in general business concepts. With this degree plan, you will acquire both and be able to use this knowledge to help organizations implement information technology solutions that solve business problems for competitive advantage.
You will acquire analytical thinking and problem-solving skills, written and spoken communication proficiency, and ability to work in teams. If you like advancements in and use technology and devices such as smartphones and social networking, you have what it takes to succeed in this area. You will learn to adapt to rapidly changing technologies throughout your career while discovering the world of data communications and configuration of networks, network and information security, systems administration, electronic commerce strategy and web systems design & development.
You will develop skills in the configuration of enterprise systems and the developer's toolkit of enterprise systems while gaining hands-on practice in all these in both Unix and Windows environments using a variety of platforms e.g., (a) object oriented programming concepts and e-commerce application development in Microsoft Visual Studio .NET and C# , (b) database and client-server design/development using Oracle, Access and SQL, (c) systems analysis and design using UML, (d) enterprise applications development and customization using SAP and the developer's toolkit of ABAP and (e) business analytics/intelligence using environments that may include SAP's BI module, and SAS Miner.
Career opportunities that might be pursued:
Application development
Consulting
Database administration
Network and systems administration
With further education, one of these paths is possible:
Systems Analyst
Data/Technical Analyst
IT Risk Consultant
Web Applications Developer
University Requirements
To receive a bachelor's degree at Northern Arizona University, you must complete at least 120 units of credit that minimally includes a major, the liberal studies requirements, and university requirements as listed below.
All of Northern Arizona University's liberal studies, diversity, junior-level writing, and capstone requirements.
All requirements for your specific academic plan(s).
At least 30 units of upper-division courses, which may include transfer work.
At least 30 units of coursework taken through Northern Arizona University, of which at least 18 must be upper-division courses (300-level or above). This requirement is not met by credit-by-exam, retro-credits, transfer coursework, etc.
A cumulative grade point average of at least 2.0 on all work attempted at Northern Arizona University.
Campus Availability
Last updated May 2020
About the School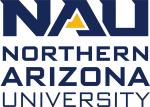 Northern Arizona University is a public university offering undergraduate, graduate, and professional degrees of high quality and societal value. As a student, you are at the center of the NAU experi ... Read More
Northern Arizona University is a public university offering undergraduate, graduate, and professional degrees of high quality and societal value. As a student, you are at the center of the NAU experience, which is guided by a dedicated and distinguished faculty committed to teaching, individual engagement, and research excellence.
Read less
Accreditations