Read more about this program on the school's website
Program Description
AUM's Game Development major is an all-encompassing guide to the video game industry, and a means to prepare students for the fundamentals of the game economy. Step-by-step, you progress from pre-production, design, and development all the way to packaging and shipping off your game. The Game Development program accompanies you through every part of the journey.
Game Development is as much about the creative process as it is about the technical side. From the latest in software-development kits and engine builds to Virtual/Augmented/Mixed Reality, our experts stay on top of the newest resources. This way, our students can seamlessly transition into the industry.
Once you have traveled the distance, you will have the choice of whether to stay on the academic path and pursue a higher degree or apply your sharpened creative skillset by taking up a career in the game development industry.
We want you to graduate feeling prepared for your career. This is why our academic advisors are available to you at all times: to guide you through creating your portfolio, highlighting your strengths and abilities, and navigating your way through networking – a crucial step in getting a foothold in the industry.
Ultimately, obtaining a degree in Game Development is as much about plunging into the creative process as it is about familiarizing yourself with the technical side of things. Students will gain a thorough knowledge of what it means to design, develop, and market a video game, including the latest in:
Software Engineering
Computer Graphics
Artificial Intelligence
Animation
Software Architecture
Networking
Degree Requirements
The BS in Game Development degree is a four-year degree program.
In their first and to some extent their second years, students will focus on completion of the University's General Education Program (42 US / 84 ECTS credits), with specialized courses in language and culture introduced. In the third and fourth years, students will focus increasingly on topics relevant to their major. To earn a Bachelor's degree, students must satisfactorily complete at least 125 US / 250 ECTS credits, fulfill all the requirements for the Game Development degree, and achieve a CGPA of 2.00 or higher.
The degree is designed to be completed in four years, assuming students make satisfactory progress toward the degree and do not interrupt their study. Details about leave of absence, standards of progress, and the maximum time allowed to complete the course can be found in the American University of Malta's Catalog.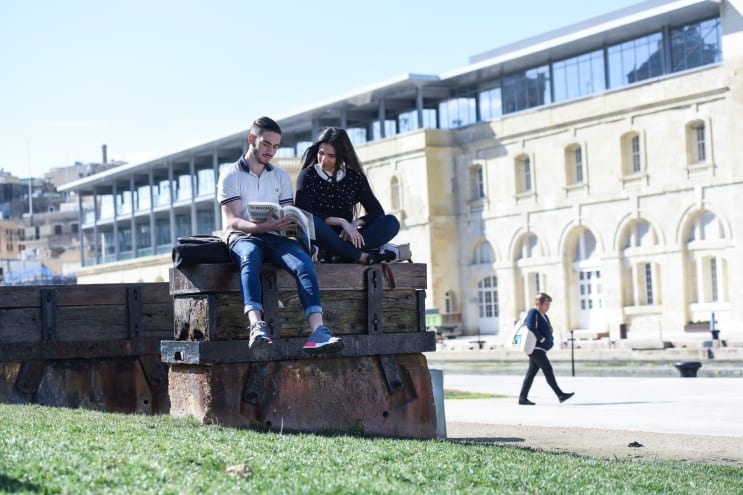 AUM American University of Malta
4-Year Degree Plan Outline
Year 1
Semester I
English Composition 1
Unity of Life (with lab)
History of the Mediterranean
Introduction to Data Analysis, Probability, and Statistics
Free Elective
Semester II
Introduction to C++
English Composition II
Introduction to the Physical Universe (with lab)
Discrete Mathematics
Arts/Humanities GE
Year 2
Semester I
Communication in a Multicultural Setting
Data Structures
Introduction to Psychology
Applied Ethics
Free Elective
Semester II
Introduction to General Chemistry (with lab)
Computer Systems
Computer Science Theory
Free Elective
Year 3
Semester I
Introduction to Sociology
Applied Geometry
Optimized C++
Introduction to Game Design
Arts/Humanities GE
Semester II
Computer Graphics
Game Design Patterns
Level Design
Game Modification
Year 4
Semester I
Game Networking
3D Design and Modeling
Game Engine | Development
Game Artificial Intelligence
Tech Elective
Semester II
Game Engine II Development
Game Physics
Global Software Development
Game Development Project
Program Total: 120 Credits
Career Opportunities
Full-Stack Game Developer at a game development company.
Video Game Critic for visual and print media outlets.
Augmented Reality Guru at a cutting-edge tech firm.
These and many other challenging, satisfying, and lucrative opportunities await you upon graduation.
Last updated Mar 2020
About the School

The way we deliver our degree programs makes up a crucial building block in the foundation of our identity at AUM. Each one of our programs guides you to build your way from the ground up and structur ... Read More
The way we deliver our degree programs makes up a crucial building block in the foundation of our identity at AUM. Each one of our programs guides you to build your way from the ground up and structuring knowledge in a coherent and cogent way. We take you all the way from basic principles to hands-on practice with the latest industry technologies relevant to your field.
Read less