BS Software Engineering
Home ›
BSc ›
BS Software Engineering
Program Description
BS Software Engineering
An emerging major for fall 2016, the Bachelor of Science in Software Engineering is inclusive of computer programming but is concerned with methodologies, techniques, and tools to manage the lifecycle of software. Students will study more than just programming, they will explore:
Cost-effectiveness
Usability
Modeling and analysis
Design
Reliability
Quality
Requirements and testing
Teamwork
Project management
The software engineering curriculum provides students a solid background in both the theory and practice of all phases in the software engineering process.
You will develop skills employers are looking for including analytical skills, communication skills, computer skills, creativity, interpersonal skills, problem-solving skills, and being detail oriented.
Computer Engineering or Software Engineering?
Trine University offers both Software Engineering and Computer Engineering. If you're not sure which one is right for you, consider the following:
Computer Engineering is focused on dealing with designing, developing, and operating computer systems. The major concentrates on digital hardware devices and computers, and the software that controls them.
Software Engineering is centered on building and maintaining software systems. It's a more software-oriented program and has a greater emphasis on large software applications. The major also highlights the entire software development process, from idea to final product, as well as, applying an orderly approach to help ensure that products are safe and reliable.
Careers that are in demand
Software engineering prepares students for careers in software development at small and large organizations worldwide. The working environment of software engineers is team-based and students will gain experience through interactive experiences in and out of the classroom.
Other job opportunities include careers as computer and information research scientists, software development engineer, computer and information systems managers, data engineer, project manager, computer network architects, information security analysts and web developers.
BS Software Engineering Careers
Trine University has offered a minor in software engineering to students interested in learning more about that area for many years. While not a Bachelor degree program until Fall 2016, students have already found careers in the field:
Orchard Software Corp., Indiana
Ontario Systems, Indiana
Epic Systems, Wisconsin
Infor Global Solutions, New York
The Bureau of Labor Statistics predicts job growth of 12-19% for similar professions between 2014 and 2022. The field is diverse and students have many choices when exploring career opportunities.
BS Software Engineering Courses
The Bachelor of Science in Software Engineering major curriculum requires the completion of 128 hours of coursework. The average course load is 16 hours based on eight semesters.
General Education Requirements – 53 credit hours
Written Communication – 6 credit hours
ENG 103 – English composition 1
ENG 133 – Technical Communication
Oral Communication – 3 credit hours
SP 203 – Effective Speaking
Social Science & Humanities – 12 credit hours
Mathematics & Science – 32+ credit hours
MA 134 - Calculus I
MA 164 – Calculus II
MA 213 – Calculus III
MA 393 - Probability & Statistics
MA 473 - Graph Theory & Combo –
PH 224/L – Physics I with lab
PHY 234/L – Physics II with lab
CH 104/ or BIO 114/L – Chemistry I with lab or Biology I with lab
Math or Science Elective
Program Requirements – 57 credit hours
GE 101 - Introduction to Engineering
CS 1113 - Computer Programming I
CS 1123 - C++ & Object-Oriented Programming
SE 153 - Client-side database development
CS 2103 - Algorithms
ECE 263 - Digital Systems
SE 233 - Systems Programming
ECE 273 - Microcontrollers
ECE 373 - Embedded Systems
SE 333 - Software Engineering
SE 383 - Computer Security
CS 3993 / SE 393 - SW Patterns & Team Development
ECE 4002 - Project Management
GE 401 - Professional Practice
ES 382 - Engineering Economics
Contemporary Issues – ECE 4001
Senior Design – ECE 4003
Last updated Sep 2019
About the School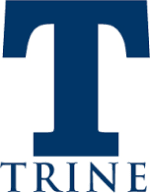 It's easy to talk about excellence. But it's another thing altogether to truly commit yourself to it each and every day. To live it. To inspire it in everything around you. At Trine University, this c ... Read More
It's easy to talk about excellence. But it's another thing altogether to truly commit yourself to it each and every day. To live it. To inspire it in everything around you. At Trine University, this commitment to excellence has formed the bedrock of our experience for well over a century.
Read less