BFA Photography, New media Journalism
Home ›
BA ›
BFA Photography, New media Journalism
Program Description
The face of journalism is changing every day – and you're going to help define the direction it takes. Our New Media Journalism concentration includes mastery of interactive web publishing, video, audio, and alternative format magazines, as well as traditional print media. Storytelling combines video, audio, text and images – and you'll be able to rise to that demand. In your Junior year, study abroad at our sister schools in Berlin or Madrid for an international experience that will prepare you for graduation.
STUDIO FOUNDATION REQUIREMENTS: 4 CREDITS
PHOT 1001 Freshman Studio I 2
PHOT 1002 Freshman Studio II 2
As part of the liberal arts core curriculum that all undergraduate students are required to take, photography students must include the following course as their Humanities Distributive core course:
LIBERAL ARTS CORE REQUIREMENTS: 36 CREDITS
Liberal Arts Core Requirements (16 credits)
FRYE 1025 Liberal Arts Seminar (4 credits)
ENGL 1050 Writing Roundtable I (4 credits)
ENGL 1051 Writing Roundtable II (4 credits)
SOYE 2050 Sophomore Roundtable Seminar (4 credits)
Liberal Arts Distributive Core Requirements (12 credits)
Cultural Diversity Course (4 credits)
Ethical Responsibility Course (4 credits)
Options for all courses change on a semester basis.
BFA MAJOR REQUIREMENTS/PHOTOGRAPHY/ALL BFA STUDENTS: 32 CREDITS
PHOT 2010 Beginning Digital Photography 4
PHOT 2015 Introduction to Studio Lighting 4
PHOT 3005 History of Photography (1830-1950) 4
PHOT 3060 Ethics and Image 4
PHOT 3100 Intermediate Digital Photography 4
PHOT 4006 History of Contemporary Art Photography 4
PHOT 4097 BFA Thesis 4
PHOT 2220 Micro-cinema for Non-Majors 4
CONCENTRATION IN NEW MEDIA JOURNALISM: 32 CREDITS
PHOT 3010 Visual Storytelling and the Photographic Essay 4
PHOT 3011 New Media Journalism I: Visual/Audio Storytelling 4
PHOT 3021 New Media Journalism II: Video Storytelling 4
PHOT 3110 The Independent Online Magazine/Jackalope 4
PHOT 4010 The Photographic Project 4
PHOT 4025 Topics in Truth 4
PHOT 4915 Internship (New Media Journalism) 4
FORMATION OF SCHOOL OF VISUAL AND COMMUNICATION ARTS
In August 2014, in order to better serve the growing enrollments in four of its academic programs, SFUAD restructured the administrative management of these programs into a "School of Visual and Communication Arts" ("SVCA"). The SVCA includes degrees in graphic design, digital arts, studio art and photography and is managed by a Dean, Linda Swanson (formerly the Chair of the Studio Art Program). The benefits expected from this administrative reorganization include leadership depth, leveraging of curriculum across four programs, sharing of facilities, improved trans-disciplinary and industry student experiences amongst the four programs as well as a larger and more diverse community under a shared school structure.
Careers
Our internship network is growing all the time, thanks to the help of our Career Services center and the fact that Santa Fe is the third-largest art market in the US. The Career Services staff spends their time developing new connections to make sure that you get hands-on experience before you leave campus. Basically, we want to make sure that you're hot stuff before you graduate – and that means working in the industry.
The Photography department has connections all over the world to make sure you have a chance to experience professional opportunities as early as possible – from museums to galleries, from newspapers to magazines, from New Mexico to Italy – you can be creating professional work for your portfolio during your whole time here. Just tell us what your passion is, and we can help you make it a reality. The best part is that because our internship is a graduation requirement for Photography majors, it's not a chance – it's a promise.
EXAMPLES OF CAREERS FOR PHOTOGRAPHY GRADUATES:
Fine Art Photographer
Photojournalist
Commercial / Industrial Photographer
Fashion / Food Photographer
Sports Photographer
Portraiture
Nature / Science Photographer
Photographer's Assistant
Aerial Photographer / Videographer
Cinematographer
Corporate Events Photographer
Digital Asset Manager
Gallery / Museum Curator
Imaging Technician
Media Production Specialist
Photo Editor
Photo Restoration Specialist
Color Corrector
Continuity Photographer, Film
Creative Services Coordinator
Studio Lighting Assistant
Stock Photo Archivist / Provider
Photo Stylist
Surveillance
EXAMPLES OF EMPLOYERS FOR PHOTOGRAPHY GRADUATES:
Museums
Galleries
Studios
Newspaper / Magazines
Sports Teams
Agencies [Advertising, Marketing, Public relations]
In-House Photographer, Corporations
Media Outlets
Motion Picture Industry
Television Industry
Government [Local, State, Federal]
Performance Venues
Higher Education
Web publishers [online Newspaper / Magazine]
Technology development firms
Events coordinators
Fashion Designers / Design Houses
VISITING ARTISTS: PHOTOGRAPHY
Every year, the Photography department brings in professionals and artists from across the industry. Here's a sampling of individuals who have visited in the past few years, and worked directly with photography students:
Alex Webb and Rebecca Norris Webb (photographers and teachers, published authors of several photography, poetry books)
An-My Lê (photographer and professor at Bard College, 2012 MacArthur Fellowship recipient)
Antone Dolezal (photographer, featured on National Public Radio, Oxford American, Photo District News and Mossless Magazine)
Duane Michals (widely exhibited photographer, known for innovative use of photo-sequences)
Jamey Stillings (landscape and portrait photographer)
John Cohen (photographer, notable for images of artists during the Beat Generation)
John Willis (landscape and portrait photographer)
Martin Stupich (renowned photographer of industrial landscapes)
Michael Berman (Southwestern US landscape photographer)
Olivia Parker (widely exhibited photographer)
Robert and Shana Parke Harrison (photographers known for dreamlike, surrealist images)
Sebastião Salgado (Brazilian social documentary photographer and photojournalist)
Stephen Strom (landscape photographer)
Thomas Joshua Cooper (award-winning landscape photographer)
Cristina Kahlo (photographer, great-niece of Frida Kahlo)
Enrique Martinez Celaya (conceptual artist whose works include: paintings, sculpture, photography, poetry, and prose)
Kevin O'Connell (landscape photographer)
Cost & Fees
T
<li>uition and fees: $122,728</li> <li>Books and supplies: $7,115</li> <li>On-campus room & board: $38,040</li>
Entry Requirements
FIRST YEAR STUDENTS
Deciding where to go to college is probably the most difficult decision you've ever had to make – but it doesn't have to be scary. We have Enrollment Advisors to help you through every step of the process, which means you'll have a real human being (and a friend!) in your corner while you navigate the world of college applications.
For First Year Students, we require:
Personal Information: your profile and contact information
Academic Information: details about your academic background
Employment Information: your work history
Submit your online application with the following:
Official transcript(s)
Test scores are optional
$50 Application Fee
Your completed portfolio
TRANSFER STUDENTS
We work very closely with Transfer Students to move as many of their earned credits from previous institutions into SFUAD credits as possible. Your Enrollment Advisor can assist you with a conversation about transferring your credits at any point in your enrollment process – you don't have to wait until you're an accepted student. For Transfer Students, our application requires:
Official transcript(s)
Test scores are optional
$50 Application Fee
Your completed portfolio
INTERNATIONAL STUDENTS
We welcome international students from around the globe every year at SFUAD. To understand eligibility, Visa requirements, and our application process, visit our International Student Application.
YOUR PHOTOGRAPHY PORTFOLIO
If you're applying for acceptance into the Photography Department's BA or BFA programs, you are required to submit a portfolio of 10-15 pieces of your best photographic work completed within the past two years. This work should represent creative personal projects but could also include class assignments. Your subject matter can span a wide range of approaches, including fine art, abstract, documentary, studio, figurative, etc. Select work that reveals your understanding of formal organizational elements, and be sure to show us ideas and work that you are passionate about. We are especially interested in viewing your photographic experiments even if you don't feel the work is absolutely finished, because seeing your ideas and thoughts will provide insights into your potential future work. If your work wasn't originally created in a digital form, be sure to convert it to digital so you can upload it to our system.
You'll submit your portfolio through SlideRoom as part of your online application. Once you've uploaded your files to SlideRoom, you're also welcome to bring your portfolio to an open house and meet with a faculty member to have it reviewed in person, or to schedule a personal portfolio review on another convenient day.
Last updated Nov 2018
About the School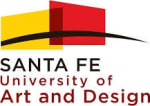 Learn about the innovation, collaboration, and creativity that happens at Santa Fe University of Art and Design – straight from the SFUAD faculty, students, and alumni from every program on our campus ... Read More
Learn about the innovation, collaboration, and creativity that happens at Santa Fe University of Art and Design – straight from the SFUAD faculty, students, and alumni from every program on our campus! Meet your professors, see student work, and understand what awaits you at SFUAD. You're ready to be an artist – and we're ready to help!
Read less