BEng (Hons) in Chemical Engineering
Read more about this program on the school's website
Program Description
The BEng (Hons) in Chemical Engineering (with placement year) is shaped by the ongoing needs of industry while focusing on the traditional disciplines of oil, gas and petrochemical production.
You'll get the knowledge and hands-on experience you need to operate in a range of industry sectors, learning in a research-informed, multidisciplinary environment.
Your studies will give you a deep understanding of fundamental and advanced technical principles such as:
Fluid mechanics
Thermodynamics
Mass and heat transfer
Chemical reactions
Process control
Safety, health and environment
You'll also gain practical experience with analytical tools, and the competencies required to apply this knowledge to the industry.
The placement year in the industry enables you to build contacts whilst developing your skills and professional confidence.
Chemical Engineering at Bradford has extensive links to industry. Our Lecturers are actively working on research projects with industry, with recent research projects linked to leading pharmaceutical, oil, gas, petrochemical and advanced material engineering companies.
Depending on your level of progress, transfer to our MEng programme is possible at the end of either your first or second year. The MEng programme involves an additional academic year of more in-depth study.
Chemical Engineering received 94% overall satisfaction in the National Student Survey 2017.
Professional accreditation
This course is accredited by the IChemE.
The accreditation will meet, in part, the exemplifying academic benchmark requirements for registration as a Chartered Engineer and students will need to complete an approved format of further learning pursuant to the requirements of UK-SPEC.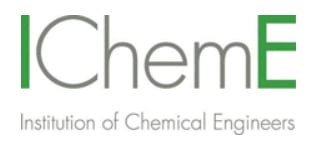 Rankings
Chemical Engineering at the University of Bradford is ranked 4th in the UK in the Guardian University League Table 2020.
Entry requirements
A-Levels: To include A-level Maths and Chemistry minimum grade C.
Please note that where a science A-level is taken, the University will require applicants to pass the practical element (for A levels awarded from August 2017 onwards).
BTEC Extended Diploma
BTEC Level 3 (2010-2016)
Further Mathematics for Engineering Technicians (Unit 28) at minimum Merit.
and
BTEC Nationals Level 3 (from 2016)
'Calculus to Solve Engineering Problems' (Unit 7) AND 'Further Engineering Mathematics' (Unit 8) at minimum Merit.
and
Applicants on Access Programmes
112 UCAS tariff points from an Access to Higher Education Diploma in Engineering or Science and Engineering - must contain a minimum of 12 credits in Maths and 12 credits in Chemistry at minimum Merit.
International Baccalaureate requirements
112 UCAS tariff points to include HL Maths and Chemistry at grade 5.
Plus
HL 3 or SL 4 in English Language and Literature A or English B.
Plus a minimum of GCSE English and Mathematics at grade C or 4 (equivalents accepted).
English language requirements
Minimum IELTS at 6.0 or the equivalent
If you do not meet the IELTS requirement, you can take a University of Bradford pre-sessional English course.
CIFS entry requirement
If you are an international student and do not meet the entry requirements for direct entry onto this course you may be interested in our Certificate of International Foundation Studies
80 UCAS points or equivalent (see individual country pages for details) plus a Maths qualification equivalent to AS Level Grade C.
UKVI approved IELTS of 5.0 overall with no sub-test less than 5.0.
CIFS modules to be taken
Students study the four core modules plus:
Foundation in Chemistry
Foundation Mathematics 2
Progression requirements for the degree programme
An overall average of at least 50% and at least 55% in Foundation Mathematics 2 plus at least 55% in Foundation in Chemistry.
What you will study
The programme is intended to help graduates to develop the engineering, design, management and personal skills required to become professional Chemical Engineers and in doing so, also equip them for careers in other professions.
Please note that for 2019 entry, the module information is subject to change.
First year
Core
Design, Build and Test (ENG4006-B)
Mathematical Methods and Applications (ENM4004-B)
Engineering Materials (ENG4007-B)
Electronics and Mechanics (ELE4013-B)
Computer-Aided Engineering (ENB4002-B)
Thermofluids 1 (ENG4008-B)
Second year
Core
Further Engineering Mathematics and Statistics (ENM5005-B)
Mass Transfer Options (CPE5004-B)
Reaction Engineering (CPE5005-B)
Chemistry for Engineers (CHE5001-B)
Transport Processes (CPE5008-B)
Engineering and Chemical Thermodynamics (CPE5009-B)
Final year
Core
Chemical Engineering Design Project (CPE6007-D)
Control Engineering (CPE6008-B)
Process Design (CPE6005-B)
Reliability and Safety Engineering (ENB6009-B)
Option
Sustainable Energy (ENG6005-B)
Project Management and Six Sigma (ENB6010-B)
Petroleum Engineering (CPE6006-B)
Sandwich year
This Chemical Engineering programme offers you the opportunity to take up a placement year working in the industry in your third year.
The placement year is an excellent way to develop your professional experience, build industry contacts, and gain insight into the day-to-day work of a professional chemical engineer.
During the second year, we'll offer you all the support you need to find a placement that is aligned with your career aspirations and personal interests. These include sessions on CVs, interviews etc. from the Careers Service at the University and presentations by both employers and previous year's students on their placements. Once on placement, you'll have support and guidance from a placements tutor, who will monitor your progress.
Our students have undertaken placements with organisations such as:
EDF Energy
Novartis
Thames Water
AMEC
BASF
Sellafield
Tracerco
After completing your placement you'll return to complete the final year of the programme, and apply all you've learnt to your final project. Many students continue their relationship with their placement employers, working for them part-time or returning to work in graduate positions after finishing their studies.
Learning and assessment
Your learning experiences are varied – a mixture of:
Formal lectures
Practical lab sessions
Tutorials and seminars
Group work
Computer-based learning
Coursework
Poster and oral presentations
Independent study is supported by our Virtual Learning Environment, Blackboard. Reading lists and suggested resources for independent study provide you with clear direction, while regular contact hours and informal feedback throughout the course provide all the support you may need. Assessments will include formal exams, class tests, lab reports, coursework, research reports, computer-based assessment, quizzes, poster and oral presentations. Practical skills are assessed via individual and group technical reports with the laboratory work linked with the taught modules.
Facilities
The School of Engineering has excellent facilities for both teaching and research purposes.
We have a number of specialist laboratories equipped to cover each engineering discipline within the School.
We have a number of computer clusters offering students access to high-spec computers running up-to-date software engineering applications.
We also have a dedicated technical support team who help to keep everything running smoothly.
Fees, finance and scholarships
Tuition fee
Home: £9,250 (sandwich year: £925)
International: £19,160 (sandwich year: £1,916)
Scholarships
Every year we award numerous non-repayable scholarships to UK, EU and international students on the basis of academic excellence, personal circumstances or economic hardship.
Career support
The University is committed to helping students develop and enhance employability and this is an integral part of many programmes. Specialist support is available throughout the course from Career and Employability Services including help to find part-time work while studying, placements, vacation work and graduate vacancies. Students are encouraged to access this support at an early stage and to use the extensive resources on the Careers website.
Discussing options with specialist advisers helps to clarify plans by exploring options and refining skills of job-hunting. In most of our programmes, there is direct input by Career Development Advisers into the curriculum or through specially arranged workshops.
Employment statistics
91% of our 2017 graduates in Chemical Engineering found employment or went on to further study within six months of graduating.*
Career prospects
The chemical and allied industry is expected to grow more rapidly than the average for the whole of the manufacturing industry. This, when coupled with the increasing appreciation of the value of chemical engineering in many areas such as the foodstuffs and pharmaceutical industry, metals extraction, medical science, and environmental protection, means your prospects as a graduate are bright. Recent graduates have gained employment at organisations including:
Unilever
Lorien Engineering Solutions
SUEZ UK
Pladis Global
IMI Precision Engineering
British Sugar
KPMG
Starting salaries of graduates in chemical and process engineering are relatively high, and later career chemical engineers are amongst the best paid of the engineering specialisms.
Salary expectations
The average starting salary for our 2017 BEng Chemical Engineering graduates was £28,000.*
*These DLHE statistics are derived from annually published data by the Higher Education Statistics Agency (HESA), based on those UK domiciled graduates who are available for employment or further study and whose destinations are known.
Study abroad
All of our programmes offer the opportunity to study abroad, with two semesters at an international partner institution.
Study support
A Personal Academic Tutor (PAT) will be assigned to you to support you throughout your studies. You will have a weekly meeting with your PAT, who will be an independent source of advice and guidance on making the transition to Higher Education and assisting you with any questions or problems you may encounter. The same tutor and tutees are paired in the second year.
In their final year of study, the project supervisor takes over the personal tutor role. Weekly drop-in mathematics tutorials are available for Stage 1 students to help students with tutorial and coursework questions and to clear up difficulties that students have with mathematical topics taught in class.
In addition to standard study support through taught sessions, our Virtual Learning Environment (Blackboard) allows you to access resources, participate in group work and submit work from anywhere in the world 24/7. The University central services are rich with support teams to assist you with every aspect of your journey through our degree courses.
From our Career and Employability Service, through our strong Students' Union, to our professional and efficient Student Finance team, there are always friendly faces ready to support you and provide you with the answers you need.
Research
The research-informed curriculum at Bradford not only gives you the opportunity to be taught by experts but also to carry out research projects in some of the most advanced laboratories in the world - the Research & Knowledge Transfer Centres in:
Advanced Materials Engineering
Polymer Micro and Nano Technology
Pharmaceutical Engineering Science
Sustainable Environments
You will be taught by academics who are working at the forefront of their engineering discipline. This enables us to explore with you how theoretical principles are being applied to solve real-world challenges.
Last updated Mar 2020
About the School
At the University of Bradford, you'll benefit from - and be a part of – teaching and research that harnesses technology for the good of society. You'll learn from academic and industry experts who are ... Read More
At the University of Bradford, you'll benefit from - and be a part of – teaching and research that harnesses technology for the good of society. You'll learn from academic and industry experts who are shaping the future of their sectors in world-class facilities. We've invested millions of pounds in high-tech learning environments, such as our motion capture studio and new School of Management facilities. During your time with us, you can become the very best version of yourself. The University is a place where you can expand your mind and make lifelong friends; where you can grow, learn, experience. Where you can belong, and where we support you every step of the way.
Read less