BEng (Hons) Architectural Environment Engineering
Home ›
Bachelor ›
BEng (Hons) Architectural Environment Engineering
Read more about this program on the school's website
Program Description
Key information
Degree: Architectural Environment Engineering (2+2, 4+0) BEng (Hons)
Types of study: Full-time
Duration: Three or four years depending on entry qualifications
Start date: September 2020
For the 2+2 programmes, you will spend the last two years on our UK campus. For the 4+0 programmes, you will spend your entire degree programmes in Ningbo China with 'study abroad' opportunities.
©University of Nottingham Ningbo China
Course overview
The course involves the use of modern and environment-friendly technologies to create comfortable and efficient indoor environments. You will apply your skills to design energy-efficient buildings incorporating renewable energy, green architecture, ventilation, lighting, acoustics, and electrical/control systems.
This course aims to develop an understanding of the principles and techniques of architectural environment engineering science and the ability to apply these principles and methods for sustainable development of the built environment.
Special features
You will explore the use of sustainable materials and building services systems driven by non-fossil-fuel based technologies with a view to contributing to the construction of economically viable, environmentally friendly buildings during your career.
You will be given the opportunity to apply your knowledge and hone your analytical abilities through research projects.
You will consider in more detail the holistic design of a building, its internal environment and the systems necessary for environmentally responsible building construction.
Course structure
The degree is offered as a three or the four-year programme depending on your entry qualifications. Students have the option to study the whole course in China or spend their last two years at The University of Nottingham, UK. Year One (Preliminary year - Ningbo) is not compulsory for students with appropriate qualifications for year two entry.
Preliminary year
The preliminary year is designed to help you develop your English language skills so that you can make the most of your degree programme.
This special English language programme designed by the English for Academic Purposes experts at the University's Centre for English Language Education is carefully integrated with academic content modules so that you are prepared fully for years two to four of your degree programme.
*Note: This year is not compulsory for students with appropriate qualifications for year two entry.
CELEN048 Undergraduate Reading and Writing in Academic Contexts (20 Credits)
CELEN069 Oral Communication Skills A (10 Credits)
CELEN082 Oral Communication Skills B (10 Credits)
CELEN052 UG English in Specific Academic Contexts B (Engineering; Comp Sci; Env'mental Sci & Architecture) (20 Credits)
CELEN038 The Scientific Method (10 Credits)
CELEN039 Foundation Science A: Physics (10 Credits)
CELEN040 Foundation Science B: Chemistry (10 Credits)
Foundation Calculus and Mathematical Techniques (15 Credits)
CELEN036 Foundation Algebra for Physical Sciences & Engineering (10 Credits)
Qualifying year
Year two compulsory modules (qualifying year)
Environmental Design 1
Thermofluids 1
Electricity and the Built Environment
Fluid Mechanics and the Built Environment 1
Architectural Engineering Design 1
Architectural Engineering Design 2
ABEE1013 Performance of Construction Materials (10 Credits)
MATH1046 Mathematical Methods for Architectural and Environmental Engineering (20 Credits)
Year 3
Year three compulsory modules (Part 1)
Thermofluids 2
Differential Equations and Calculus for Engineers
Acoustics and Lighting
Introduction to Renewable Energy
Project Management and Development 1
Fluid Mechanics and the Built Environment 2
Control Systems for Built Environment
Environmental Performance Modelling
Architectural Engineering Design 3
Architectural Engineering Design 4
Year 4
Year four compulsory modules (Part 2)
Compulsory - Students must take all modules in this group.
Computational Fluid Dynamics for the Built Environment
ABEE3048 Heat transfer and cooling technology (20 Credits)
ABEE3023 AEE Research Project (30 Credits)
Architectural Engineering Design 5
Energy and Waste
Restricted - Students must take a minimum of 0 and a maximum of 10 credits from this group.
ABEE3029 Building Information Modelling & Management (10 Credits)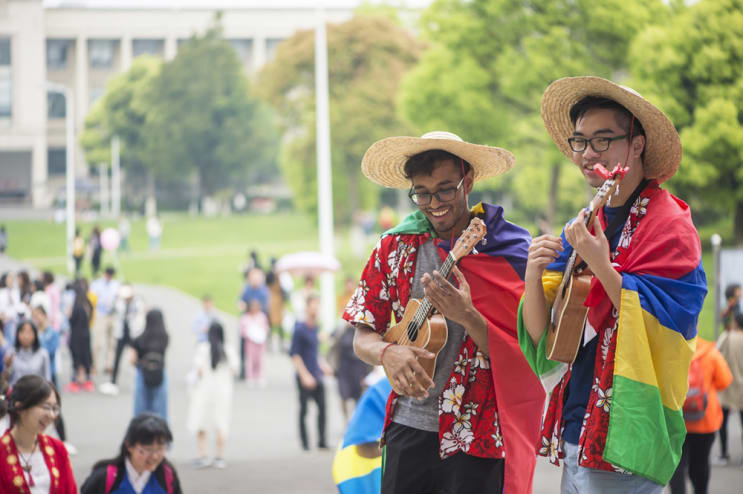 ©University of Nottingham Ningbo China
Accreditations
This course is accredited by the Chartered Institution of Building Services Engineers (CIBSE).
Careers and further study
Studying for a degree at the University of Nottingham Ningbo China will provide you with the type of skills and experiences that will prove invaluable in any career, whichever direction you decide to take.
Throughout your time with us, our Career Development Office can work with you to improve your employability skills even further; assisting with job or course applications, searching for appropriate work experience placements and hosting events to bring you closer to a wide range of prospective employers.
Have a look at our careers page for an overview of all the employability support and opportunities that we provide to current students.
Most graduates first continue to study for master's degrees in related subjects at top universities in the UK, USA and other countries. The most popular destination for many years has been the highly ranked University College London (UCL).
After studying, our graduates typically work for a range of companies including global engineering and construction firms such as Arup, Glumac and WSP to smaller national and regional consultancies and contractors, depending on their preference. Companies are very positive about graduates from this course and particularly value their ability to think about integrated design rather than just specific components. International companies also find our graduates able to work in both English and Chinese a great asset.
Some graduates prefer instead to go into research and return to us for PhD study. If this interests you then our research activities and internationally recognised staff will be only too happy to discuss your options.
Among the 76 graduates from BEng (Hons) Architectural Environment Engineering 2019, 72 chose to continue their studies. 68.1% of them were admitted into the top 50 universities in the world. 3 students were admitted by the University of Nottingham as PhD.
| | | |
| --- | --- | --- |
| 2020 QSWorld University Rankings | University | Number |
| 8 | University College London | 38 |
| 9 | Imperial College London | 2 |
| 11 | National University of Singapore | 1 |
| 20 | The University of Edinburgh | 1 |
| 32 | Hong Kong University of Science and Technology | 5 |
| 42 | University of Sydney | 2 |
| - | Total | 49 |
Scholarships, sponsorships and bursaries
To encourage academic excellence, we offer a comprehensive and expanding range of full and partial scholarships.
Historically nearly 30% of our undergraduate students were awarded scholarships for their entry. Once enrolled, current students are eligible for additional merit and/or performance-based scholarships and awards, which covers approximately 32.5% of our whole student body.
Entry requirements
Depending on your academic and English language qualifications, you may be eligible for a traditional three-year degree programme, or a four-year programme with a preliminary year enabling you to gain the subject-specific knowledge and skills required to embark on degree-level studies.
Please find the entry requirement relevant to your country of origin on our website. If your country is not listed, please email global@nottingham.edu.cn.
If you are a mainland Chinese student, your Gaokao score should be in the first division as a minimum requirement, and your English test score should be no less than 115/150. For more details, please check the Chinese version prospectus.
English language requirements
If your first language is not English or your entry qualification was not obtained in the English medium (from an approved institution) you are required to provide evidence of your proficiency in English. Minimum requirements:
IELTS 6.5 (no less than 6.0 in writing) – eligible for the three-year programme;
IELTS 5.5 (no less than 5.0 in writing) – eligible for the four-year programme;
PTE Academic 62 (minimum 55) – eligible for the three-year programme;
PTE Academic 55 (minimum 51) – eligible for the four-year programme.
Minimum age requirements
You should be at least 18 years of age on admission to the University. The date of "admission" is defined as the first day of September in the relevant academic year. This requirement may be waived on an individual basis if your parents or guardians give their written agreement in advance to additional safeguards and requirements.
Last updated Sep 2020
About the School
The University of Nottingham Ningbo China (UNNC) was the first Sino-foreign university to open its doors in China. Established in 2004, with the full approval of the Chinese Ministry of Education, we ... Read More
The University of Nottingham Ningbo China (UNNC) was the first Sino-foreign university to open its doors in China. Established in 2004, with the full approval of the Chinese Ministry of Education, we are run by the University of Nottingham in partnership with Zhejiang Wanli Education Group, a key player in the education sector in China.
Read less