BBA in Global Hospitality Management
Home ›
BBA ›
BBA in Global Hospitality Management
Program Description
BBA in Global Hospitality Management
Choose from our campuses in Switzerland, Spain and the USA, and study abroad through our global network.Starting in September 2018.
The 3.5-year Bachelor Degree in Global Hospitality Management is unique. It will help you join the world of hospitality as leaders and managers with a global outlook and an innovative approach to business.
3 CAMPUSES, 3 PROGRAMS
Les Roches BBA in Global Hospitality Management is offered at three campuses: Switzerland, Spain and the United States. Each campus offers a unique learning experience with the benefits of a Swiss-style, top-notch education in hospitality.
SPECIALIZATIONS FOR BBA IN GLOBAL HOSPITALITY MANAGEMENT
Add competitive advantage to your professional profile with a degree specialization. Each campus has a range of courses that enable you to build specialist knowledge in a subject that matches your career pathway preferences. From entrepreneurship to events management and marketing, you will find the program that is right for you.
INTERNSHIPS FOR BBA IN GLOBAL HOSPITALITY MANAGEMENT
As part of your BBA program, you will be immersed in real business environments almost anywhere in the world. Two professional internships are built into your curriculum, taking place in Semesters 2 and 5.
Professional internships give you the opportunity to put into practice the skills and knowledge you acquire from your degree course. They also provide valuable experience to expand your industry networks, enhance your resume and increase your confidence of operating as a leader in the workplace.
LEARNING APPROACH
Real-life experience is an invaluable part of your education at Les Roches. Whether you complete your hotel management degree in Switzerland, Spain or the US, you will develop essential skills and competencies through experiential learning.
CAREER SUPPORT
Les Roches graduates go on to launch exciting and fulfilling careers all over the globe. This is not just because of the excellent resumes and professional experience they have, but also due to the dedicated assistance of counselors at the Careers Development and Industry Placement team.
The Careers team will help you transition seamlessly from hospitality bachelor degree to hospitality career. Our counselors organize for top-tier hospitality brands to recruit on campus, and they provide support — everything from resume creation to mentoring through the interview process and career visualization.
Last updated Jan 2018
About the School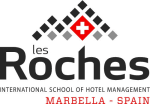 Les Roches Marbella, branch campus of Les Roches Switzerland, is a co-educational hospitality management school offering higher education programs. It is accredited by the Commission on Institutes of ... Read More
Les Roches Marbella, branch campus of Les Roches Switzerland, is a co-educational hospitality management school offering higher education programs. It is accredited by the Commission on Institutes of Higher Education (CIHE) of the New England
Read less