Program Description
A business degree from Dallas Baptist University is based on the simple idea that we exist to provide an exceptional, Christ-centered, business education for our students. This educational experience focuses on integrating faith and the values taught by Christ into the business curriculum and into our students. These principles are fundamental for our student's growth but also vital to employers who desperately crave excellent business leaders, which we cultivate. Ultimately, the College of Business desires to graduate servant leaders who will make eternally meaningful contributions in their field of study, their communities, and throughout the world.
Undergraduate Business Majors
The Bachelor of Business Administration (B.B.A.) degree is offered in seven major fields of study. A 33 credit hour business core is required of all B.B.A. candidates, in addition to general studies courses, and each student chose major's course work, which is approximately 24 credit hours. A required 120 credit hours are needed to earn the B.B.A. degree.
A student who graduates with a Bachelor of Business Administration from the College of Business will have demonstrated competence in the foundational areas of business, as well as the technical skills and knowledge in the student's chosen major. This level of competence in the business disciplines will enable the student to assume roles and assignments in their selected career field.
Students are strongly encouraged to work alongside their academic advisor starting early in their academic program and throughout their path to graduation. This aids in the correct sequencing of courses, along with timely academic and vocational advice. An academic advisor will offer direction regarding majors and potential careers, in addition to contributions from various faculty and mentors associated with the College of Business. Attention to the requirements set forth in the undergraduate catalog, the ongoing consultation with an academic advisor will eliminate many difficulties and help the student ensure correct course sequencing.
As an example, it is highly recommended that students complete the B.B.A. math requirement (MATH 1307 and 1308) their first year, as it is a prerequisite to many of the upper-level business courses. Likewise, students are strongly encouraged to complete the accounting and economics requirements by the end of their sophomore year. Additionally, a student has completed approximately 55 credit hours of course work, the student should then concentrate on completing the 3000/4000 level courses in the business core.
Finance Major
Finance is an appropriate major for students who desire careers in corporate or personal financial planning or management. The 24-credit-hour major can be supplemented by the selection of electives to provide exposure to bank management, insurance, or real estate.
Hunters Race / Unsplash
Degree Requirements
Developing A Christian Mind
Economics
English
Fine Arts
Foundations for Excellence is required of all first-year and transfer students with fewer than 15 credit hours (AP, CLEP, IB, or dual/concurrent credit earned while in high school does not count toward these 15 credit hours)
History
Kinesiology and one additional KNES course (KNES 1102-1122); for veterans or those 25 years of age or older prior to enrollment at DBU, KNES courses are waived
Mathematics [eMAT Advising Tool required prior to registering for any Math class or any class for which the eMAT is a prerequisite]
Natural Science (1000 or 2000 level courses only) one laboratory science from Biology, Chemistry, Environmental Science, Geology, Physical Science, or Physics
Religion and three additional credit hours depending on semester hours transferred at the time of initial enrollment
Social Sciences (1000 or 2000 level courses only) and an additional three credit hours may be selected from Psychology or Sociology
Speech
Business Core
Total General Studies Hours: 51-58
Finance Major
Intermediate Financial Accounting I
Securities Analysis
Money and Financial Institutions
Personal Financial Planning (S-L)
Choose four from:
Introduction to Risk Management and Insurance
Real Estate Finance and Investments
Portfolio Management
Advanced Topics in Corporate Financial Management
International Finance
Entrepreneurial Finance
Electives: Sufficient to complete a 120-credit-hour minimum for a bachelor's degree, including 42 upper-level credit hours.
Total Credit Hours Required: 120
(S-L) = Course(s) with field-based service-learning component.
Mission Statement
The purpose of the Finance Program at Dallas Baptist University is to provide Christ-centered, high-quality education in finance-related topics by focusing on faith integration, excellence in classroom instruction, and competence-building activities to enhance student learning.
Accreditation
Our commitment to quality business training is made clear by the fact that the DBU College of Business and Graduate School of Business are accredited by the Accreditation Council for Business Schools and Programs (ACBSP). This accreditation requires that stringent and ongoing outcomes-measures be applied to ensure that the highest quality in the teaching/learning process is achieved and maintained.
Last updated Aug 2020
About the School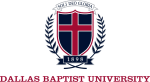 Founded in 1898, DBU has one mission—to transform the lives of students who will transform the world, all for the glory of God.
Founded in 1898, DBU has one mission—to transform the lives of students who will transform the world, all for the glory of God.
Read less