Program Description
Program Highlights
The Bachelor of Arts in Theatre is an exciting degree for those seeking a broad-based theatre education. Designed to allow maximum flexibility, the B.A. offers students the opportunity to tailor their degrees to meet their individual academic and career goals.
Core Learning Goals
Our core departmental learning goals have been woven into all aspects of this rigorous four-year program from classroom and studio work, to rehearsals and productions in our mainstage season.
Technique
Analysis
Professionalism
Collaboration
Versatility in the Curriculum
The flexibility of the B.A. program enables students to customize their education to suit their individual interests. Areas of focus may include:
Directing
Research and Dramaturgy
House Management
Marketing
Arts Administration
Arts Management
Arts Entrepreneurship
Performance
The B.A. Opens Doors
The B.A. is also an excellent choice for those seeking:
A second major
A minor
Graduate programs
A well-rounded education that can open doors to many fields in the theatre industry and beyond
Mainstage Season
Millikin's mainstage season provides B.A. students with many opportunities to gain valuable production experience on stage and off. Our B.A.'s stay active in all areas of production including (but not limited to) dramaturgy, stage managing, house managing, assisting directors and choreographers, designing, performing, and production managing. A typical season will include:
2 musicals
2 plays
1 dance concert
In alternating seasons an opera co-produced with the School of Music or a 3rd play
The Millikin Difference
The small school environment at Millikin University offers students many advantages including:
Individualized attention
Studio classes capped at 16
Annual progress evaluations
Faculty/student mentorships and collaborations
Interactions with students from other disciplines
Active Participation
Students enrolled in the B.A. program are active participants in all of our departmental activities, including Pipe Dreams Studio Theatre, (our student theatre company), the New Musicals Initiative, and the aforementioned mainstage season.
Why Choose Millikin?
There are a number of things that help set Millikin apart from other schools:
Small school environment
First-rate faculty
National reputation
Individualized attention
Faculty/student mentorships and collaborations
Senior professional development experience (showcase)
Master classes with working professionals
Study abroad in our London Semester
New Musicals Initiative
Creativity Takes Many Forms
The Department of Theatre and Dance offers six major degree programs and two minor programs all within the context of a liberal arts education. Competent craftsmanship, creativity, and the development of artistic responsibility are emphasized throughout a student's career. Students are admitted to the B.F.A. programs based upon auditions and/or interviews and only after being admitted to the University. Students must pass a second audition/interview at the end of their freshman year to continue in B.F.A. programs.
Sample Plan of Study
This plan of study shows the types of courses you might take as a student in this major. This is presented simply to provide a realistic preview of your coursework. Once you enroll at Millikin, a faculty advisor will guide you through the process of selecting courses that will help you graduate on-time from this program. While this sample demonstrates a plan of study that covers eight semesters, each student's academic path is unique and your timeline may look different.
Last updated Feb 2018
About the School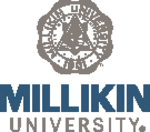 Millikin is an independent, four year university that is privately funded and has an enrollment of approximately 2,200 students in traditional and non-traditional undergraduate and graduate degree pro ... Read More
Millikin is an independent, four year university that is privately funded and has an enrollment of approximately 2,200 students in traditional and non-traditional undergraduate and graduate degree programs. Located in Decatur, Illinois, you will quickly discover that the signature of a Millikin education is a unique experience we like to call Performance Learning.
Read less