Program Description
If you need more wriggle room in your curriculum, our BA in Studio Arts can allow you that flexibility. You'll begin with our foundation of drawing, painting, sculpture, and mixed media, and supplement your time here with cross-departmental studies. Integrate film or creative writing, photography or graphic design, to create an interdisciplinary experience custom-tailored to your dream job.
The BA in Studio Art requires 120 credits consisting of 36 credits in the liberal arts core, 4 credits in foundation requirements, 48 credits in major requirements, and 32 credits in either a designated minor or unrestricted electives.
LIBERAL ARTS CORE REQUIREMENTS: 36 CREDITS
Liberal Arts Core Requirements (16 credits)
FRYE 1025 Liberal Arts Seminar (4 credits)
ENGL 1050 Writing Roundtable I (4 credits)
ENGL 1051 Writing Roundtable II (4 credits)
SOYE 2050 Sophomore Roundtable Seminar (4 credits)
Liberal Arts Distributive Core Requirements (12 credits)
Cultural Diversity Course (4 credits)
Ethical Responsibility Course (4 credits)
FOUNDATION REQUIREMENTS: 4 CREDITS
ARTS 1001 Freshman Studio I (2 credits)
ARTH 1001 History of World Art I (4 credits)
ARTS 1002 FRESHMAN STUDIO II (2 CREDITS)
MAJOR REQUIREMENTS: 48 CREDITS
ARTH 1002 History of World Art II (4 credits)
ARTH 3001 Thinking About Art Now (4 credits)
ARTS 1101 Drawing Lab I (4 credits)
ARTS 1201 Beginning Painting (4 credits)
ARTS 1301 Mixed Media Sculpture (4 credits)
ARTS 2102 Drawing Lab II (4 credits)
ARTS 3501 Junior Studio (4 credits)
ARTS 4901 Professional Practices (4 credits)
ARTS 4915 Art Internship (4 credits)
Choose one of the following courses:
ARTS 2201 Sophomore Painting Studio I (4 credits)
ARTS 2301 Sophomore Sculpture Studio I (4 credits)
Choose one of the following courses:
ARTS 2202 Sophomore Painting Studio II (4 credits)
ARTS 2302 Sophomore Sculpture Studio II (4 credits)
Choose one of the following options:
UNRESTRICTED ELECTIVES: 32 CREDITS
‐ Complete a 24‐credit minor in a chosen discipline combined with 8 additional credits of
unrestricted electives; or
‐ Complete 32 credits of unrestricted electives.
FORMATION OF SCHOOL OF VISUAL AND COMMUNICATION ARTS
In August 2014, in order to better serve the growing enrollments in four of its academic programs, SFUAD restructured the administrative management of these programs into a "School of Visual and Communication Arts" ("SVCA"). The SVCA includes degrees in graphic design, digital arts, studio art, and photography and is managed by a Dean, Linda Swanson (formerly the Chair of the Studio Art Program).
The benefits expected from this administrative reorganization include leadership depth, leveraging of curriculum across four programs, sharing of facilities, improved trans-disciplinary and industry student experiences amongst the four programs as well as a larger and more diverse community under a shared school structure.
Careers
Our internship network is growing all the time, thanks to the help of our Career Services center, an involved and well-networked faculty, and the tenacity and hard work of students like you. We want to make sure that you get hands-on professional experience before you leave campus.
For BFA students, internships are a requirement of graduation – which means your internship is a promise, not a stroke of luck. Art students have worked for private art galleries, museums, contemporary art spaces, community art collectives, art journals, and art festivals, with world-renowned artists on personal artwork, and more. It's all about achieving real, relevant experience before you hit the streets.
EXAMPLES OF CAREERS FOR STUDIO ART GRADUATES:
Art Director / Critic
Administration / Curator
Conservation / Restoration / Preservation
Collections Management
Exhibit Design / Preparation
Archive Management
Education
Publication
Painting
Sculpture
Illustration
Printmaking
Weaving
Art Appraiser / Dealer
Gallery Assistant
Arts Program Director
Set Designer
Sketch Artist
EXAMPLES OF EMPLOYERS FOR STUDIO ART GRADUATES:
Art Museums: Public and Private
Archives
Historical Societies / Sites
Natural / Living History Museums
Galleries / Studios
School and Community Programs
Colleges and Universities
Nonprofit organizations
Local, State, and Federal Government
In-House Corporations
Marketing / Advertising Agencies
Freelance / Self-Employed
Newspapers / Magazines
Media Outlets
Animation Studios
Film / Television Studios
Software Firms
VISITING ARTISTS: STUDIO ART
Every year, the Studio Art department brings in professionals and artists from across the industry. Here's a sampling of individuals who have visited in the past few years, and worked directly with art students:
BukueOne (socially-active musician, graffiti artist)
Cody Berry (Illustrator, writer, Class of 2010)
Harmony Hammond (Renowned Artist and writer, pioneer in feminist art community)
Jeremy Thomas (sculptor specializing in works of molded steel)
Maureen Burdock (award-winning feminist artist, graphic novelist, and illustrator)
Michelle Blade (award-winning and extensively exhibited painter, installation artist)
Nic Nicosia (Conceptual artist who photographs staged, otherworldly scenes)
Peter Sarkisian (artist, filmmaker, known for works that combine sculpture and video projection)
Entry Requirements
FIRST YEAR STUDENTS
Deciding where to go to college is probably the most difficult decision you've ever had to make – but it doesn't have to be scary. We have Enrollment Advisors to help you through every step of the process, which means you'll have a real human being (and a friend!) in your corner while you navigate the world of college applications.
For First-Year Students, we require:
Personal Information: your profile and contact information
Academic Information: details about your academic background
Employment Information: your work history
Submit your online application with the following:
Official transcript(s)
Test scores are optional
$50 Application Fee
Your completed portfolio
TRANSFER STUDENTS
We work very closely with Transfer Students to move as many of their earned credits from previous institutions into SFUAD credits as possible. Your Enrollment Advisor can assist you with a conversation about transferring your credits at any point in your enrollment process – you don't have to wait until you're an accepted student. For Transfer Students, our application requires:
Official transcript(s)
Test scores are optional
$50 Application Fee
Your completed portfolio
INTERNATIONAL STUDENTS
We welcome international students from around the globe every year at SFUAD. To understand eligibility, Visa requirements, and our application process, visit our International Student Application.
YOUR STUDIO ARTS PORTFOLIO
If you're applying for acceptance into the Art Department (for both BA and BFA programs), you are required to submit a portfolio with 10-15 pieces of art. This work can represent class assignments as well as personal projects you've created within the past two years. It can include a range of materials and approaches, including 2D (drawing, painting, photography), 3D (sculpture, installation), and 4D media (video, animation, film). If your work wasn't originally created in a digital form, be sure to photograph it digitally or convert it to digital so you can upload it to our system.
You'll submit your portfolio through SlideRoom as part of your online application. Once you've uploaded your files to SlideRoom, you're also welcome to bring your portfolio to an open house and meet with a faculty
member to have it reviewed in person, or to schedule a personal portfolio review on another convenient day.
Last updated Nov 2018
About the School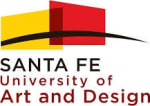 Learn about the innovation, collaboration, and creativity that happens at Santa Fe University of Art and Design – straight from the SFUAD faculty, students, and alumni from every program on our campus ... Read More
Learn about the innovation, collaboration, and creativity that happens at Santa Fe University of Art and Design – straight from the SFUAD faculty, students, and alumni from every program on our campus! Meet your professors, see student work, and understand what awaits you at SFUAD. You're ready to be an artist – and we're ready to help!
Read less