Program Description
Accredited by the British Psychological Society (BPS), our BA degree in Psychology promotes the acquisition of conceptual knowledge and practice in core areas of Psychological disciplines such as development, language, phenomenology, personality theory & individual differences, biological psychology, social psychology, psychopathology, and cognitive science.
Psychology students will be able to integrate theoretical perspectives with empirical findings, use a variety of research methods and apply psychological principles in professional settings such as educational, clinical, counselling, and legal.

Top 5 reasons to study this programme
The BPS accreditation gives Richmond Psychology graduates the opportunity to gain Graduate and/or Chartered Membership of the Society and access to the widest range of training, development and employment opportunities.
Equips you with the ability to apply theories into practice in one of the following professional areas of competency: counselling, clinical, legal, forensic science.
Provides scientific insights into human and organisational behaviour transferable into areas such as Neuroscience, Law, Management, HR and Marketing Research.
Carry out experimental research projects at the new Psychology Laboratory, conducting both qualitative and quantitative research.
To equip students with the skills necessary to undertake further studies and/or applied professional training.

After you graduate
Career Paths
Accenture, Carrefour Group, Intel International, Swedish National Police, Wall Street Institute
Counselling, Forensic Science, Marketing Research, Teaching, Education and Management
Our students have previously interned at:
The Institute of Cognitive Neuroscience – UCL, Vision Lab – UCL, Anna Freud Centre, Mental Health Internship at the NHS, Collingham Child and Family Psychiatric Unit, The Tavistock Clinic
Further Education Destinations
MSc War and Psychiatry at King's College London, MSc Organisational Psychology at Birkbeck College London, MSc Clinical Mental Health Sciences University College London, London School of Economics and Political Science, McGill University

Career Support
We offer career support and advice through our Careers & Internships Office that will assist and guide you in your study choices to make sure you stand out from the crowd when you graduate. Through internships, you will gain business acumen, beneficial work experiences and transferable skills which will give you a competitive advantage in a fast-paced working environment. Work while you study across 5 continents through our partners Connect123 and CRCC Asia with destinations in Spain, Argentina, South Africa, China, Japan, Vietnam and Australia.

Study Abroad
All students at Richmond University have the opportunity to study abroad. You can either study at one of our campuses for a semester to a year or study overseas at any of our partner locations across the world giving you a unique experience.

Entry Requirements
A Level: 96 UCAS points
US High School Diploma (or equivalent): 2.5 GPA minimum (on 4.0 scale)
International Baccalaureate: 24 IB points (year 1) BTEC National Diploma: MMM.
Completion of Year 12-13 International equivalent secondary school qualification with a minimum grade average of grade C, including mathematics and English

English Language Requirements (Non-Native English Speakers)
IELTS 5.5 with 5.5 in each Listening, Speaking, Reading and Writing
TOEFL (IBT) 80+ overall with: Listening 17, Reading 18, Writing 17, Speaking 20
Pearsons Test of English (PTE) 51
Overall Cambridge English Scale score of no less than 168 in Listening, Reading, Writing and Speaking

How to apply
You apply directly using the Common Application ($50.00) or the Richmond One Line Application. In order to submit your application, you will need the following information:
Details of your education history, including the dates of all exams/assessments.
The email address of your referee who we can request a reference from, or alternatively an electronic copy of your academic reference.
A personal statement – this can either be emailed as a Word Document or PDF or completed online.
An electronic copy of your in process or completed high school (secondary school) transcript and graduation certificate.
Last updated Feb 2020
About the School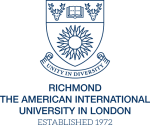 Richmond is an American International University, established in 1972 and based in West London with two campuses in Richmond Hill and close to Kensington High Street. Since 1981, the university has be ... Read More
Richmond is an American International University, established in 1972 and based in West London with two campuses in Richmond Hill and close to Kensington High Street. Since 1981, the university has been awarding US Degrees accredited by The Middle States Commission on Higher Education. One of the latest achievement that Richmond is proud to announce, is being granted the power to award students with its own UK degrees starting from August 2018, as a consequence of having been recently granted Taught Degree Awarding Powers (TDAP) by the Privy Council.
Read less