Program Description
BA in Production Arts and Design
The Production department consists of the BA Production Arts and Design and the BA Production Technology and Management, and both of these programmes work very closely with each other in the classroom and on Conservatoire productions. The Head of Production and Programme Leader for the two undergraduate production programmes is Ros Maddison. Ros has been leading the department since 2002 before which she taught stage management.
Prior to this, she worked as a freelance stage manager across Scotland for many years. Ros has been External Examiner for a variety of other institutions including RADA and Hong Kong Academy of Performing Arts. She became a Fellow of the Royal Conservatoire in 2012. The Production Department is at the hub of performance activity in the Conservatoire and as such our students collaborate with actors, singers, dancers, musicians, filmmakers and performance artists on a daily basis. This opportunity to work with such a large and diverse range of work is one of the ways in which the Production Programmes at the Conservatoire stand out from other institutions.
The BA Production Arts and Design programme was specifically created to train aspiring scenic artists, prop makers, stage carpenters, costume makers as well as set and costume designers. Students on this programme have a major and a minor study chosen from these five main subject areas and have an individually carved pathway towards employment in these areas. The highly practical nature of the programme means that much of the students' time is spent learning a working environment with public outcomes. This production-based content has a high level of student support from tutors, especially in level one. The students assume more responsibility for their own work on the Conservatoire productions as they become more independent in their process and practice. As our standards are rooted in industry practice, we have exceptionally strong links with professional partners from across the UK and beyond.
As the only institution in Scotland offering degree level qualifications in technical theatre and production arts, we have very close relationships with the key Scottish national companies, such as Scottish Opera, the National Theatre of Scotland and Scottish Ballet as well as the majority of regional theatres such as the Citizens Theatre, Glasgow, Pitlochry Festival Theatre and the Royal Lyceum Theatre in Edinburgh. Further afield in the UK we have well-established relationships with national organisations such as the Society of British Theatre Designers (SBTD), The Linbury Trust, the Royal Opera House and the National Theatre in London.
Course Outline
Students on this programme are interviewed and accepted based on their profile in one particular area of study taken from the five subjects on offer (scenic art, set construction, costume construction, prop making and set & costume design). This subject becomes their major study and is the basis for their pathway through the programme and potential employment opportunities after graduation. BAPAD Level 1 in Outline
Level one of the Programme is based on experiencing all areas of the theatre production process as well as building initial skills and knowledge in your major subject. You will receive a broad-based introduction to the production environment and the standard practices both in production arts and design and also in its sister programme production technology and management. In the five core subjects, the design process is examined through a range of projects, workshop rotations and collaborative projects culminating in the choice of a minor subject to compliment your major study pathway. You will also investigate the collaborative nature of production and performance have the opportunity to work with other level one students from across the Conservatoire on small collaborative projects. BAPAD Level 2 in Outline
Level two aims to help you consolidate your fundamental skills and knowledge and then to introduce you to more advanced approaches and techniques including management and self-promotion. Production Arts students begin by engaging with practice-based work on Conservatoire productions as part of a collaborative team with students from Level Three. Processes, skills and techniques are gathered as well as the opportunity to observe senior students in managerial positions. Design students explore the design process from concept to final presentation through a personal project and then have the opportunity to work as part of the stage crew on the Conservatoire's pantomime. This leads to an allocation as Designer for a Conservatoire production – normally realised on stage in the first weeks of level three. Here begins your individual pathway, as negotiated with your Transitions Tutor, where learning is designed to promote your own individual development and achievement. Trimester two engages you with both mandatory and elective studies through which you will equip yourselves to progress onto more complex, senior roles. Professional practice at level two focuses on the development of the individual portfolio and personal promotion skills. Also at level two you will engage with 'Choice' modules where you can choose from a range of modules on offer from programmes across the institution or undertake a negotiated project BAPAD Level 3 in Outline
Level three enables you to consolidate of all of your learning and exploration and develop specialist skills in autonomous situations.
Each student negotiates their individual pathway in the third year in order to take effectively take advantage of the available production roles, personal projects, choice modules and secondment opportunities over the two trimesters. You will work collaboratively with other students on Conservatoire productions and individually on individually planned and executed personal projects aimed at increasing your skills in identified areas. The Secondment ensures you are making contacts with industry practitioners and potential employers and often acts as a springboard into your first job. A Showcase of work, organise and created by the final year students goes on display in May of the final year, and a range of potential employers, as well as friend and family, are invited to see your work at close range. Assessment
Much work is assessed through staff observations of your practice, but reflection underpins the approach to assessment, and reflective journals and summary statements form a key component of assessment in all modules. There is a strong emphasis on the assessment of the process. Students in levels two and three engage in portfolio building as an element of professional development planning, specifically designed to aid their self-promotion, and transition into the workplace.
Entry Requirements
Scottish Highers – 3 passes (grade C or above)
A Levels – 2 passes
International Baccalaureate – minimum score of 24 with 3 subjects at Higher Level
We offer a flexible approach to students taking Highers over more than one academic year and/or who achieve their qualifications in more than one sitting. Entrance to the Conservatoire is based on talent, potential and ability. Therefore consideration will be given to relevant experience which is deemed to compensate for any traditional education. We accept a wide range of qualification, including international qualifications.
English Language
The language of study is English. Applicants whose first language is not English will be required to provide evidence of proficiency in English. We accept the International English Language Testing System (IELTS).IELTS – 6.5 with a minimum score of 5.5 in each component
Last updated Jan 2018
About the School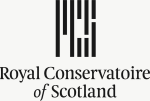 The Royal Conservatoire is Scotland's national centre of professional vocational training in performance arts. Our location is the heart of Glasgow; our orientation is the contemporary international s ... Read More
The Royal Conservatoire is Scotland's national centre of professional vocational training in performance arts. Our location is the heart of Glasgow; our orientation is the contemporary international scene. We are leading the way as one of Europe's top conservatoires, offering a rare breadth of artistic disciplines.
Read less