Program Description
Ippe
The International Programme for Politics and Econom­ics (IPPE) is a 3-year multidisciplinary Bachelor Degree programme (180 ECTS) that aims to provide knowl­edge, skills, and understanding to work in an internation­al political-economic environment. IPPE educates and provides theoretical knowledge and practical skills suit­able for political-economic oriented professions in public administration, organizations and private corporations that in different ways operate in an international environment.
Career
With your international IPPE education, a variety of career paths are available. The labor market includes employ­ment opportunities in public administration, diplomatic service, the EU or other national and international insti­tutions, as well as non-government organizations. Other possibilities include careers in the international oriented private sector of industry and commerce, within and out­side of Sweden.
Pedagogical approach
IPPE applies a liberal art inspired education with both out-of-class and in-class experiences, designed to develop the whole person academically, intellectually, physically, socially, emotionally, and spiritually. IPPE uses a wide set of pedagogical tools to reach the overall goals of the pro­gramme. Apart from providing relevant knowledge and skills, IPPE strongly emphasizes the integration of ethnic and cultural diversity as well as issues of gender and sus­tainability.
Goals
IPPE includes a set of overall goals. Each study module comprehends a set of specific goals, which in different ways link to the overall goals of the programme. All out­comes are divided into three interlinked components. These components include; Knowledge & Learning that focus on the academic goals, Skills & Application that focuses on practical capability and leadership skills and Ethical Appreciation that acknowledge ethical and moral perspectives.
Work integrated learning
Work Integrated Learning is an integrated part of IPPE that provides the students with opportunities to put knowledge and skills into practice. Certain study modules consist of various forms of projects, evaluation, and analyses conducted in collaboration with the civil society. Work integrated learning components can also be conducted abroad, as part of the programme education.
Internationalisation
The international focus in IPPE is stressed throughout the education. IPPE has agreements and cooperates with a number of Universities in Europe, Africa, USA, Australia and Asia. The programme is given in English and at least one semester is studied outside Sweden. The students are also encouraged to conduct a final research project in an international environment. IPPE supplies the students with different forms of financial support for international studies and work practice. To strengthen the international focus at home, guest lecturers and foreign students participate in IPPE. Coming from different cultures and regions, with a wealth of experiences and perspectives, this diversity guarantees lively, stimulating discussions and student life. In all, IPPE provides students with the capability to professionally work over cultural as well as national borders to develop, implement and lead projects handling political-economic oriented issues.
Programme structure and contents
IPPE is divided into four phases that enhance the educational progression. Each semester includes a study period of 20 weeks. The first phase (1-3rd semester) comprises thematic multidisciplinary undergraduate studies. The second phase (4th semester) applies an in-depth focus on Politics. The third phase (5th semester) further strength­ens the internationalization focus through studies or work practice abroad. The final phase (6th semester) includes research project work that provides in-depth knowledge, skills, and values to work with political-economic issues in an international context. gender and sus­tainability.
Admission requirements
Standard eligibility requirements for studies in bachelor level in Sweden and special eligibility requirements in Mathematics (B), English (B), and Social Science (A). All subjects must be graded with a minimum mark of the pass (G) or equivalent. For International students, please contact the International Office.
Last updated Feb 2018
About the School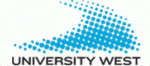 University West in Trollhättan, Sweden is a modern university which offers education collaborating with work-life in an attractive and modern study environment.
University West in Trollhättan, Sweden is a modern university which offers education collaborating with work-life in an attractive and modern study environment.
Read less