Read more about this program on the institution's website
Program Description
A political science major offers preparation for a career or further education in public policy-making, law, urban planning, international commerce, diplomatic service, and political campaigns.
The political science major is available through the Social Sciences Department. Social science courses offer experience in project-based coursework and opportunities for original scholarly research, incorporating field trips and off-campus study throughout the United States and abroad. In recent years, psychology faculty members and students researched topics such as parenting and personality, memory processes, and stress and adjustment. In addition, students assisted faculty in researching human rights, democratization studies, civil discourse, and service learning.

Program Goals
The political science program, part of the Social Sciences Department, believes that knowledge of political science is a requisite for responsible citizenship and a necessity for anyone expecting to enter a career in law, public administration, law enforcement, civil service, or teaching. Unique features of the program include American Legislature and Judiciary, a May Term course that offers the study of national government for several days on location in Washington, D.C. An international political intern program with the German parliament, Deutsche Bundestag, is supervised by an arrangement with the University of Bonn in Germany.
To instill a basic understanding of what constitutes "political questions," whether of a normative or empirical character.
To develop a foundation of substantive knowledge with respect to basic concepts, institutions, and processes within American, comparative, and international relations.
To foster the ability to think and act critically about substantive public policy issues.
To develop, through application, the ability to formulate and undertake research on problems of political significance.
To promote an awareness of political science as an academic discipline defined by diverse (competing) paradigms, strategies, and techniques of analysis.

Requirements
10 course credits:
EC 117 Principles of Macroeconomics
PS 101 Introduction to American Politics
PS 302 International Relations
PS 310 Policy Formulation, Administration, and Analysis
PS 460 Perspectives in Political Science
Three PS course credits
Two course credits from:
PS 130 Contemporary Political Ideologies
PS 270 Comparative Political Systems
PS 304 The Developing World
PS 313 Political Philosophy

Undergraduate research
Undergraduate research is an inquiry or investigation conducted by an undergraduate student that makes an intellectual or creative contribution to the discipline. Funding is available for students to engage in research and travel to conferences to present their research. Wartburg College Undergraduate Research (W.C.U.R.) provides resources for faculty working with students as well as conference listings and publications that accept student submissions.

Why participate in undergraduate research?
Wartburg students work closely with a faculty mentor.
Undergraduate research enhances students' understanding and knowledge of their chosen academic field.
Research helps students clarify their academic, career, and personal interests.
Students gain academic credentials that help expand their resume by presenting at conferences or working on a research team.
Wartburg students learn skills in communication (written and oral), critical thinking, problem-solving, teamwork, and time management.
Last updated Oct 2020
About the School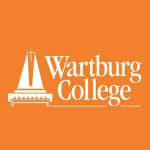 The liberal arts education you will receive at Wartburg allows you to not only gain the skills required from your chosen field of study, but also the critical thinking skills required to explore the e ... Read More
The liberal arts education you will receive at Wartburg allows you to not only gain the skills required from your chosen field of study, but also the critical thinking skills required to explore the ethics of decision-making and community engagement, effective communication, cultural competence, and collaboration.
Read less