Program Description
The Bachelor of Arts in Painting and Visual Arts acknowledges the transformations in contemporary artistic practices that are blurring the traditional borders between fine art disciplines in favor of a project-driven perspective that attempts to connect art with different areas of the productive and social context.
The program reinterprets and expands a traditional academic approach, taking students through a variety of environments, techniques and experimental methods, which support them in developing an individual way of expressing themselves and their personal artistic ideas. The program was founded on the belief that, currently, contemporary artists increasingly resemble professionals capable of performing various roles within contemporary social and aesthetic fields combining creative, organizational and communication skills.
Students are also encouraged to develop their self-promotion and organizational skills over and above their creative abilities, in order to gain easier access to the professional world.
The BA in Painting and Visual Arts program is recognized by the Italian Ministry of Education, Universities, and Research (MIUR) as a Bachelor of Arts degree (180 CFA).
First Year
Among the subjects:
Artistic Anatomy, History of Modern Art, Painting Techniques, Visual Arts I, Drawing I, Phenomenology of Contemporary Arts, Painting I, Photography I
Second Year
Among the subjects:
History of Contemporary Art I, Visual Arts II, Visual Arts Techniques and Technologies, Public Art, Aesthetics, Painting II, Video-installations I, Sculpture I
Third Year
Among the subjects:
History of Contemporary Art II, Visual Arts III, Painting III, Drawing II, Photography II, Sculpture II, Video-installations II, Cultural Anthropology
Study Abroad Opportunities
Through exchange programs, NABA's International Office encourages and supports students wishing to study abroad.
The office promotes educational experiences at numerous prestigious international partner universities worldwide. Thanks to this vast international network, students at NABA are able to spend periods of study abroad, enriching their educational curriculum and laying the groundwork for increasingly international future careers.
International study opportunities are mainly provided as part of the Erasmus+ project promoted by the European Commission, the International Exchange Program for destinations outside of Europe, the Semester Abroad Program at the Galileo Global Education and short summer courses.
NABA counts more than 50 cooperation agreements with European academies and universities through the Erasmus+ Programme; the Academy also counts more than 20 international cooperation agreements with several universities outside Europe.
Nik MacMillan / Unsplash
Professional and Educational Perspectives
Graduates of the BA in Painting and Visual Arts program will have the theoretical, technical, and practical skills to launch a career as a(n):
Visual artist
Illustrator
Assistant curator
Manager of cultural events
Film director
Graphic designer
Director of photography
Exhibition and set designer
Audio e video editor
Graduates may also choose to study at the master and doctorate levels in the fields of visual arts. At NABA, they can earn their Master of Arts in:
Visual Arts and Curatorial Studies
Photography and Visual Design
Contemporary Art Markets
Job Placement
NABA's Career Service helps students and graduates identify and apply for internships and staff positions with prospective employers. 89% of NABA graduates find employment during the first year after graduation (data certified by Ipsos Observer regarding 2015 NABA graduates). Students also receive advice and assistance in drafting their résumés, writing job search letters, and organizing their professional portfolios.
Internships
NABA has developed strong relationships with leading associations, galleries and institutions that provide internships for NABA students, including Art for the World Europa, Fondazione La Triennale di Milano, A12 Associati, Fondazione Museion—Museo d'Arte Moderna e Contemporanea Bolzano, Galleria Massimo de Carlo, Galleria Raffaella Cortese, Prometeogallery, Galleria Alessandro de March, Form Content (London), BAK—basis voor actuele kunst, O'Associazione, Arabeschi di Latte, Supportico Lopez (Berlin), Fondazione lettera27 Onlus, Oliviero Toscani Studio, Massimo Carasi, Sotheby's Italia, Skira Editore, Fondazione Giuliani per l'Arte Contemporanea, Associazione Viafarini, Artshow Edizioni sas di Ciavoliello Giulio & C., Careof Organization for Contemporary Art, Gruppo Cimbali, and Associazione Culturale a.titolo.
Last updated Feb 2020
About the School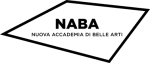 NABA, Nuova Accademia di Belle Arti, is an internationally renowned art and design academy. Founded in 1980, NABA is the largest private art academy in Italy. It offers bachelor's and master's degree ... Read More
NABA, Nuova Accademia di Belle Arti, is an internationally renowned art and design academy. Founded in 1980, NABA is the largest private art academy in Italy. It offers bachelor's and master's degree programs in Italian and in English that are accredited by the Italian Ministry of Education, University and Research (MIUR).
Read less