Read more about this program on the institution's website
Program Description
Neuroscientists study how the brain and nervous system work. The rapidly growing field seeks to answer questions such as how we perceive our surroundings, how we interact with these surroundings differently than animals, and what can go wrong in this process. The neuroscience major at Wartburg is an interdisciplinary major that exposes students to the intersection of biology and psychology and then encourages them to make links to other areas of interest. Neuroscience is a broad field, and students have the opportunity to focus on their own areas of interest through advanced research courses and diverse electives. Neuroscience majors can pursue careers in neuroscience research, medicine, physical therapy, occupational therapy, psychiatry, pharmacology, cognitive psychology, robotics, science writing, and many, many more fields.

Facilities
Wartburg's Science Center, completed in 2004, includes an animal facility that regularly houses mice, hamsters, fathead minnows, and zebrafish. A surgery room allows for hormonal manipulation through the removal of ovaries or testes, and behavioral testing rooms are outfitted with a number of learning apparatuses, including a Morris Water Maze, Barne's Maze, and radial arm maze. A fruit fly colony provides the opportunity to work with an invertebrate model with known genetics, while Lageschulte Prairie (managed by Wartburg), an indoor stream facility, a greenhouse, and city/state parks allow for examination of behavior in more natural settings. Human populations for research have recently been drawn from students on campus, residents at a nearby retirement home, and a support group at the local hospital. Wartburg has a cryostat for thinly slicing brain tissue and a variety of microscopes (a scanning electron microscope (S.E.M.), a confocal microscope, and fluorescent microscopes, in addition to standard compound and light microscopes) for looking at stains of that tissue and investigating other cellular questions. Hormones can be quantified by running the products of an ELIZA on Wartburg's plate reader. Real-time P.C.R. and electrophoresis allow for interpretation of genetic information. Additional equipment allows quantification of human physiological data, including E.M.G.s, E.E.G.s, and electrodermal activity.

Requirements
15½ course credits:
BI 151 Biology I: Ecosystems, Cells, and Evolution
BI 152 Biology II: Phylogeny, Structure, and Function
CH 113 Principles of Chemistry I
CH 114 Principles of Chemistry II
MA 214 Statistical Methods
NSC 235 Fundamentals of Neuroscience
NSC 335 Neurobiology
NSC 455 Methods of Neuroscience Research
NSC 456 Student-Originated Research
NSC 461 Neuroscience Seminar
PSY 101 Introduction to Psychology
PSY 321 Research Methods and Data Analysis for the Behavioral Sciences
PSY 426 Advanced Neuropsychology
Four course credits (incorporating at least two disciplines) from:
BI 202 Human Anatomy and Physiology
BI 211 Genetics
BI 221 Cell Biology
BI 304 Developmental Biology
BI 311 Mammalian Anatomy and Physiology I
BI 312 Mammalian Anatomy and Physiology II
BI 325 Behavioral Ecology
CS 120 Introduction to Computers and Programming
CS 220 Object-Oriented Programming and Introduction to Data Structures
CS 365 Scientific Computing
CS 373 Artificial Intelligence
PSY 222 Cognitive Psychology
PSY 224 Abnormal Psychology
PSY 225 Life Span Human Development
PSY 314 Psychological Tests and Measurements
PSY 328 Health Psychology

Undergraduate research
Undergraduate research is an inquiry or investigation conducted by an undergraduate student that makes an intellectual or creative contribution to the discipline. Funding is available for students to engage in research and travel to conferences to present their research. Wartburg College Undergraduate Research (W.C.U.R.) provides resources for faculty working with students as well as conference listings and publications that accept student submissions.

Why participate in undergraduate research?
Wartburg students work closely with a faculty mentor.
Undergraduate research enhances students' understanding and knowledge of their chosen academic field.
Research helps students clarify their academic, career, and personal interests.
Students gain academic credentials that help expand their resume by presenting at conferences or working on a research team.
Wartburg students learn skills in communication (written and oral), critical thinking, problem-solving, teamwork, and time management.
Last updated Oct 2020
About the School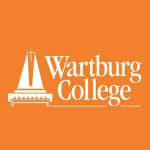 The liberal arts education you will receive at Wartburg allows you to not only gain the skills required from your chosen field of study, but also the critical thinking skills required to explore the e ... Read More
The liberal arts education you will receive at Wartburg allows you to not only gain the skills required from your chosen field of study, but also the critical thinking skills required to explore the ethics of decision-making and community engagement, effective communication, cultural competence, and collaboration.
Read less