Program Description
In today's world where competition, change, development, and globalization are experienced, it is important to design a management program suitable to the rapidly changing context and centered around change and development. This has been our main principle in designing the Sabancı University Management program: an organic, international, change-oriented undergraduate program, built upon the most essential managerial skills.
The spine of our program consists of the skills that all managers should acquire, such as the ability to prepare presentations and reports, to make effective use of electronic spreadsheet programs and a theoretical platform helping in gaining knowledge on subjects such as economics and game theory. In many of our courses, we expect our students to prepare presentations and take part in teamwork and develop their skills in working together.
We have designed our program to be flexible and open to additional developments. While keeping our required courses at a minimum, we have strived to prevent our students' being restricted to only one area and choose only one discipline and we have provided our students with the flexibility to choose from many areas within the wide spectrum of management courses.
We have also not limited the electives to those concerning management, we have made the elective pool sufficiently large so that students can pick courses along the lines of their interests. We try to keep our program up-to-date with courses that we offer in different topics and new areas. We have enrichened our program with an international perspective, encouraging the learning of foreign languages other than English by including those courses in our free electives pool. Through the bilateral exchange agreements we have signed as the Sabanci Business School and through active participation in the Socrates/Erasmus exchange programs, we highly encourage our students to take courses abroad. We provide opportunities for our students to prepare as well as possible to their future in the increasingly globalizing world.
As the Sabanci Business School family, we thank you for your interest in the management undergraduate program.
Curriculum
In Management undergraduate program, in order to be up-to-date with the rapidly changing conditions of today's world, we have based our program on basic management skills. One of the most important characteristics of our program is that the number of required courses was kept at a minimum while the number of electives allowed has been designed to be as high as possible to allow our students to focus on new trends and different areas they are interested in.
Program Educational Objectives
Sabancı University's undergraduate program in Management recognizes the importance of well-educated and innovative managers for building organizations that compete successfully in global markets and contribute to the economic development of our country. The mission of this program is to foster individuals who will eventually become such managers. While the students learn current techniques and practices, the emphasis of the program is on the analytical and problem-solving skills that enhance the students' capabilities for innovative thinking and decision-making under changing conditions. All students receive a solid basic background in humanities, sciences, and mathematics.
Learning Outcomes
Management undergraduate program offers distinct learning outcomes. Sabancı BA in Management graduates are expected to:
Have an understanding of economics and the main functional areas of management.
Have a basic all-around knowledge in humanities, science, mathematics, and literature Have a basic knowledge of law and ethics, awareness of social and ethical responsibilities.
Work effectively in teams and environments characterized by people of diverse educational, social, and cultural backgrounds.
Demonstrate proficiency in oral and written communications in English.
Pursue open-minded inquiry and appreciate the importance of research as an input into management practice; thus,

know how to access, interpret and analyze data and information by using current technologies;
use the results from analyses to make informed decisions.

Use office software for written communication, presentation, and data analysis.
Demonstrate awareness that business settings present different opportunities and challenges for managers due to environmental/contextual differences that arise in economic, political, cultural, legal-regulatory domains.
Education System
At SU, students have the chance to choose their majors after their first or second academic year. This allows students to decide what program to study at university with greater understanding about higher education and about their own academic and career interests and talents.
Medium of Instruction and Language Proficiency
The medium of instruction at Sabancı University is English. All undergraduates are required to take the Sabancı University English Language Assessment Exam (ELAE). Students who pass this exam begin their undergraduate programs while those who do not meet the standards of English language proficiency enroll into School of Languages. School of Languages is the English prep school where students learn English for one semester or one year depending on their English proficiency level.
The students who can certify that they have passed one of the national and/or international foreign language examinations at a level determined by the university are entitled to begin undergraduate programs. Please visit our website to learn more about accepted exams and scores for prep school exemption: https://www.sabanciuniv.edu/en/faculties-programs-exemption-exams
Admissions
International Students may directly apply to undergraduate programs offered at Sabancı University. Students who are in the last year of high school or graduated from a school equivalent to Turkish high schools may apply to undergraduate programs at Sabancı University.
Before online application
You will be asked to upload the following documents, so you need to have scanned versions of each of these ready for upload. Completed applications are reviewed on a continuous basis and you will be informed via e-mail.
Application Dates
All documents regarding the application must be submitted with the online application form. It is required to submit an online application between the dates stated below.
First Day of Application Period: January 2, 2020
Last Day for Applications: July 30, 2020 (Online application form will be closed at 16:00 with Turkish time)
Required Documents for Application
Online Application Form.
The copy of the exam/diploma result(s) accepted by the University (Sabanci University SAT Code: 7100). Please see the list of accepted exam(s)/Diploma(s) and minimum requirements, here.
If available, the copy of High School Diploma (if in another language rather than Turkish or English, a notarized translation should also be submitted).
An official transcript, showing all courses and grades taken in the entire high school education, signed and stamped by the high school authority. (It is required to upload official transcript in the online application form).
If taken before, a copy of the language proficiency exam scores accepted by Sabancı University. (Not mandatory)
If available, 1 academic letter of recommendation and Statement of Purpose (Not mandatory)
Scholarship Opportunities for International Students
International students have the opportunity to gain admission scholarshipat Sabancı University. Every international candidate who applies to SU is evaluated for a scholarship automatically when they fullfill the application requirements.
Scholarships are merit-based. International students have the chance to win different tier tuition-waiver scholarships such as: 100%, 75%, 50%, 25% scholarships. There is also a limited number of dormitory scholarships available at a room for four people.
International Student Applications for Undergraduate Programs
Applications for undergraduate programs are now open. You can reach the application form here.
Follow Us on Social Media
Last updated May 2020
About the School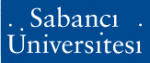 With science, technology, and social structures advancing day by day, the world needs more qualified individuals who possess the knowledge and skills required to pursue a career anywhere in the world. ... Read More
With science, technology, and social structures advancing day by day, the world needs more qualified individuals who possess the knowledge and skills required to pursue a career anywhere in the world. Aware of this pressing issue, in 1994 the Sabancı Group decided to establish a "world university" led by the Sabancı Foundation. The seeds of Sabancı University, the Sabancı Group's most comprehensive social responsibility project in the field of education, were sown in the summer of 1995, at a search conference. Right now, Sabancı University is the highest ranked Turkish university in THE World University rankings and only one of the two Turkish universities that rank in the top 500. Sabancı Holding is a strategic portfolio company that focuses on creating value add with the Group's ecosystem and prioritizes a high-performance culture. Sabancı Group companies currently operate in 12 countries. Sabancı Group has 70 companies and 60.000 employees. These enterprises collectively have also contributed significantly to the development of Turkey's economy. Sabancı Holding's own shares, as well as the shares of its 11 subsidiaries, are listed on Borsa Istanbul (BIST) and constitute 8.1% of total market capitalization of Turkish equity market.
Read less
Accreditations