Program Description
The Bachelor of Arts in Italian Studies is a rigorous interdisciplinary degree that combines the study of Italian literature, culture, society, and politics while developing students' fluency in the Italian language. The context of an American liberal arts university exposes students to many fields of study and ways of approaching intellectual problems related to Italy, while John Cabot University's Roman setting enables students to engage daily with the multifaceted realities of contemporary Italian life.
The core curriculum combines a progression of language courses which develop a high level of proficiency in all language skills areas (C1 of the Common European Framework) with courses that provide students with a strong foundation in Italian literary and cultural studies and in the country's evolving social, political and business environments. Students are then guided to further carve out their preferred areas of specialization through appropriate choices of major electives. Italian Studies majors have the exceptional opportunity to enhance their study with on-site learning and field research, and they are strongly encouraged to do internships in companies, organizations, and institutions which best fit their career plans. The major culminates in the final year when each student selects a topic and works individually with a specialized faculty member to research and write a senior thesis.
The major is thus designed to develop strong critical, communicative and intercultural skills that are essential preparation for today's job market. It unites practical training in translation and exposure to the Italian business world with courses in literary, cultural and social theory and methodologies, all in small classes that permit active learning and intensive work with our expert faculty. Our graduates have gone on to work in Italian businesses, media, and other culture industries and in Rome's UN agencies, while others have been accepted to prestigious graduate programs in Italy, the US and internationally.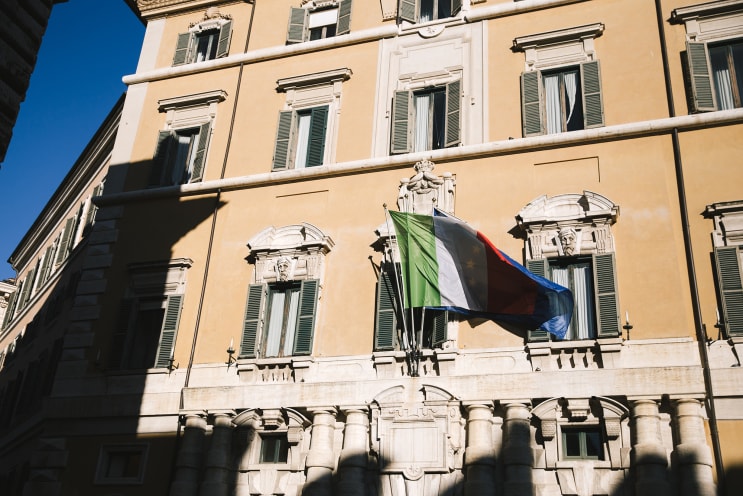 Learning Outcomes for the Italian Studies Major
Students with a B.A. in Italian Studies are able to:
LOS 1: Communicate in Italian in the four language skills areas (reading, writing, listening, and speaking) at the C1 level according to the Common European Framework of Reference.
LOS 2: Identify, interpret and explain the major developments and forces shaping Italian social, political and cultural history.
LOS 3: Distinguish, discuss and evaluate the role of key trends and works in Italian literature, cinema and other forms of cultural production.
LOS 4: Demonstrate extensive knowledge of contemporary Italian culture and society and the ability to function effectively within it.
LOS 5: Engage with the principles of relevant literary, cultural and social theory, with an awareness of the particular perspectives and relative strengths and weaknesses of each approach, and apply these in their own critical analyses of the material studied.
LOS 6: Apply appropriate methodological strategies and information literacy skills to identify, use and document primary and secondary materials in full respect of academic integrity and ethical standards.
LOS 7: Communicate information and analytical interpretations clearly and effectively in written and spoken English.
Requirements for the degree
A. The Proficiency Requirements of the University in English, Mathematics, and Foreign Language.
B. The General Distribution Requirements of the University in English, Mathematics and Science, Social Sciences, Humanities, and Fine Arts.
C. Core Curriculum
IT 301 Advanced Grammar and Conversation
IT 302 Italian Composition
CW/ITS 358 The Art of Literary Translation or
IT 308 Introduction to Professional Translation or
IT 309 Italian Language Through Literature
IT 310 Introduction to the Study of Italian Literature
IT 317 Roots of Italian Identities
HS 365 Italy from the Risorgimento to the First World War (1815 - 1915) or
HS 366 Italy from Mussolini to the Crisis of the First Republic (1918 to present) or other courses in Modern Italian History approved by the advisor
ITS/SOSC 250 Contemporary Italian Society or
PL 215 Italian Politics and Society
BUS/ITS 260 Made in Italy: The Italian Business Environment
ITS/CMS 332 Italian Media and Popular Culture
IT 401 Advanced Workshop in Italian Writing
PL 460 Social Science Research Methods or
IT/SOSC 380 Researching Rome: Fieldwork in the Eternal City or
HUM 460 Research and Writing in the Humanities
IT 480 Senior Thesis
The University requires an overall minimum grade point average of 2.00 in all courses taken at the University, with no more than two grades lower than C- in core courses.
D. Major Electives
Five electives, to be chosen with the advisor from the following:
Any core courses not taken in fulfillment of the core requirements
Any IT 300 level classes not required for the core
Any ITS courses
Any approved major electives from outside the Department
E. General Electives sufficient to give a total of 120 credits.
Last updated Oct 2020
About the School
John Cabot University, founded in 1972, is an American liberal arts university offering undergraduate degrees to English-speaking students from all over the world. You will study in the heart of Rome, ... Read More
John Cabot University, founded in 1972, is an American liberal arts university offering undergraduate degrees to English-speaking students from all over the world. You will study in the heart of Rome, surrounded by culture, history, art, business, and politics.
Read less