Read more about this program on the school's website
Program Description
This degree gives you an insight into the challenges of global development. It explores how the competing challenges of inequality, poverty reduction, economic growth and social development are negotiated and contested, alongside ways in which people and institutions respond to these challenges.
Core modules in the programme introduce you to key issues such as the impact of colonialism, how different agencies contribute to the development, and how development operates in practice. You'll also be able to choose from optional modules in your final year, allowing you to specialise in the regions, countries and themes that excite you most – and even spend a semester studying at one of our chosen partner universities to gain new insight into development.
Quantitative Research Methods (QRM) pathway
At the end of Year 1, you'll have the opportunity to apply for a place on our BA International Development with Quantitative Research Methods pathway. This pathway will help you develop advanced analytical skills, which are in high demand across the public, private, and third sectors. You will learn statistical analysis techniques and their application to real data (e.g. survey data, countries' statistical data) using statistical software. You will also write a dissertation in which you will analyse quantitative data to examine questions about politics, development or international relations.
You are not required to have done Mathematics at A level, this pathway is open to all students as long as you have attained an overall 2.1 in your first year and a 2:1 in the Comparative Politics module.
Research and practice
Our International Development teaching team is comprised of academics who are leaders in their fields. Many have advised national governments, NGOs and transnational organisations in their specialist areas, and have experience of living, researching and conducting fieldwork in the Global South. Our real-world academic, practitioner and policy-making perspectives will provide you with insights into the major political, economic, social and cultural issues affecting people in the Global South and how these experiences link with political, economic and social change in the Global North.
This course also has strong connections to active research centres across the University that are involved in teaching, researching and debating international development topics. You'll have the chance to get engaged with units such as the Centre for Global Development (CGD) and the Leeds University Centre for African Studies (LUCAS).
Course content
Each stage of the degree involves core modules that enhance your knowledge of development challenges and their perceived causes; enrich your understanding of theories of development and Southern responses to underdevelopment, and build the hands-on skills you'll need in the professional workplace. You'll also be able to choose discovery modules from across the University.
Year 1 equips you with the skills you'll need to study and research international development. You'll begin to consider the causes and factors that have influenced modern development challenges, examining the effects of colonialism and the legacy of colonial rule across the Americas, Africa and Asia. You'll also put your development knowledge into the context of political theory and international politics.
A further core module provides key insights into global development challenges and how these might be tackled. Particular attention is paid to the relationship between economic, social and political factors that shape development processes. This includes exploring, for instance, how global-level commitments to promote socially just development, such as 'Education for All' (EFA) and the Sustainable Development Goals (SDGs), align with dominant economic development priorities, and the ways in which these different ideas are taken up in a diversity of regions and countries.
Building on this foundation, core modules in Year 2 will allow you to explore the theoretical debates that underpin international development. You'll also see how theory translates to real-world situations, as you examine aspects of development practice and a wide range of development agencies. You'll also improve your research skills and gain an understanding of the methods and techniques used to create new insights into the subject. Diverse optional modules will allow you to focus on related topics such as public policy, security studies and international relations.
If you choose to spend a semester abroad during this year, you'll study modules at your host institution that replace some of those you would be expected to take in Leeds.
Much of your final year will be dedicated to your dissertation – an independently researched project on a topic of your choice, which allows you to demonstrate the interdisciplinary, critical and research skills you have gained. To complete your studies, you'll choose up to three optional modules from a set related to international development, and you could choose up to two modules from across the School of Politics and International Studies, including topics such as US foreign policy and political psychology.
Course structure
The list shown below represents typical modules/components studied and may change from time to time.
Modules
Year 1
Compulsory modules
Studying and Researching in POLIS
Comparative Politics
Global Development Challenges
Making of the Modern World
International Politics
Freedom, Power and Resistance: An Introduction to Political Ideas
Optional modules (selection of typical options shown below)
British Politics
Contemporary Africas: Politics, Society and the Environment
Discovery modules
You may choose up to 20 credits of discovery modules.
Year 2
Compulsory modules
Development Theory and Practice
Approaches to Analysis
Optional modules (selection of typical options shown below)
Spin Doctors and Electioneering
North-South Linkages
Comparative Politics of Pacific Asia
Politics of Contemporary China
State and Politics in Africa
United States Politics
Revolution and Reaction: Political Problems in the 20th Century
Justice, Community and Conflict
Discovery modules
You may choose up to 40 credits of discovery modules.
Year 3
Compulsory modules
Optional modules (selection of typical options shown below)
The Politics of Aid
International Development and Social Policy
Violence and Reconciliation in Africa
Dirty War: Insurgency, the State and Cities
Terrorism: Concepts, Debates, Cases
Philosophy of Human Rights
Reimagining Politics: Gender, Race, and Popular Culture
Discovery modules
You may choose up to 20 credits of discovery modules.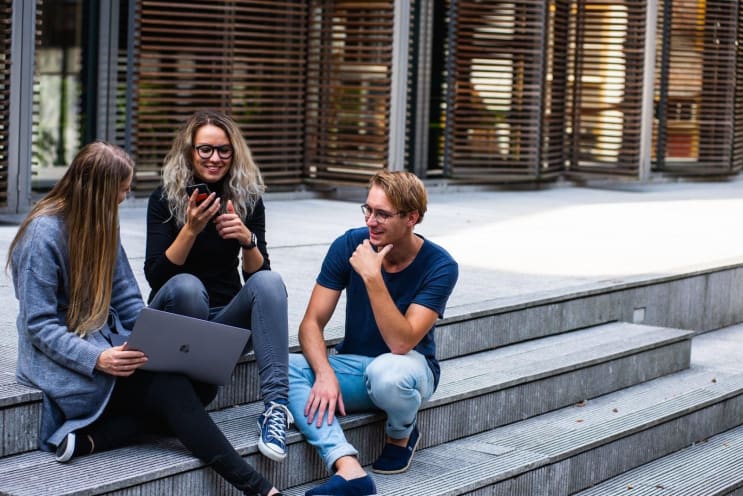 Buro Millennial / Pexels
Broadening your academic horizons
At Leeds we want you to benefit from the depth and breadth of the University's expertise, to prepare you for success in an ever-changing and challenging world. This course gives you the opportunity to broaden your learning by studying discovery modules.
Learning and teaching
We use a range of teaching and learning methods to help you gain diverse skills. These will include seminars and workshops where you can discuss in more depth the topics set out in traditional lectures. We emphasize the importance of participation, presentation skills and group work.
Independent study is also a vital element of the course, as it allows you to develop your research and critical skills while preparing for taught sessions.
You'll also have a personal tutor – one of our academics – who will be on hand to offer you guidance and support on academic issues, such as module choices, as well as career and personal matters.
Assessment
Modules will use a variety of assessment methods. As well as traditional exams, you could also be asked to complete projects based on essays and case studies, policy briefs, group presentations, work logs, research briefs, project proposals or development agency reviews. In your final year, you'll also submit a 10,000-word dissertation.
Entry requirements
A-Level: ABB
We don't require A-level Politics for any of our degrees and we welcome applications that include vocational A-level subjects such as AVCE (single or double awards). Any combination of these with A-levels is acceptable.
In general, we expect applicants to have two 'traditional' academic subjects at A-level.
When an applicant is taking the Extended Project Qualification (EPQ) this can be considered alongside A-levels and may attract an alternative offer in addition to the standard offer. If you are taking A Levels, this would be BBB at A-level including grade A in the EPQ.
Alternative entry
We're committed to identifying the best possible applicants, regardless of personal circumstances or background.
Access to Leeds is an alternative admissions scheme which accepts applications from individuals who might be from low-income households, in the first generation of their immediate family to apply to higher education, or have had their studies disrupted.
English language requirements
IELTS 6.5 overall, with no less than 6.0 in any component.
Career opportunities
This course will give you in-depth knowledge of debates, approaches, strategies, politics and programmes in the field of international development. It will also equip you with an understanding of project design and management in the international development context, as well as skills in research, analysis, using qualitative and quantitative data, communication and decision-making in complex situations.
Our course equips you for various career paths. Compatible careers include working in international development agencies, international organisations, governments, politics, NGOs, research organisations, policymaking, companies, media, and academia.
Our graduates have gone on to work in, for instance, non-governmental organisations in the UK or overseas, research and consultancy firms, international organisations (such as the UN), the Civil Service, the media, or have continued with further study.
Careers support
We encourage you to prepare for your career from day one. That's one of the reasons Leeds graduates are so sought after by employers.
Leeds for Life is our unique approach to helping you make the most of University by supporting your academic and personal development.
The Careers Centre and staff in your faculty provide a range of help and advice to help you plan your career and make well-informed decisions along the way, even after you graduate.
Last updated Feb 2020
About the School

Our wide range of research-informed courses encompass undergraduate, taught postgraduate and research degree programmes, as well as online and professional development courses.
Our wide range of research-informed courses encompass undergraduate, taught postgraduate and research degree programmes, as well as online and professional development courses.
Read less