Read more about this program on the school's website
Program Description
Careers for people who are well-versed in the visual arts are on the rise. Opportunities for growth, on a personal and institutional level, are multiplying. Just consider the number of stimulating and well-paying jobs that involve media, animation, graphics, and related technology.
The Graphic Design and Animation BA program is for students who can capture reality as they see it and transform it into textures, shapes, patterns, and the sensible distribution of colors via technology. We are looking for students who can take the raw matter of reality and give it an aesthetic order.
Now, more than ever, our reality is one rich in visual images, thanks in large part to increasing tech progress and ever-shifting methods of communication. Several industries are opening new doors for visually creative artists. This is why even if thus far, you have relied only on traditional methods to express your artistic style, our program will help you transition to the latest technologies so that you might express your creativity equally effectively.
AUM's Graphic Design and Animation degree prepare students for this phenomenon. Our goal is to help you meld art with technological know-how. This way, your creations will prove visually arresting as well as technically sophisticated. To reach such a level of accomplishment, you will take courses in:
Web Design
Motion Graphics
3D Character Animation
Design and Modeling
Story Boarding and Narrative
Degree Requirements
The BA in Graphic Design and Animation degree is a four-year degree program.
In their first and to some extent their second years, students will focus on completion of the University's General Education Program (42 US / 84 ECTS credits), with the introduction of specialized courses in language and culture. In the third and fourth years, students will focus increasingly on topics relevant to their major. To earn a Bachelor's degree, students must satisfactorily complete at least 120 US / 240 ECTS credits, fulfill all the requirements for the Graphic Design and Animation degree, and achieve a CGPA of 2.00 or higher.
The degree is designed to be completed in four years, assuming students make satisfactory progress toward the degree and do not interrupt their study. Details about leave of absence, standards of progress, and the maximum time allowed to complete the course can be found in the American University of Malta's Catalog.
Careers for students who are well-versed in visual arts are on the rise. Our degree in Graphic Design and Animation preps students to take up roles in:
Advertising
Animation
Game art
Book design
Web design
Print
Motion graphics
Poster design
Typography
Multimedia
Visual Design
Interactive Design
Information Design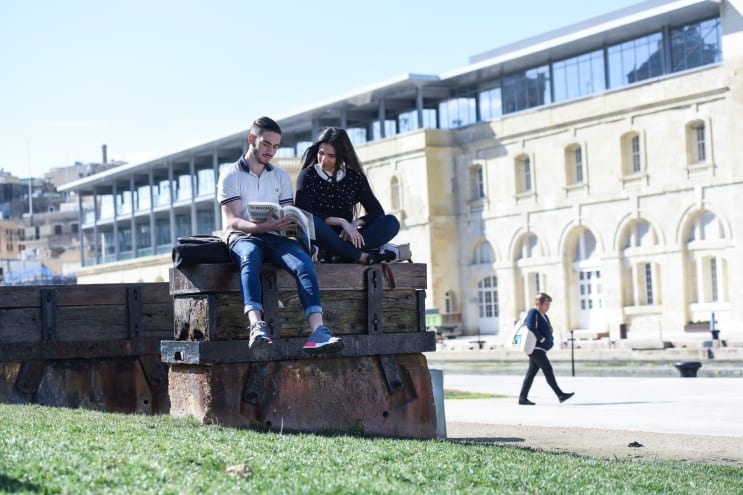 AUM American University of Malta
4-Year Degree Plan Outline
Year 1
Semester I
English Composition 101
Introduction to Data Analysis, Probability, and Statistics
History of the Mediterranean
Introduction to Visual Design
Free Elective
Semester II
English Composition 2
Unity of Life
Religious Worlds in Comparative Perspective
Drawing and Visualization
Year 2
Semester I
Introduction to Multicultural Communication
Scientific Inquiry GE
Introduction to Psychology
Arts of the Mediterranean
Figure Drawing and Anatomy
Semester II
Introduction to Philosophy
Introduction to Sociology
World Art History
Digital Art Tools
Free Elective
Year 3
Semester I
Time, Image, Sound
Painting and Color
Design and Modeling
Animation I: Motion and Methods
Applied Ethics
Semester II
3D Character Animation
Animation II: Production
Graphic Design I: Typography
Storyboarding and Narrative
Year 4
Semester I
Graphic Design II: Visual Problem Solving
Motion Graphics
Visual Design for Games
Thesis Project I
Semester II
Graphic Design III: Web Design
Interdisciplinary Game Project
Thesis Project II
Program Total: 120 Credits
Career Opportunities
Film or Video Game Animator for a movie studio or video game creator.
Graphic Designer at an audiovisual company.
Visual Artist for a multi-faceted web developer.
These and many other challenging, satisfying, and lucrative opportunities await you upon graduation.
Last updated Mar 2020
About the School

The way we deliver our degree programs makes up a crucial building block in the foundation of our identity at AUM. Each one of our programs guides you to build your way from the ground up and structur ... Read More
The way we deliver our degree programs makes up a crucial building block in the foundation of our identity at AUM. Each one of our programs guides you to build your way from the ground up and structuring knowledge in a coherent and cogent way. We take you all the way from basic principles to hands-on practice with the latest industry technologies relevant to your field.
Read less